Training wheels
Durango DEVO pedals into fifth year

SideStory: Community-driven cycling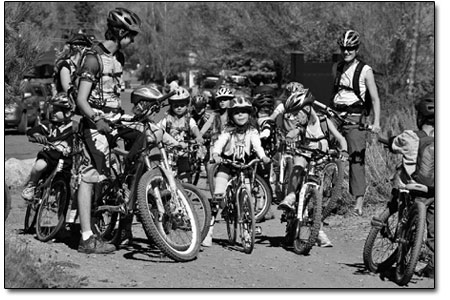 Durango Devo's Kindergarten Coach Daniel Walker preps his group for a ride up Slime Gulch in Durango Mountain Park on Monday./Photo by Stepgen Eginoire
by Christine Rasmussen

In late 2005, Chad Cheeney and Sarah Tescher decided it was time Durango had an organized and supported junior mountain bike team – with the tenet being, above all, to have fun.
Taking what he learned through Dave Hagen's NORBA development camps, Cheeney teamed up with Tescher, then coaching Miller Middle School's mountain bike team, and the two founded the Durango Junior Development Mountain Bike Team – aka DEVO.
"I was fired up – nobody was training juniors correctly anywhere, I thought," recalled Cheeney. "I was sick of seeing kids getting burned out as they were going through the programs."
For Tescher, it was the idea of providing a support system for kids pursuing their love for cycling that spurred her on. "Cycling professionally and not feeling support from my family or a coach, it made all the difference in the world to me when I did get support. I wanted to create a team where juniors felt that, amidst a sport that is very individual."
The first official DEVO team, the U19 boys' team, started training together in the summer of 2006. It consisted of nine high school-aged riders, five of whom are now racing professionally. The following spring, the girls' U19 team launched, and the DEVO Jr. team for elementary kids took its inaugural ride: five kids pedaling with Tescher in Slime Gulch. This summer, 140 kids will be riding local trails in the DEVO Jr. jersey. The kindergarten group is among the first to fill up, according to Tescher.
The reasons for DEVO's success – growing from nine participants to 173 in a relatively short period of time – are sublimely simple.
"A lot of the coaches get together and talk about individual kids and the best way to foster them," said Tescher. "One DEVO girl who's in third grade, we can already tell has a gift, so we continue to talk with the parents about what will work best for her; maybe that means racing, maybe it doesn't."
DEVO is also starting to see the outcome of its building-block approach of having a DEVO Jr. team, a U14 (middle school) team, and a U19 team. "DEVO Jr. is 100 percent about fun and skill development," Tescher said. "In U14, we introduce the idea of racing. By the time they're U19, most of those kids are going to the races."
"What's really cool is what's happening right now – this is our strongest year to date, because kids who were either in Jr. DEVO or on U14 are on the high school team now, so we are experiencing our first cycle," Cheeney explained. "Their skills are so consistent with each others.' You can see it when you ride with them."

There are even a few who are out-riding "Coach Chad," which Cheeney says is unprecedented – except for when Tad Elliott starting beating him, which was "big time" back then. Elliott now rides for the USA Cycling National Development Mountain Bike Team.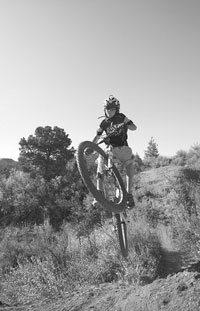 George McQuinn of Durango Devo's U14 group airs out of the "gravity cavity" in Durango Mountain Park./Photo by Stepgen Eginoire
Although the focus for DEVO is cross-country mountain biking, many riders are also commuters, downhillers, dirt jumpers and know how to build and work on bikes. Last summer, four DEVO athletes were national champions out of 12 categories or age groups. This year, a few DEVO team members have been signed on to pro teams. "The coaches for USA Cycling know of us," said Cheeney. "We are a pretty good feeder for them in only five years, so that's really cool."
Camaraderie is a big focus for the DEVO program as well. "Mountain biking forms lifelong friendships, too," Cheeney said. "The kids are competitive, but we try to teach them it's not about that. It's about having bros for life."
friendships, too," Cheeney said. "The kids are competitive, but we try to teach them it's not about that. It's about having bros for life."
U19 team member Sepp Kuss, who started on the first U14 team, has learned that cycling is about having fun first, and results come later. "I like how we go out there and ride our bikes and have fun. It's never anything that's a drag," said 15-year-old Kuss, who won the state championship two years ago. "Other juniors I see at races just ride by themselves or have a small shop that sponsors them. We're unique in that we're a team."
The formation of DEVO unified the junior racers in the community, according to Joe Schneider, member of the first U19 team. "Before, I had a sponsorship with Durango Cyclery, but this was more of a collaborative effort to help kids do well at races," said Schneider, who now runs the Colorado School of Mines cycling program but comes back every summer to coach the younger DEVO kids. "It was cool to have a coach and people to ride with all the time."
Schneider also remembers how fun the training rides were, even though they had a structure behind them. "If you are having fun, you race better and enjoy it more. Chad does a good job of trying to keep that as one of DEVO's fundamental values. I'm stoked to see the program growing as it has."
With the goal of being around for a long time, DEVO will only produce better riders and possibly expand its umbrella to include road cycling, downhill and cyclocross teams, said Tescher.
"We just want to keep on the same path and keep our vision growing, continuing with rad coaches, not getting sidetracked with money and sponsorship stuff," added Cheeney. "That's always been our mission. We just want to keep on a positive line in that direction." •