The second coming of the Kings, The Gourds and Hooker Jr.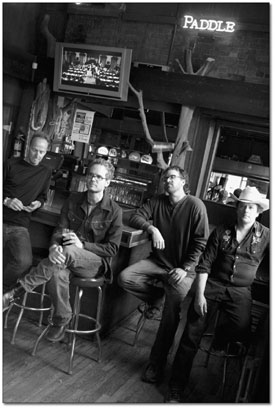 Local favorites the Lawn Chair Kings will host a CD release party Saturday at El Rancho along with Freeman Social./Photo by McCarson Jones
by Chris Aaland

Ten years is an eternity to remain relevant in rock and roll, let alone as a local act. Thanks in no small part to pink flamingos, cocktail umbrellas and rusted-out trailers, the Lawn Chair Kings have cleared that hurdle. The outfit officially marks its first decade with the release of a second full-length album, cleverly titled "Lawn Chair Kings II."

For a quartet that has alternately dubbed its music "suburban rock" and "Western garage," the four-year wait between recordings was well worth it. Just like a spring wedding, there's a bit of old, new, borrowed and blue. Some songs are familiar: "Second Hand Store" is one the boys have been doing for years. There's freshness in surf numbers like "El Gato." The borrowed? Lots of guests make appearances, including Dan Peha's banjo on "Time Will Tell," Josh Peters' and the Mysterians-inspired organ solo on "El Gato," and Chris Ross' trumpet, which lends a Herb Alpert & the Tijuana Brass feel just as it did to their eponymous debut in 2006. And blues – the kind you feel in your gut after a breakup – surface in "After What We've Been Thru."

The strength in this band has been frontman Erik Nordstrom's keen eye for kitschy Americana. Playful numbers have sprung up on LCK recordings and set lists since their 2001 EP featured such ditties as "Alien Abductee" – a staple on KDUR for years. The new release follows suit with tunes like "Horse Hockey," "Monster Trux" and the aforementioned "Second Hand Store." If you've ever attended a cocktail party or barbecue at the Nord's house, you realize it's not an act … he really is the kind of guy who collected comic books as a kid and probably even wore a little red cowboy hat with a silver deputy badge.

One element of the band that continues to develop is its musicianship. Nordstrom, bassist Dan Leek and drummer Steve Mendias have gelled through the years. The addition of multi-instrumentalist Kelly Rogers (lap steel, mandolin and guitar) to their live sets added honky-tonk grit and energy; on "Lawn Chair Kings II," Rogers' lap steel roughens up the sound, which is a good thing in the wasteland between country and rock. Mixed in Austin, Texas, by Dale X Allen (you've seen him countless times playing guitar for Genuine Cowhide and Dave Insley & the Careless Smokers), the finished product will remain in your CD player for a long time.

What's more impressive about the Kings' run is that they've succeeded in creating a local scene for alt-country and indie rock bands. Their labors have helped the likes of the Beautiful Loser Society, Baby Toro, Jaki & the Joysticks and countless others. The one band most often associated with the Kings is the Freeman Social (which collaborates with Nordstrom in the countrified Farmington Hill). The Freeman Social and LCK will each release their albums at El Rancho at 9 p.m. Saturday.

The Gourds – a band that plays Durango as frequently as some local acts – return to the Hank on Friday. This is the second time they've hit town since the January 2009 release of their 10th studio album, "Haymaker!" No doubt you're familiar with the lyrical genius of Kevin Russell and Jimmy Smith, the string wizardry of Max Johnston, the eclectic range of cover material they attack and their reputation as the best live band in Austin. While more recent Durango shows may have lacked the wallop the Gourds used to unleash in the early 2000s at Storyville, they're still likely sell-outs.

John Lee Hooker Jr., who plays the Abbey at 9 p.m. Wednesday, was destined for a career as a blues singer. The son of the legendary John Lee Hooker, he began singing on the radio in 1962 at age 8, and by '72, the 18-year-old was backing his father at live gigs and recordings. With a career nearly derailed by drugs, alcohol and other personal demons, Junior Hooker resurrected it in 2004 with "Blues With a Vengeance." Since then, he's been nominated for two Grammy Awards, released four albums and even became a blues-singing, crime-fighting cartoon character. Up-and-coming blues singer Megan Burtt opens.

This weekend is your last chance to see the current run of John Thomas' "Twenty-Four Pounds of Bullets & Steel: A Cowgirl Opera" at the Durango Arts Center. A former member of the art faculty at Fort Lewis College and now a Mancos Town Board Trustee,

Thomas is a film director, writer, artist and composer who has sat in with the likes of Leftover Salmon. The opera explores a dysfunctional Old West family, filled with dancing girls in bordellos, gunfights and vigilante justice. Curtain is 8 p.m. Friday and Saturday at the Durango Arts Center. Patrons are encouraged to wear Western attire and to join the actors and directors at the bar before before the show at 7 p.m.

The Summit's lineup this week includes Boulder-based bluegrass/folk singer Pete Kartsounes at 9:30 p.m. tonight, May 6; the monthly First Friday music/visual art mish-mosh featuring Def Rare, DSP and DJ Mowgli on Friday; the hip-hop of Ariano, Pigeon John, DJ Two Tone and DJ Stimulus on Saturday; and the Grateful Dead-inspired rock of RedEyedJinn on Wednesday.

The new Balcony Bar & Grill (formerly El Patio) features an eclectic mix of live music from 4-8 p.m. Wednesdays through Sundays all summer long, highlighted this week by Jack Ten High on Friday and Waiting on Trial on Saturday.

Also of note: the Jeff Solon Quartet at the Starlight 6-9 p.m. Friday; Todd Tijerina from 8-midnight Friday at the Purple Haze; The Get Backs 9 p.m.-1 a.m. Friday at the Billy Goat Saloon in Gem Village; Back Alley Blues from 5-7 p.m. Friday and 8-midnight Saturday at the Purple Haze; Jonezy von StraightFace spinning chill lounge at the Cosmopolitan every Friday and Saturday from 9-close; Peter Robot at the Starlight at 9 p.m. Saturday; and Kentucky Deluxe at the Starlight 9 p.m. Tuesday.

This week's Top Shelf list acknowledges the good folks of Nashville. While the historic Ryman and Station Inn have been spared, the new Grand Ole Opry and the Country Music Hall of Fame have suffered extensive damage. Countless musicians lost irreplaceable instruments. Let's hope for a quick recovery. •

Now the Opry's gone and the streets are bare, Ernest Tubb's record shop is dark? E-mail me at chrisa@gobrainstorm.net.