Setting the stage
DHS Theatre Department offers springboard for success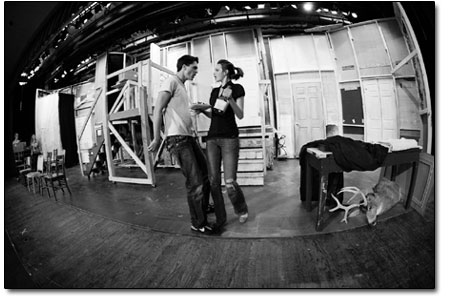 DHS ˆTheatre Troupe 1096 members Dallas Padoven, left, and Olivia Talley act out a scene during rehearsal on Monday. During their more than two decade tenure at Durango High School, Mona Wood-Patterson, theatre department director, and Charles Ford, technical director, have introduced thousands of students to the stage and sent dozens onto successful careers./Photo by Stephen Eginoire
by Stew Mosberg

"There is a lot of ownership in the community regarding the (Durango High School) theatre kids; it is part of what makes our program work."
- Mona Wood-Patterson, DHS Theatre Director
According to those who have studied with her, Mona Wood-Patterson is the best theater department director an aspiring actor could hope for. The diminutive muse has been Theatre Director at DHS for more than 20 years, and many of the graduates have gone on to careers in acting, directing and the technical side of the business.
Wood-Patterson describes the DHS theater program as having two components – curricular and extracurricular. "In the curricular program," she explained, "our goal is to provide the training and skills necessary for a student to continue with theatrical studies at a post-secondary level or to become lifelong supporters of theatre."
The seven curricular courses include the Actors Ensemble class, for example, which offers advanced acting theory, audition techniques, acting styles, comedy, Shakespeare, directing and theatre history. In addition, there are also classes on the business side of theater along with the technical aspects, such as lighting, sound and film editing.
Wood-Patterson's series doesn't stop there. Career-minded pupils can sign up for the extracurricular program, which provides a chance to work in a variety of disciplines. The extracurricular program is entirely funded by revenue from ticket sales and part of the International Thespian Society, of which the DHS chapter is Thespian Troupe 1096.
Another thing many of the graduates have in common is their high regard for Wood-Patterson and the lessons they learned from her about theater, professionalism and life in general.
Glennis McMurray (DHS 1997) now works in New York. Her training at DHS led to her founding the musical improvisation group "I Eat Pandas," which toured across the country and was later produced off-Broadway. McMurray was eventually hired by Showtime to write and star in promos for their show "The Tudors." She also recently appeared in an E*trade commercial during the Super Bowl. Reflecting on her early training, she said, "Mona helped me more than I could have ever imagined while I was in high school. I never realized how special our theatre department was until I left high school and heard other people's stories of their high school theatre experiences. Mona was, and is, a creative, loving and fair teacher, but she also doesn't coddle. Really, I just can't say enough about her or her program. I am proud and honored to have been a part of it."
Angélica R. Pozo-DesPortes (DHS 2007) is attending college on a full scholarship in Tucson and is already working in theater. "Rahe" as she is known, was cast in "Caramelo," a Spanish feature film now playing throughout Latin America. She has also been cast in a TV series, and plays guitar, composes and sings in three languages. "Most recently," she proudly states, "I have been signed as a musical artist to Broadstroke Records and am recording my first professionally produced album."
Regarding her training in Durango, Rahe says, "The community support for the theatre troupe was always so amazing. Kudos to the people that recognize the incredible opportunity and benefit these types of programs are for our youth."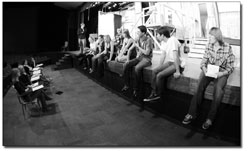 Cast members take a break to discuss a scene with Wood-Patterson and Ford during rehearsal on Monday. Durango students can take up to seven separate courses through the DHS theatre department./Photo by Stephen Eginoire
Tyson Carver's (DHS 2001) 8-year-old band, "Texas Renegade," played the Abbey Theater a couple of weeks ago, and Carver is on stage 180 nights a year. "The DHS theater department is where I was allowed to get a feel for the stage," he said. "I acted in every play I could and was encouraged to sing and play music and to do any type of performing art that I wanted. Artistically (Wood-Patterson) has encouraged me more than anyone else I have known."
Karina Wolfe, (DHS 2002) lives in San Francisco. After college, she and a group of friends formed The Heart Hustle Collective and were selected to perform in the New York International Fringe Festival. Wolfe also worked with a National Children's Theatre Company in Wellington, New Zealand, where she taught classes and interned in their administration office as well as with the new, nationally funded Original Opera.
Wood-Patterson later hired Wolfe to create and direct an original show in the DHS Theater Department. "It was incredible to come back to my stomping grounds after six years and realize how much of what I now know started there," Wolfe said.
Readers may remember Wolfe from "Gastropod," which appeared at the Abbey Theatre last June and was created by her friend Alma, one of the members of Heart Hustle Collective. Wolfe went on to say that Mona taught her a professionalism and seriousness that put her above others in school. "She taught me the business as a complete form, not just how to look good on stage in her productions," she said. "She taught me initiative and how to raise money. She taught me dedication and commitment."
Wolfe's advice to aspiring thespians is to be as involved and passionate as you can be. "Do lights, assistant direct, be in the chorus, go for the lead," she said. "It's such a well rounded education you're getting with Mona and Ford." Wood-Patterson's husband, Charles Ford, is the Theater Department's technical director.
Thousands of students have studied with Wood-Patterson, and the few that are listed here are but a small fraction of the pupils whose careers in theater are flourishing.
Stephen Tramontana (DHS 1998) now works for Tsavo Media as an entertainment writer and has worked as a post-production coordinator for "Funny Money" and a number of sci-fi films. He has directed three independent films, is currently writing a television pilot called "Exit Strategy" and a horror film called "That Thing Outside!"
"I owe everything I have to Mona's program," he said. "It went beyond the mechanics of good performance and directing. She made sure we understood how to be good people. The culture that (Troupe) 1096 created was one of support, experimenting and making sure you had the business side covered as well."
Tramontana went on to say, "She's doing important work, and she's brave enough to go outside of what is expected or accepted at the high school level. It's good for Durango, and it's good for those who are serious about a career in the arts."
Travis Shupe (DHS 2002) works at Harpo Studios (The Oprah Winfrey Show) as a freelance electrician. "This past two years working for Harpo," he explained, "has opened my eyes to a whole other part of the business – television. I have no idea what I would be doing right now if Mona and Chuck hadn't helped me to find my niche in this world. They make such a great team and provide such a wonderful learning environment for both sides of theatre."
Amy Fitts (DHS 1992) now teaches theater in New York and has toured with the Tokyo Philharmonic and is a member of an ensemble company. She, like her fellow DHS graduates, raves about the role Wood-Patterson played in her life. "Hands down, Mona is the best teacher and director I've ever had the great fortune to work with," she said. "When I'm in a jam, I try to imagine how Mona would handle the situation and I can usually get through it." •
In this week's issue...
November 17, 2022

How water-loving rodents can help ward off climate change effects
November 17, 2022

Flotilla of stakeholders coalesces on comprehensive plan for Animas
November 11, 2022

Proposed solar farm a complicated affair in southwest La Plata County