Weaving social webs
Business Women's Idea Exchange makes local connections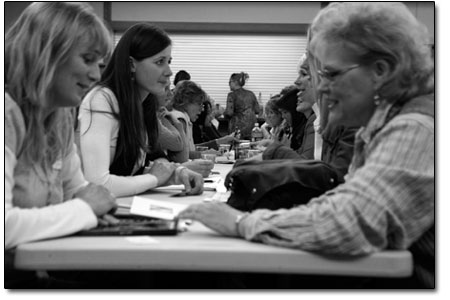 Local business women participate in the first-ever "speed networking" event, which took place at the Rec Center last month. The event, for "busy business women," was sponsored by the Women's Idea Exchange, which was started by Renée Gotcher, who brought the idea with her when she moved from Portland, Ore./Photo by Stephen Eginoire
by Kinsee Morlan


Social networking is a hot topic these days, but the recognizable concept is often followed by unrecognizable words like "Tweets" and "Blogosphere." That is why it's refreshing to hear about real-world social networking groups, where handshakes and smiles are exchanged in place of instant messages and emoticons.
Every month, in the basement of the Prudential building on Seventh and Main in Durango, a group of ladies get together. For the first few minutes, it's all about having fun and socializing; then it's time to get down to business. Each member stands up and gives what's known as her "elevator speech," a quick one-minute introduction about herself and her business. If there's a ding in the room, it means someone's gone over their allotted minute. The introductions make a speedy trip around the room and the moment the last woman sits down, a speaker stands up to give a demonstration. Since the beginning, the talks have been as diverse as the ladies in the room – everything from personal finance to e-mail marketing.
An hour later, the women leave, some grasping a handful of business cards, others with a meeting already scrawled in their planners.
"We've definitely made some connections," said Kasi Schnell, who, with her business partner Brooke Frazer, has attended several of the Durango Business Women's Idea Exchange meetings. "I think we both have cool personalities, so that helps, of course."
Both Schnell and Frazer erupt into laughter at the joke about their exceedingly cool selves, but their reasons for attending networking groups like the Exchange are pretty serious. The two young ladies are starting an organic, edible landscaping business called Your Backyard Harvest, and the minute they began telling people about their idea, other people began telling them about the importance of joining business networking groups. The friendly business tip sent the two on a high-volume networking mission.
First, the two were guests at a local chapter meeting of Business Networking International. Then, they both stopped by for lunch with the Durango Business Association. After that, the floodgates opened and they found themselves at the Durango Chamber of Commerce's Business after Hours events, Young Professionals of Durango socials and Women's Resource Center (WRC) seminars. Eventually, the two landed in the basement of the Prudential building at the Women's Idea Exchange.
While they found all of the groups and meetings to be pretty helpful and interesting, Schnell and Frazer decided that the Exchange was the best fit. And the fact that the meetings are free didn't hurt either.
"It being free is a big deal," said Frazer.
"Huge," agreed Schnell.
Renée Gotcher, a senior sales director for Mary Kay, is the woman behind the Idea Exchange. When she moved to Durango from Portland in 2007, the one thing she missed were her women's networking groups. "I missed the camaraderie of having a close-knit group of women that were really working together and finding strategic partners within the group to help each other grow and learn," she said.
What she didn't miss, though, were the high costs of membership, which she says kept some of her friends from joining. So she started the group and held the first meeting about a year and a half ago in the now-defunct Common Sense Café. By the second meeting, the ladies were already crowding the small conference room and had to find a bigger space.
Lindsay Vasgird, an agent for Prudential, volunteered the room. Meanwhile, communications mavens like Louisa Drouet, owner at Forward Movement Marketing & Communications, and Bethany Niccum, director of Thrive Chiropractic, joined the group and helped spread the word.
Now the Idea Exchange boasts a fluctuating membership of about 50 women and things are starting to take form. In the beginning of February, members of the Exchange put together an event called the "Ladies Night of Indulgence," a free night where women were invited to have fun, get spoiled and meet women who provide services like makeup, massage and photography.
"It was a night where we pooled our customer base and marketed what we do," explained Gotcher. "In an economy like we have right now, it's even more important to work together, think outside of the box and pool resources."
Then, on Feb. 18, the Exchange teamed up with the Women's Resource Center and held the first-ever "Speed Networking Event for Busy Business Women," a night of fast-paced socializing and networking where women rotated around a U-shaped table and had two minutes each to introduce themselves and explain what they did and why.
"We had every chair filled," said Niccum, who helped organize and run the event. "I felt people were thrilled about it. We learned what we could do better next time, but I think we did pretty well for our first attempt. It was a huge success.
"The best part was that I didn't know most of the women," continued Niccum. "I knew maybe 30 percent, which means there are so many professional women out there – more than you realize."
Deborah Uroda, the marketing director of the Women's Resource Center, agreed with Niccum's assessment of the speed-networking event. "Having 50 professional women talking at the same time, it was just an incredible buzz," said Uroda. "In this day and age with e-mails, Twitter, Facebook and BuzzTown, people are hungry for face-to-face contact, and there's nothing more powerful."
Uroda said that the WRC had been looking for ways to collaborate with the Women's Idea Exchange. The speed-networking event was the first official collaboration, but she says there will be more.
"(The Exchange) is meeting a need that we value, and we wanted to partner with them and see what we could do together," she said. "It's all about collaboration, because that's what women are good at."
Schnell and Frazer, the two young entrepreneurs on the business-networking mission, participated in the speed-networking event. They said they dug the fast pace and were literally sweating by the end of it. They did make more connections with other local business owners at the event and they said it helped them to refine their business pitch.
"We don't have a tagline yet," said Frazer, "but I do feel more comfortable saying things about our business in a more concise way."
"Yeah," agreed Schnell. "Instead of just mumbling through it, we can cater what we're saying to each person we talk to and fit it to their specific needs, because we can do so many different things for so many different people and businesses."
"And we're planting seeds," laughed Frazer, referencing the obvious pun that comes with the mentions of planting seeds when referring to a gardening business.
And to keep the pun going, the two say they will continue to attend the Exchange with a hope that the connections they're making will help their new business grow. •
The Durango Business Women's Idea Exchange meets every second Friday of the month at noon at the Prudential Triple S, 700 Main Ave. For more information, visit www.durangobizwomenideaexchange.wordpress.com or call 970.259.3953.