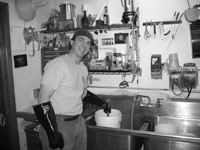 Diver: Erik Maxson, of the Carver Brewing Co.
Interesting facts: Erik has no interesting facts, only lies and innuendo
Got a dirty little secret?
Looking for guidance to remedy a sticky situation?
Seek help from the master of the kitchen! The Dish Diver has solutions to life's little messes. Send your problems to "Ask the Diver." - By mail to Durango Telegraph - Attn Diver -534 Main Ave., Durango, CO 81301; by email at telegraph@durangotelegraph.com, or by fax at 259-0448.
Dear Diver,
Why do male figure skaters all seem to have strange names? There's a Plushenko, a Lysacek, a Stojko and even an Agosto. Plus, they all seem to hate one another. What gives?
– Speck Tater, via e-mail
Dear Speck,
In the incredibly flamboyant and subjective world of figure skating, let alone male figure skating, it has become increasingly important to standout from the competition, much like how the peacock has evolved. It starts with the outfits, and seriously how much further can they go in the weird category while still having anything to do with figure skating. The next evolutionary step has to be your name, more consonants, fewer vowels, and extremely ethnic seems to be all the rage. As for them hating one another, it would appear that self loathing isn't just reserved for the emo set.
– Diver
Dear Diver,
I just read that the "Octomom" wants to have another baby. What are your thoughts on over-fertilization and/or reality televi sion? And just how does a woman "deliver" eight separate children?
– Too Much Time on My Hands in Durango
Dear Too Much;
This economic slowdown sure has put your intellectual skills on the ropes, and I'm sure you're not alone. Wow; really, she wants another baby? Maybe she's hoping that if she keeps this up, soon enough her older children will be able to raise the younger ones, leaving her with enough time to really focus on her true dream of replacing Angelina Jolie. This question begs the eternal conundrum of why you need to pass a test to drive a car and all you need to breed is a willing uterus, irrespective of sensibility, intelligence, understanding or any of the actual instincts that allowed us to walk off the savannah and survive. As for how one woman can carry and deliver even one child, it is still a miracle of nature, and seriously how uncomfortable would it be to deliver more than one at a time?
– Diver
Dear Diver,
Am I the only one who can't stand Shaun White? I'll admit that I'm a snowboardaphobe, but the dude drives me crazy in and out of the pipe, especially now that the gold medalist's a part-time resident of Silverton. How should I deal with my issue (it does feel like I'm being vaguely un-American).
– Melissa, Durango
Dear Melissa;
Don't worry, Silverton is still far enough away from the real world they're not in any actual danger from the likes of celebrities or sports stars, or even the dreaded paparazzi. I have zero to no opinion of Mr. White outside of his snowboarding antics. Does he really have anything to say about anything other than snowboarding? Inside the pipe the dude is effin' unbelievable. He was without a doubt the best half pipe rider that day. And if I were a bit younger and whole lot shorter, I would be inspired to ride like that. But alas I am not that deluded, but I can find the beauty, athleticism and even artistry worthy of admiration. Please in the future try to respect others' choices, and leave your prejudices at home.
– Diver