BurleFest, Lubriphonic & 'Itching for Spring'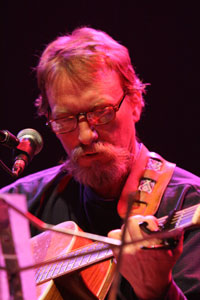 Benny "Burle" Galloway
by Chris Aaland

Great songs are forged from experience and battle-tested in front of an audience of peers. Like Haight-Ashbury in the 1960s or Nashville in the '70s, Florida Road near Helen's Store was one such proving ground – albeit an obscure, local one – seven or eight years ago.
Benny "Burle" Galloway, a prolific songwriter who'd recently moved here from the Boulder area, hosted jams for young bucks hoping to make their own statement. At the time, Burle had recently taken a group of young, Nederland-based pickers, the Yonder Mountain String Band, under his wing. Aspiring Four Corners musicians were eager to learn from a master craftsman.
Flash forward to 2010 and a recent snow-removal accident has left Burle with a stack of medical bills. To aid his cause, many of these same artists have rallied to present BurleFest 2010, an event filled with a slew of local musicians – and a few national ringers – at 6 p.m. Monday in the Smiley Auditorium. Waiting on Trial, Lonesome Stew, the Scrugglers and the Burlegrass All-Stars are all on the bill. The All-Stars are just that – Travis Book (Infamous Stringdusters) on bass, Robin Davis on multiple instruments, Andy Thorn (Emmitt-Nershi Band) on banjo and, of course, the beneficiary himself.
Burle's songs have been recorded by the Yonder Mountain String Band (their "Old Hands" album is entirely comprised of Galloway-penned and co-authored tunes), Drew Emmitt, the Stringdusters, Greensky Bluegrass, Sweet Sunny South, Broke Mountain and others.
"Being the working musician that he is, (Burle) doesn't have any medical insurance and bills are piling up," said local singer/guitarist David Smith, who will perform with Lonesome Stew. Smith said the injury isn't your routine, broken-foot variety, rather one that will keep Galloway in a cast and on crutches for months.
Smith is among those who benefited from picks with Burle. Others include Davis, Book, Anders Beck (Greensky Bluegrass) and Chris Becker (an Oklahoman who used to play in Rock & Rye). "Great friendships were forged like only close-knit, snowed-in nights at 7,500 feet can do," said Smith.
In an ironic twist of fate, Book also faces serious medical bills. Before he was a bluegrass bassist, "T" was a thrill-seeker who raced mountain bikes, skied and snowboarded. During a recent Stringdusters tour of the Rockies, Book skied and boarded by day and played music at night. An accident at the Brighton Ski Area in Utah in late February left him with a broken fibula, torn ACL and torn MCL.
Ever the trooper, he'll take the stage not just at Monday's BurleFest, but also in a series of Colorado duo shows with his wife, songwriter Sarah Siskind. They appear twice locally, at the Pagosa Pubworks on Saturday and at the Hank on Tuesday. I caught Siskind & Book at a DAM membership concert at Ska Brewing last September and know that many of you saw them at the Four Corners Folk Festival that same week. Don't expect much bluegrass when the duo hits the stage. Sure, local-boy-made-good Book offers up vocal harmonies and sings lead on a few numbers. But Siskind's tunes, which are haunting and ethereal, take center stage. Recorded by the likes of Bonnie Raitt, Alison Krauss and Bon Iver, her songs run the gamut from Lilith Fair folk to emo.
Michael Rose (also known as Mykal Rose — the Ethiopian spelling of his name) brings reggae to the Summit on Sunday with Bredren and DJ I-Gene. Most know Rose from his stint in Black Uhuru, a Grammy-winning band in the '70s and '80s.
Blues guitarist Colin Lake returns to Ska on Monday. More than 13 months ago, DAM brought Lake to that venue. The onetime Fort Lewis College student is a virtuoso slide guitarist who has won the Telluride Blues & Brews songwriting contest.
Chicago-based Lubriphonic brings funk, blues, rock and soul to the Abbey tonight (Thursday). Members of the group have shared the stage with Bo Diddley, Buddy Miles and Otis Rush, among others.
Steamworks and Durango Mountain Resort team up Friday for Operation Clam Bake après ski at Purgy's Slopeside. Music is provided by DJ Melanie Moore of Santa Fe, with hot bowls of clams andcold pints of Steamworks beer raising money for La Plata Search and Rescue.
Moore is back at Steamworks for "Bugs: An Itching for Spring Art Invitational" on Saturday. The bug-themed art and music event features insect-themed works at 8 p.m. and Moore's music mix at 9. Dress up as a bug and there's no cover charge.
The Summit's "First Friday" event, featuring a mishmash of visual art and live music, happens at 10 p.m. Friday. Musical entertainment comes in the form of the Insects and DJ Mowgli.
Durango DOT Comedy performs "Sketchy" at 8 p.m. Saturday at the Durango Arts Center. DDC creates comedic scenes based on audience suggestions.
Other local bands to perform this week: the Porchlights at Ska tonight; Back Alley Blues at the Purple Haze for Friday FAC; the Jelly Belly Boogie Band at Vallecito's Schank House Friday; Eric Keifer at the Summit's Friday happy hour; Stone 66 at the Purple Haze Friday and Saturday; Nina Sasaki & Larry Carver at the Diamond Belle Friday and Saturday; Motivator at DMR's Creekside Italian Kitchen on Saturday; and the Formless at the Summit on Saturday.
In honor of BurleFest, this week's Top Shelf list features my favorite Benny Galloway songs:
- "Train Bound for Gloryland," Yonder Mountain String Band, "Old Hands," 2003. A nice version also appears on KSUT's "Roots & Rhythms, Vol. 2."
- "Deep Pockets," YMSB, "Old Hands," 2003. Co-writer Dave Johnston still sings it regularly.
- "Why Cry," Broke Mountain Bluegrass Band, "Cabin in the Hills," 2004. One of Travis Book's first recorded vocals.
-"Eliza Lowry," Sweet Sunny South, "Wild 'n Swingin'," 2005. Sing it, Bill.
- "Beyond the Blue," Jake Schepps, "Expedition," 2005. Jake plucks, Benny sings.
- "All Night Ride," Drew Emmitt, "Across the Bridge, 2005. A co-write between Drew and Burle.
- "Poor Boy's Delight," Infamous Stringdusters, "Fork in the Road," 2006. Burle's finest hour.
- "How Far I'd Fall for You," Wayword Sons, self-titled, 2006.
- "What's Left of the Night," Greensky Bluegrass, "Five Interstates," 2008. Anders & the Michigan boys do Burle proud.
- "You Can't Handle the Truth," Infamous Stringdusters, self-titled, 2008. Burle, Travis and Blue Highway's Tim Stafford collaborated. •
Smell the sage, see forever? E-mail me at chrisa@gobrainstorm.net.