Powering up mom and pop
Local First group moves to next level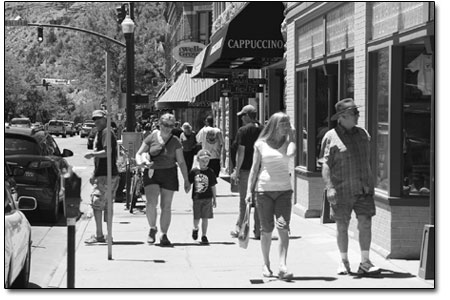 Shoppers cruise Main Avenue earlier this week. Since its beginnings three years ago, Local First has sought to maintain the individuality and vitality of locally owned businesses. "It keeps us from looking like Anywhere, USA," said Local First founder Tim Wheeler. "This, in turn, supports tourism and creates a biodiversity of business rather than a corporate monoculture."/Photo by Stephen Eginoire
by Will Sands

Mom and pop are getting a big hand-up along Main Avenue. Local First – a homespun effort to support and encourage Durango-grown businesses – recently passed several major milestones. Buoyed up by three years of success, the organization is steering toward a prosperous future for Durango's locally owned, independent establishments.
"There's a profound economic benefit to shopping local, and dollars spent with locally-owned businesses recirculate rather than leak out of the community," said Peter Schertz, owner of Maria's Bookshop. "But it's also more than an economic issue. It's important that businesses reflect their community, and locally owned businesses are better able to do that."
Three years ago, Schertz and handful of other business owners seized on this mantra and took it to the next level. Partnering with the Fort Lewis College Environmental Center, the group founded La Plata Organizations for Cooperatively Advocating Local – or "LOCAL" – and officially took a step toward enhancing the viability of Durango's mom and pops.
The group's first objective was to spread the word about the many benefits of "being local," according to Tim Wheeler, owner of the Durango Coffee Co. and another of the movement's founders. He explained that spending your hard-earned money with local businesses leads to the creation of more jobs, higher sales tax revenues and the preservation of Durango's unique character.
"It keeps us from looking like Anywhere, USA," said Wheeler. "This, in turn, supports tourism and creates a biodiversity of business rather than a corporate monoculture."
Like many Durango start-ups, LOCAL faced trying early days. Sheltered under the dual umbrellas of the Sustainability Alliance of Southwest Colorado and the Environmental Center, the group immediately started searching for dollar signs – funding to continue the effort. After researching similar efforts in Santa Fe, Fort Collins, Boulder and Denver, the localites decided to create a coupon book, which would raise awareness about shopping local, drive dollars toward locally owned businesses and raise funds for the organization.

The first run of the Be Local Book, which retailed for $15 but offered thousands in savings, sold out 2,000 copies in a matter of weeks in 2008. The second run was printed last fall, and only a few copies4
remain of the original 4,000.
"The basic premise was put the coupon book out, get something real into the marketplace and find out if there was support for this effort and enough income to carry a surplus into the following year," Wheeler said. "That plan has come to fruition, and we've been able to finally launch the organization."
Now known as Local First, the group hired its first executive director, LeeAnn Vallejos, in May. In addition, Local First is leaving the shelter of SASCO and the Environmental Center and incorporating as a not-for-profit this month. The group is also germinating a series of local advocacy events for later this year.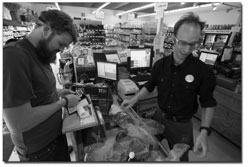 Cashier Michael Freeman rings up customer Sam Waters on Tuesday at Durango Natural Foods Co-op. Store manager Joshua Jackson says he's seen a big push toward locally produced food in the last few years as people have become more aware of the benefits, socially and economically./Photo by Stephen Eginoire
Joshua Jackson, general manager of Durango Natural Foods and a member of the Local First committee, said that these have been gratifying steps. "I'm really excited to be a part of putting action behind the words," he said. "I think we're really moving in a progressive direction and getting to a place where we can truly benefit the local economy."
A variety of sources have helped the group on its path to success. Since the beginning, many other organizations recognized that everyone has a stake in a buy-local movement, and Local First has consistently dovetailed with the Durango Chamber of Commerce and La Plata Economic Development Partnership. And while LOCAL was launched by 19 founding business members, the group's roster is now more than 150 businesses strong. Above all, La Plata County's customers have rallied behind locally owned, independent businesses and kept the dollars circling up and down Main Avenue.
"We hear more and more of our local customers tell us that they are making a concerted effort to shop locally on an exclusive basis," said Schertz. "We also consistently hear from tourists that they are so appreciative that Durango still has things like locally owned book shops and record stores. I think people are getting the message more and more all the time."
Jackson added that turbulent economic times have driven home the importance of keeping dollars at home. He noted that DNF makes a concerted effort to carry locally grown and produced foods and customers have responded. The natural foods co-op can barely keep the items in stock.
"I've seen a big push toward local in the last few years at Durango Natural Foods," he said. "With the upheaval in global markets, people are recognizing that it's crucial to get back to local roots."
It doesn't take long for Durango business owners to realize that what goes around comes around, according to Wheeler. Locally made foods and products are also mainstays at the Durango Coffee Co.
"We take steps every day to find more ways to buy from other locals, and I continue to hear that people come in because we are supportive of other local businesses," he said. "There's a very high rate of return for the community when people support local establishments."
Wheeler, Schertz, Jackson and others all agree that the buy local movement still has much ground to cover in La Plata County. However, they are all excited that Local First has found its legs and that the local consumers are thinking carefully when they go into their pocketbooks.
"It's been very gratifying to see so much interest and so much great energy from so ppermany different people," Wheeler said. "We owe the biggest thanks to community members who are out there living this ethic every day." •