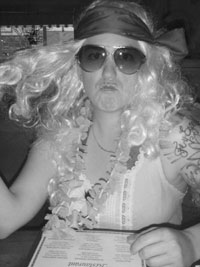 Divers: Jackie Callister, of Ore House fame
Interesting facts:Jackie's always up on the down-low … yo
Got a dirty little secret?
Looking for guidance to remedy a sticky situation?
Seek help from the master of the kitchen! The Dish Diver has solutions to life's little messes. Send your problems to "Ask the Diver." - By mail to Durango Telegraph - Attn Diver -534 Main Ave., Durango, CO 81301; by email at telegraph@durangotelegraph.com, or by fax at 259-0448.
Dear Diver,
I'm getting ready to attend my first-ever Telluride Bluegrass Festival. What three-day music fest pointers can the Diver offer this budding festivarian? I'm open to any food, drink and secret backstage entry options you can offer.
– Grassy Ass, Durango
Dear Assy Grass,
Ahhh Telluride Bluegrass ... oh my youth, so many memories, such good times. The best advice I have is to layer – while it's hot during the day, as soon as that sun goes down it gets real cold. Socks and a warm hat are essential. Also stagger all drug and drinking intake so as to maintain for the duration. And never go to an after party at someone else's condo (unless invited by the host). Eventually the gondola and buses stop running, and it sucks to have to sleep in a gas station parking lot. Oh and sunscreen, lots and lots of sunscreen!
– The Diver, who does not condone or support the use of illegal substances at festivals
Dear Diver,
The cup holders on my new European import don't even come close to accommodating an average-sized travel mug. While I'm currently wrestling with the old cup in the crotch dilemma, there is an interesting twist. The holders carry a 12 oz bottle of beer perfectly. Are the automakers trying to tell me something?
– Victor, via e-mail
Dear Victor,
I have a question. Why is it that every time I'm the Diver, I get questions from people having to "deal" with their brand new, fancy car problems? Last time it was the dude with a Toyota, now it's your import. I assume you're computer savvy and therefore can go online and purchase a more slender traveling mug. There. Problem solved. Maybe the European automakers aren't trying to tell us anything. Maybe they are just not used to our "super sized" being the "average" size culture.
– Oh and drunken driving is lame, The Diver
Dear Diver,
I recently heard they're coming out with spanks – you know the form-fitting girdle that you wear under your clothes – for men. Just imagine the possibilities! Are we witnessing progress (men getting in touch with their feminine sides) or de-evolution (men getting in touch with their feminine sides)?
– Suddenly Slender in Durango
Dear Muffin Top,
Girdles and corsets are just two of the many reasons I'm happy to live in these here modern times. I know now that Spanks were invented by a woman,but
the first time I put them on, I was sure they were the evil doings of a man. My thoughts are that men and women are both equally self conscious and feel the need to better their appearance as to attract a mate. I also feel that both genders would rather simply squeeze into something instead of taking the time and committing to an exercise and diet routine. Is it really in our human nature to want/need instant results? Are we simply lazy? Or are we just complacent? If I was 5'9" and 120 lbs would I have still tried on Spanks? Probably. But knowing that I can inhale and exhale without constriction is a beautiful thing.
– Lettin' my curves speak for themselves, The Diver Der