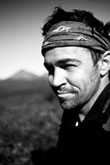 Diver: David Halterman from Cyprus Cafe
Interesting: Several anagrams for David Halterman are "Diehard Malt Van," "Diva Lard Anthem," "Larva Demand Hit," and "A Damn Halt Diver"
Dear Diver,
What is up with all the trophy homes? How did they all get there? Why does Colorado draw them like fat folks to Sonic? And why are they all seemingly empty?
– Word, Gus
Gus,
I consulted my homeless friend, Frank, for an honest answer to this question:
David: Hi Frank, here's a fresh salad from my garden with a glass of pure rainwater to wash it down. And here's five bucks for a new pair of socks, please don't spend it on booze. Now answer this question!
Frank: My oh my, this salad is delicious ... is this mâche? Mmm…and these turnips are so terrifyingly tender. Maybe I should plant a garden some day. It seems like a good idea…you know, food security and all. Although Sonic is right at my doorstep, and so CHEAP!
David:Frank, concentrate.The Telegraphneeds a witty response!
Frank: Oh dear, I'm sorry. I'm a bit flustered today. I was just laid off from BP, and living in Horse Gulch is starting to get to me. It's ironic, I was going to spend another $3 million on my Indian Summer home when we got the
green light to build in the Gulch, and now I'm living here for free. Ironic, don't you think?
David: Dammit Frank, give me my five bucks back, I'm getting toasted. Word.
Dear Diver,
My wife and I hosted house guests over the weekend. Everything went silky smooth until I happened by our guest bedroom and saw our friends cuddled up with their English bulldog in our guest bed. Apparently, the slobberpuss spent both nights curled up on our sheets. We're pretty easy going, but doesn't this break the terms of the house guest agreement?
– Mr. Mister., via e-mail
Mista Mista,
In Iran, house guests may be stoned to death for sleeping with pets. Since we'll probably be at war with Iran by the end of the year, why not learn a few of their customs? OK, so men are buried up to their waists and women up to their chest. The stone may not be large enough to kill with one hit, nor small enough to be considered a pebble. I recommend a nice solid overhand or sidearm toss, and don't forget to follow through! It may take a while, so don't throw your arm out too early. And don't forget the neighborhood kids, they just LOVE throwing rocks. But hey, leave the dog out of this. He's the true victim. Rock out with your smock out!
– Diver
Dear Diver,
Why am I continuing to receive solicitation calls? I'm on several no-call lists. Plus, I thought our friends in Washington, D.C., took care of this mess a few years ago. However, nearly all of my rings come from Mumbai? When will we stop the scamming?
– Deborah, Bayfield
Dearest Deborah,
Funny, I'm from Virginia and I don't have any friends in D.C. Well, a few in Georgetown and Fairfax, but nothing D.C. proper. A sister in Baltimore I suppose. But enough about me, let's talk about you for a minute. Enough about you, let's talk about life for a while. Wait, what? Prank call! Prank call! Click…
– Diver Facts:DiverDiverDiverfacts:Der
Got a dirty little secret?
Looking for guidance to remedy a sticky situation?
Seek help from the master of the kitchen! The Dish Diver has solutions to life's little messes. Send your problems to "Ask the Diver." - By mail to Durango Telegraph - Attn Diver -534 Main Ave., Durango, CO 81301; by email at telegraph@durangotelegraph.com, or by fax at 259-0448.