MacMaster, Doo Dah and Papa Grows Funk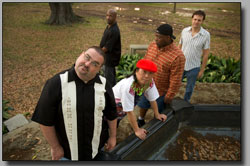 Papa Grows Funk plays the Abbey at 9p.m. Wednesday

by Chris Aaland

Home weeks are so full of music that I'm forced to forego humorous anecdotes for just the facts. This week is one of those, with countless classical, Celtic, reggae, funk, folk, rock and hip-hop shows, plus a pair of long-running Southwest Colorado traditions on the calendar.
Music in the Mountains begins its 24th festival season Saturday, and performances continue at a variety of venues through Aug. 1. In recent years, the festival has stretched its boundaries from orchestra, chamber and conservatory performances primarily based in classical forms to include other genres. This year, Cape Breton fiddler Natalie MacMaster is on the bill, playing 7 p.m. Tuesday at the Durango Mountain Resort festival tent. Still in her thirties, MacMaster has released more than 10 albums, played at festivals around the world, collaborated with the likes of Carlos Santana, Alison Krauss, Yo-Yo Ma and Béla Fleck, and won countless Juno and East Coast Music awards. She blends Celtic, Scottish, bluegrass and rock into a fiery and energetic live show.
A tradition up north in the San Juans is the KOTO Doo Dah, now in its 14th year. Past Doo Dahs have included Bob Dylan, George Clinton & P-Funk, Widespread Panic, Lyle Lovett, and Duck Butter (a rock & roll combo that featured Sam Bush on electric guitar). This year's Doo Dah takes on a different flavor, featuring regional and local acts plus an all-day carnival beginning at 1 p.m. and ending around 10 or 11 Saturday in Telluride's Town Park. The lineup is all over the map, including the Motet (jazzy world beat), our own Salt Fire Circus and Telluride-based rock bands the Rockadiles and Joint Point. Much like KSUT and KDUR, KOTO is one of many great public radio stations in Western Colorado that have helped shape both on-air and live music in our region.
A few weeks back, the Lawn Chair Kings and the Beautiful Loser Society played El Rancho. Now that frontman Erik Nordstrom has jumped the shark by turning 40 last Monday, the Kings take their act westward for a 9 p.m. joint bill with the Losers at the Hollywood Bar in Dolores on Saturday. Making the gig extra special is a 7 p.m. early show next door at the Sideshow Emporium with music by the Crags, a side project of Durango's Jaki & the Joysticks. The Kings warm up for the big night with a 5-9 p.m. set Friday at the Balcony Bar & Grill.
Papa Grows Funk, which plays the Abbey Theatre at 9 p.m. Wednesday, epitomizes all that's good in New Orleans soul: they're funky, energetic and unpredictable. Their instrumentation is classic Crescent City: Hammond B3 organ (played by bandleader John Gros), electric guitar (June Yamagishi), bass (Marc Pero), saxophone (Jason Mingledorff of Galactic) and drums (Jellybean Alexander).
Pato Banton is a longtime veteran of the reggae and dub circuit and comes to the Abbey at 9 p.m. tonight (Thur., July 8). Best known for his No. 1 hit in the 1990s, "Baby Come Back," he's collaborated with members of the English Beat and UB40 during his career.
Boston-based folkie Catie Curtis returns to the Millwood Junction in Mancos for an 8 p.m. show Sunday. Her songs have populated the soundtracks to such popular television shows as "Grey's Anatomy," "Dawson's Creek" and "Chicago Hope," among others. She's also performed with Mary Chapin Carpenter, Dar Williams and as part of the Lilith Fair.
Punk comes to the Summit tonight in the form of Prima Donna. A high-energy, five-man group, Prima Donna has played more than 325 live shows in just three years, many of which were overseas. Last year saw them support Green Day for two months in sold-out arena shows in the United Kingdom and Europe; a pairing that will see the two bands play throughout Asia later this year. Prima Donna shows influences like the Ramones and the Sex Pistols as well as '70s glitter acts like Mott the Hoople and David Bowie. You're Welcome opens.
Denver's Homeslice, which plays the Summit on Friday, is a nine-piece horn and vocal band that carries on the tradition of classic '70s acts like Earth Wind & Fire, Blood, Sweat & Tears, and Chicago. Led by the dynamic vocal presence of Diana Wood, the antics of the horn section keeps dance floors hopping wherever they play their mix of jazz, rock, funk, pop and other styles.
Des Moines-based Maxilla Blue comes to the Summit on Saturday. Featuring Asphate on rhymes, Aeon Grey on beats and DJ TouchNice on the lefts and rights, Maxilla Blue released a self-titled debut in 2008 and Vol. 2 in mid-May. They've opened for the likes of Eyedea & Abilities, Ghostface Killah and others.
Steamworks hosts DJ I-Dee of Miami Beach at 10 p.m. Friday. The 2007 Disco Mix Club champion, DJ I-Dee has carved out a name for himself in the world of scratch music. He mixes hip-hop, '80s pop, heavy metal and Darth Vader. Albuquerque's Kiddo Money and Durango's DJ Mowgli are also on the bill.
Steamworks also hosts a unique art exhibit, "40 Self Portraits," beginning at 2 p.m. Sunday. From formal to freakish, come and see who's on the wall. To reserve your space in the exhibit, contact Tirzah at tirzahart@live.com.
The Ska Brewing World Headquarters has three nights of live music, including DJ I-Gene at 5 p.m. tonight, the Lonesome Heroes at 5 p.m. Friday, and the Filthy Whipple Medicine Show at 5 p.m. Saturday at their outdoor tent in Bodo Park.
The latest installment of Fridays at the Fort features the Hounds of Purg and Playing in Traffic at 5 p.m. Friday at the Community Concert Hall. As always, no ticket is needed and concessions are available.
Countless other venues like the Balcony, the Starlight, the Purple Haze, the Derailed Saloon and others have full schedules, too. Check the Telegraph's calendar for a full schedule of A&E events.
This week's Top Shelf list recounts highlights from last weekend:
- Watching Otto help new FLC President Dene Kay Thomas move into her house.
- Hearing the Lawn Chair Kings opening their Main Ave. set with "Horse Hockey."
- The Nord turning 40 on Monday.
- Eating bratwursts three straight days.
- Hanna Sage Hyder being born Thursday after her mom, Erin's, 27-hour labor.
Horse hockey on your boots? Email me at chrisa@gobrainstorm.net. •