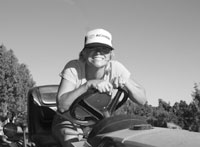 Diver: Gillian Arnwine of Southwest Ice
Interesting facts: Gillian would like to note that Durangoans have had plentiful, cold ice for their beers on the Fourth of July for the last two years running
Got a dirty little secret?
Looking for guidance to remedy a sticky situation?
Seek help from the master of the kitchen! The Dish Diver has solutions to life's little messes. Send your problems to "Ask the Diver." - By mail to Durango Telegraph - Attn Diver -534 Main Ave., Durango, CO 81301; by email at telegraph@durangotelegraph.com, or by fax at 259-0448.
Dear Diver,
What's up with cell owners who refuse to speak on their phone? I've got one friend who insists on texting and 30-second conversations turn into 20-minute, tiny keyboard ordeals. How can I bring her back from the brink before she sends me over it?
– Waiting for an earful, Durango
Dear Earful,
LMFAO … OMG … Whatever all that means. For those of us who were in high school in the early '90s, I must say we've been somewhat reluctant to surrender to the world of TMG (Text Messaging Generation, for my classmates). What I have finally found is that texting can be quite convenient during such exciting events as church, weddings and business meetings. Not to mention, it is an absolute necessity in bathroom visits when exterior noises need to be avoided! I, too, now have friends whom I no longer know the sound of their voice, nor do they know mine. I say, next time you receive a text from your friend, pick up the phone (land line?) and call them … unfortunately they probably will not answer.
– Diver
Dear Diver,
Has the whole world gone crazy?
– Walter P., via e-mail
Dear Walter P.,
Yup, of course the world has gone crazy. Need you ask? This is the central problem with the world: we are a bunch of selfish dicks! We do things strictly on how said actions will affect us, not others. Unfortunately, it starts with birth, when parents give kids names they think are "cool," not thinking of the long-term consequences. Names like "Dakota," or "Fuchsia" (complements of Sting), "Aja" (Shania Twain), or "Kal-El" (after Superman born on planet Krypton … really Nicolas Cage?) These children are then given a special title when they are too selfish to listen to their teacher (titles like ADD or OCD). Amazingly, they will persevere and attend college where, according to a recentMad Magazinesurvey, they will become even more self centered and "mad." Ultimately, they will move back home, struggle for a job, blame you and I for their problems, and use words like "party" after age 29.
– Diver
Dear Diver,
I recently inherited some loot (thank you great aunt Zelda) and am looking to finally break into the Durango housing market. I know that local real estate has taken a beating, but the price tags still seem pretty high. Tell me, sage Diver, has the market hit bottom yet? Or should I cross my fingers and park my cash somewhere other than the bar for a few months?
– S.E., Durango
Dear S.E.
First, thanks Aunt Zelda (I always knew the little dwarf on my Nintendo was an old woman)! Buying a home in Durango three years ago was like investing in a medical marijuana clinic today: TOTALLY SATURATED. While me, Zelda, or some "medicated" soothsayer cannot predict the future, I must say that it may be a good time to invest in the Durango market if you plan on living in the home for at least five years. While prices may decline a bit in the future, mortgage rates are still low. They won't last forever! Ultimately, Durango home prices will rebound. Trust me, I got this info from my friend Dave. He lives in the scrub oak behind that "Big Box" store by the river!
– Diver
In this week's issue...
March 17, 2022

Lake Powell drops below threshold for the first time despite attempts to avoid it
March 17, 2022

Purgatory Resort set for expansion but still faces hurdles
March 10, 2022

New health care studio takes integrated approach to healing