Cautious downtown optimism
Durango tourism steady despite uncertain national outlook

SideStory: Local drivers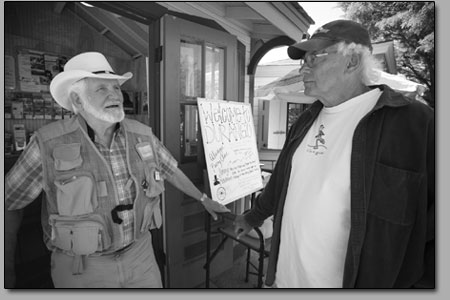 Leonard White, with the Durango Visitor's Information booth, talks with Pat MacKenzie, of Pagosa Springs, on Tuesday downtown. Although June lodgers and sales tax numbers won't be available until August, other economic indicators and observations point to a steady tourism season in Durango./Photo by Stephen Eginoire
by Missy Votel

While America rides out the Great Recession roller coaster, bracing for a possible double dip, Durango's tourist economy seems to be holding its own. And while it is anybody's guess where the economy is headed, one thing is for sure, the thrill ride of the previous decade is over.
"Flat is the new normal," said John Coen, executive director of the Durango Area Tourism Office. "But it's better than going down."
Coen's office uses the City of Durango's lodger's tax as a barometer of the local tourism economy. Unfortunately, there is a two-month lag between the time the tax is paid and collected and when the numbers are tallied and reported by the city. In other words, cold, hard evidence of June numbers won't be available until the first week in August. "We're dying to know," he said. "We consider Memorial Day Weekend the beginning of our peak season. June will really help us define where we're going and give us a good sense of how we did."
From January-May, 2010 lodger's tax was more than 15 percent off from the same time period last year. This represents a continued slide from 2009, which saw a 10 percent dip over 2008. However, as Coen noted, it's not necessarily all bad news. April and May lodger's tax numbers, although still down from 2009, are vastly better than the double-digit drop seen over the previous year, from 2008-09. In other words, the downward slide appears to be coming to a slow stop.
Meanwhile, Coen said anecdotal evidence – packed sidewalks, scarcity of parking spots and a packed river – point to a healthy summer tourist crowd. Likewise, word from local lodgers and restaurateurs has been that business is good. "Most are reporting a bump in business, certainly better than last year," said Coen.
Kory Samson, marketing director for Gateway Reservations, has similar observations. "Things are trending positive," he said. "We are definitely getting growth in 2010 over 2009, but then again the bar was set pretty low in 2009."
Owned by local husband-and-wife team Bruce and Lori Moss, Gateway is a private reservation-booking company that subcontracts with various tourism offices, including DATO. Although for the most part bookings for 2010 year to date have been slightly lower, if not on par with, 2009, June bookings showed a significant spike of more than doubled over June 2009. "Advanced bookings are up," he said, "People are feeling more confident."
Another indicator, lodging cancellations, is also trending positive, with seven percent fewer cancellations so far this year as compared to last. In addition, Gateway's total lodging revenue is up 12 percent, with combined lodging/activity revenue up almost 20 percent from last year. "Overall, people are coming, staying longer and spending more," he said. "Things are looking up for 2010."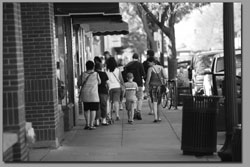 A familiar if not comforting site in Durango this week, as throngs of people clogged downtown sidewalks. The D&SNG is reporting steady rider numbers, and word from DATO is that local hotels and restaurants are faring well./ Photo by Stephen Eginoire
Andrea Seid, marketing and sales director for the Durango and Silverton Narrow Gauge Railroad, said advance bookings for the train are up 13 percent this year as compared to last. And June ridership numbers were 24,210, nearly the same as June 2009, which despite the odds turned out to be an uncommonly strong month. "Things are good," she said. "With (the economic conditions) the way they are, we're really grateful people are still coming. Durango feels really busy.
Despite the uptick in advance bookings, she said there seems to be an even bigger portion of last-minute and walk-up business. "What we've found, really over the last few years, is people are booking closer in. We've had a huge number of walk-ins."
Just this Tuesday, there were so many riders that the train required a "double header," two locomotives to pull the cars. "And we've got two for next week, too," she said.
Coen said his office also has seen a lot more of the walk-up, last-minute action. "People seem to be researching a lot farther out but booking a lot later," he said. One reason may be that people are holding out for last-minute deals and discounts. "People are really looking for deals, and if they don't get them, they're going to go somewhere else," he said.
Samson, with Gateway, agreed that people are looking for price shopping. He said the big seller this year has been the company's "Activity Adventure Tours" which combine a number of activities – such as jeeping, river rafting and train rides. "People are really looking for value," he said.
Unfortunately, it is this sort of unpredictability that makes any sort of economic forecasting an educated shot in the dark, Coen said. "A lot of the lodgers say business is good this week, but it's hard to say if it's going to be good next week," he said.
Further complicating things is the "uncharted territory" the national economy currently finds itself in. "There's too many factors going on – like high unemployment and falling bond and stock markets – that we've never experienced," Coen said. "I wish it were simple."
Nevertheless, he said he is "cautiously optimistic" – a phrase also used by Samson – about the new, steadier pace of normal. "Durango is relatively lucky in that, unlike other tourist spots, we never really hit rock bottom," he said. "But we've got to make up for a lot. It's not going to happen this summer, but hopefully, it will happen."
In this week's issue...
May 11, 2023

New hostel offers hikers, skiers and other frugal fun hogs place to hang their hats
May 4, 2023

Proposed apartments spur efforts to preserve historical burial grounds
May 4, 2023

Small mountain hamlet to remain resort-free, for now