Surf's up, burped off and Fleck's tones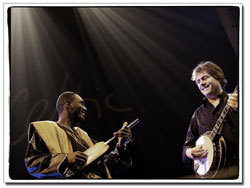 Banjo legend Béla Fleck returns to the Community Concert Hall at 7 p.m. Tuesday, this time supporting "The Africa Project."
by Chris Aaland
Surf's up! By the time you've read this, many of you will have already started searching for the Silver Bullet, burped off at Ska, attended the Fashion Dos and Don'ts, and racked your brain at the Spellabration or Magical Musical Mystery Tour. If you didn't, fret not my bikini- and Hawaiian-shirt-wearing friends. Snowdown events continue through Sunday … just visit www.snowdown.org or pick up a brochure around town for all the dirt.
My favorite? I scored a primo seat at a party overlooking Main Ave. last year for the Friday parade, and hopefully I didn't wear out my welcome. Wearing beach attire inside instead of dressing for the Iditarod and braving the cold makes sense to me. Get downtown early, either way. Parking is virtually unavailable within a mile of downtown after 5 p.m. The official Snowdown firework is launched at 6 p.m. to start the parade.
I'll also certainly be at Carvers tonight (Thursday) at 8 p.m. for the beard contest. My 25-year-old kid brother entered this year and looks like Cro-Magnon man with his furry face mane. Billy looks 16 years old when clean shaven and 45 with a three-month-old beard.
Snowdown weekend is perhaps the busiest of the year for bars in Durango. Fortunately for music fans, it means many venues will be spotlighting local talent. An 11-time Grammy winner, though, steals the show this week.
Banjo legend Béla Fleck returns to the Community Concert Hall at 7 p.m. Tuesday, this time supporting "The Africa Project." Fleck recently released the award-winning album and film "Throw Down Your Heart." Both chronicle his work with African musicians from Uganda, Tanzania, Senegal, Mali, South Africa and Madagascar, and artists from those sessions from his touring outfit. Fleck's renown extends throughout the bluegrass, jazz and classical worlds, while he lends his skills to countless other acts in the rock, country and folk. This time around, he traces the banjo's roots to its native land, as slaves brought a gourd-built prototype of the instrument to the New World centuries ago. The banjo, in turn, played a key role in American musical forms like Appalachian folk, bluegrass and Dixieland jazz.
An added bonus: Fleck will be featured at a free community conversation and brown bag lunch from 1:30-2:30 p.m. Tuesday at the Concert Hall. "Mr. Fleck enjoys interacting with his fans and has graciously agreed to the open forum," said the venue's director, Charles Leslie. "Bring your lunch and come on over to hear about his current projects." Time permitting, Fleck will field questions from the audience.
Steamworks is all over Snowdown. They host the waiter/waitress and bed races from noon-4 p.m. Friday with tunes provided by Spark Madden; a post-parade beach party with prizes for most exotic beach wear and music by Motivator at 9 p.m. Friday; the Outlaw Josie Pete's golf tournament and live music from the Get Backs from noon-4 p.m. Saturday; and an air guitar contest at 9 p.m. Saturday. Bring in your favorite track on an ipod and sign up at 8:30 p.m. to compete.
This week's lineup at the Summit features a triple bill of Oatie Paste, FKM and S.O.B. tonight, pre-and post-parade jams with RedEyedJinn (4:30 p.m.) and Euforquestra (10 p.m.) Friday and an Eric Keifer extravaganza Saturday (solo Eric during happy hour from 6-9 p.m. and Eric with his Aftergrass mates at 10).
The Starlight hosts surf rock by the Get Backs from 5-9 p.m. Friday and the return of DJ Fat Pea with special guests Spark Madden and Benjamin K at 9 p.m. Saturday.
The Abbey hosts the Snowdown Follies simulcast on Friday and Saturday, with doors at 7 and 9:30 p.m. each night. Tonight marks the return of James Bunten's Open Mic with Jonas Grushkin, Bob Rea, Annie Brooks and more.
Elsewhere: Nina Sasaki & Larry Carver are at the Diamond Belle Saloon at 5:30 p.m. Friday and Saturday; Todd Tijerina struts his stuff at the Purple Haze from 8 p.m.-midnight Friday and Saturday; the Kirk James Blues Band travels to Vallecito for a 7 p.m. Friday engagement at the Schank House and to DMR for a 2-5 p.m. Saturday set at Purgy's Pub; Jason Thies plays original music at the Durango Coffee Co. from 7-9 p.m. Saturday; and Jack Tallmadge does solo country at the Diamond Belle Saloon at 5:30 p.m. Monday.
In honor of Béla Fleck's return to town, this week's Top Shelf features my 10 favorite Béla-related recordings:
1. "Crossing the Tracks," 1979. An early, genre-bending disc that ranges from Celtic to Flatt & Scruggs.
2. New Grass Revival, "Hold to a Dream," 1987. Fleck's own "Metric Lips" was a standout jam on a late-era NGR classic.
3. "Drive," 1988. Twenty-two years later, it's still one of my favorite instrumental bluegrass records.
4. Strength in Numbers, "The Telluride Sessions," 1989. Bush, Douglas, Fleck, Meyer and O'Connor. Enough said.
5. Béla Fleck & the Flecktones, "Three Flew over the Cuckoo's Nest," 1993. It's tough to pin down a Flecktones album, because each is so unique … but this is the one I keep returning to. The trio of Fleck, uber-bassist Victor Wooten and the synth-axe drumitar playing Future Man really unloads here.
6. Dreadful Snakes, "Snakes Alive," 1995. While Béla's been a member of numerous bluegrass supergroups, this outfit — which also featured Jerry Douglas and Roland White, among others — interpreted classics as well as original material.
7. Edgar Meyer with Béla Fleck & Mike Marshall, "Uncommon Ritual," 1997. A classical recording with bluegrass undertones.
8. "The Bluegrass Sessions: Tales from the Acoustic Planet, Volume II," 1999. Earl Scruggs and John Hartford were among the many guests on a straightforward bluegrass record.
9. "Perpetual Motion," 2002. Classical on the banjo? A great deal of classical music was performed on the banjo in the 19th and early 20th centuries. He's augmented by such diverse instruments as the marimba, cello, piano and, of course, Edgar's bass. A highlight is the duet with Chris Thile on Scarlatti's "Keyboard Sonata in C Major."
10. Béla Fleck & Edgar Meyer, "Music for Two," 2004. The DVD in this two-disc set shows the painful rehearsals as the virtuosic Meyer challenges Fleck to learn his next-to-impossible "Cannon" for their live tour. •
Did you sell your soul for the golden pick? E-mail me at chrisa@gobrainstorm.net.