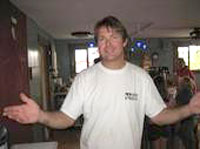 Divers: Charlie from Spruce Tree Coffeehouse & Wine Bar in Cortez
Interesting facts: This former 10-year Durangotang worked at Purg for three different winters, in three different departments.
Got a dirty little secret?
Looking for guidance to remedy a sticky situation?
Seek help from the master of the kitchen! The Dish Diver has solutions to life's little messes. Send your problems to "Ask the Diver." - By mail to Durango Telegraph - Attn Diver -534 Main Ave., Durango, CO 81301; by email at telegraph@durangotelegraph.com, or by fax at 259-0448.
Dear Diver,
What are the three ultimate Snowdown events? I've got a newborn at home, am working 1.75 jobs and don't have a lot of free time at the moment. Please steer me and my new board shorts in the right direction.
– Down and Out for Snowdown
Dear Down & Out,
I hear nobody knows ya… the parade is the only "don't miss" event and it's free and open to the public.Go early and get a good parking spot, then you can hit the bars, which will be packed. Put your drink in a to-go coffee cup, and the cops won't look twice, especially if you're lugging the kid. The follies are more elitist; if you can even get tickets, you probably won't get the jokes. The ultimate event, however, would be to actually go out and shred the snow that's down, instead of wasting a powder day watching drunks in a skit.
– Ride to Live, Live to Ride, Diver
Dear Diver,
Is it OK to still have Christmas decorations on the outside of the house? Ours came down on New Year's Day, but the rest of my block is still celebrating. What's the expiration date for Christmas cheer?
– Martha, via e-mail
Dear Martha,
It's Jan. 2. Amateur Night has come and gone, and it's time to go back to work. New Year's Day is for football, nursing a hangover, and taking down all that tacky holiday crap. Your neighbors are probably more lazy than festive. Hang up a "Who Dat?!" banner, and maybe they'll feel out of style enough to motivate.
– Keepin' it real, Diver
Dear Diver,
I'm a closet snow-hater and do my best to keep a low profile. However, I let one slip about my hatred of shoveling the other day and have been getting persecuted at work ever since. How should I deal with my tormenters?
– Counting days until spring
P.S. What's a good way to upset the snow gods?
Dear Counting,
Closets are for clothes! Free your mind and your ass will follow.
Remember that your tormenters' taunts are a reflection of their own unresolved issues and old wounds: "When you point your finger, there are three more pointing back at you." On a pragmatic level, though, I do wonder why a snow-hater would live in snow country. Do you secretly enjoy the name-calling and shaming?
To upset the snow gods, leave your car idling while you shovel or run errands about town, and drive everywhere. Ignore all that leftist hype about the climate, and throw caution to the warming winds. After all, we've only got a little less than three years anyway. And if that turns out to be nothing but hype, you'll be able to grow citrus trees here. Who'll be laughing, then?
– Lovin' the home-grown limes, Diver