Surf's up, 100 years of Broadway and irreverent ales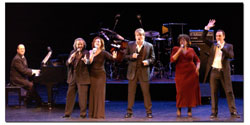 100 Years of Broadway comes to the Concert Hall Thursday night.

by Chris Aaland
Dude! The 32nd Snowdown is upon us, officially kicking off Wednesday. This year's theme is "Life's a Beach," so if you own a terrible-looking Hawaiian shirt or an old lei, you have no excuse for not dressing the part.
There are far too many Snowdown events to list, so visit www.snowdown.org or pick up one of the schedules around town to figure out what best suits you. If you want to get a jump-start on Snowdown, try kickoff parties Wednesday at the Abbey (featuring Zach Deputy) or the Summit (a "going to the islands" themed event with reggae DJs).
In the days leading up to Durango's signature winter celebration, there's plenty of entertainment to choose from.
The memorable melodies of musical comedy come to the Community Concert Hall at 7 p.m. tonight (Thursday) in the form of Neil Berg's "100 Years of Broadway." Expect such tunes as "Some Enchanted Evening" from "South Pacific," "Over the Rainbow" from "The Wizard of Oz," "Impossible Dream" from "Man of La Mancha" and even Billy Joel's "Scenes from an Italian Restaurant."
MOMIX returns to the Community Concert Hall at 7 p.m. Tuesday. The internationally renowned dance troupe is currently touring behind the "Best of MOMIX," bringing back the most popular aspects of the company's extensive repertoire. Recent shows have featured excerpts from "MOMIX in Orbit," "Opus Cactus," "Passion," "Lunar Sea" and more.
Vince Herman and Great American Taxi are back at the Abbey tonight. Herman, the frontman for Leftover Salmon, stretches into troubadour territory and rock and roll terrain with Taxi. RedEyedDjinn opens. The Abbey's Avalanche Music Festival concludes with Gigi Love & Wisebird on Friday and Megan Burtt on Saturday.
The Summit features a unique band, the Willie Waldman Project, tonight. The group includes Brian Jordan (of Karl Denson's Tiny Universe) on guitar, Tony Austin (from Santana) on drums and Willie Waldman (from Snoop Dogg) on trumpet.
Also at the Summit this week: a free-pizza happy hour from 5-9 p.m. Friday with Eric Keifer of Aftergrass; Cosmic Accident at 10 p.m. Friday; happy hour with Rupnow & friends (and more free pie) from 5-9 p.m. Saturday; and Durango's newest original band (their PR says the crowd will choose their name at the show) at 9:30 p.m. Saturday.
The Starlight presents the Mac Jazz Trio from 6-9 p.m. Friday, live music and dancing with Peter Robot at 9 p.m. Saturday, The Daydreamers at 9 p.m. Tuesday and Jonezy at 9 p.m. Wednesday.
Once again, Ska produced a limited-edition Snowdown suds. The Bodo boys have bottled these irreverent ales since 1995. This time around, they've unleashed the Hyper Fierce Gnar Gnar Hefe, an unfiltered wheat-flavored brew with pineapple and toasted coconut. I heard mixed reviews prior to sampling – one liquor store clerk hated it, but the Muffin Man loved it – so I went into my first tasting with an open mind. I've always loved hefeweizens and usually fruit mine with a lemon or orange wedge and the Gnar Gnar didn't disappoint. Its pineapple and coconut (toasted at Carvers) were noticeable but not overbearing. This one's the brain child of crazed head brewer Thomas Larsen. Like me, he's a Norwegian and a Wheat Ridge High School alumnus. Insert your own Ollie and Lena joke here, but don't dally: most liquor stores have already sold out of the Gnar Gnar. If you miss out on a bomber, don't fret as Lady Falconburgh's, El Rancho and Ska will have it on tap during Snowdown week.
The Bodomeisters also released another rarity recently, Ska Sour. Crafted in honor of the 10th anniversary of big beers, Belgians and barleywines, Ska's president Dave Thibodeau calls it a Belgian-American sour pale. "Brewed with multiple yeast strains, Ska Sour was aged and generally funked-up in oak casks inoculated with all manner of groovy little bugs," he said. "The aroma is decidedly sour with musty hints and hearty notes of dark fruits." I tried one last week and truly enjoyed it. Beer connoisseurs can find bombers at their favorite local liquor store. Thibodeau said only 100 cases were bottled, and distribution was statewide, so quantities are limited.
In honor of the arrival of Snowdown, this week's Top Shelf list features 10 of my favorite surf songs. By no means am I an expert in this genre. But I'm a rockabilly and alt-country guy, so surf occasionally treads on my turf.
1. Dick Dale & his Del-Tones, "Misirlou," 1962. The King of Surf Guitar took a traditional Greek song and upped the volume, playing the signature riff on one string.
2. Jørgen Ingmann & His Guitar, "Apache," 1961. The onetime member of the Champs (think "Tequila") scored a solo hit with a remake of Jerry London's instrumental.
3. Los Straitjackets, "Lonely Apache," 1996. Surf with strings (and vintage Mexican wrestling masks)? Eddie Angel wrote a mid-tempo spaghetti Western number that sounds like it's from a 1960s TV soundtrack.
4. Beach Boys, "Moon Dawg," 1962. Everybody knows Brian Wilson's pop classics. But when they toned the vocals down and played surf, a la this classic from "Surfin' Safari," they proved their mettle.
5. Dave Alvin, "Boss!," 2008. The ex-Blaster guitarist released this one as a download through his website. He's frequently paying homage to unheralded Southern California musicians, including the Rumblers, who scored a minor hit with this original in the '60s.
6. Junior Brown, "Surf Medley," 1996. The guit-steel master blended acid-country takes on "Pipeline," "Walk Don't Run" and "Secret Agent Man" into seven minutes of guitar pyrotechnics on his "Semi-Crazy" disc. Catch him doing this live, as I did in Silverton several years ago, and you'll count yourself among the lucky.
7. Reverend Horton Heat, "Psychobilly Freakout," 1990. The good reverend rips it up punk-style on his "Smoke 'Em If You Got 'Em" album.
8. The Sadies, "Tales from the Rat Fink" soundtrack, 2006. An entire album of surf rave-ups, most clocking in at one minute or shorter.
9. Southern Culture on the Skids, "The Wet Spot," 2004. A blistering instrumental highlight from their "Mojo Box" record.
10. The Who, "Batman," 1966. Keith Moon's reputation as a world class drummer is undeniable. But few know about his love for surf music, including this famous TV theme they recorded for their "Ready, Steady, Who!" EP.
Somebody ripped my stick? Email me at chrisa@gobrainstorm.net.
•