Local help for Haiti
Durango rallies around earthquake victims

SideStory: How to help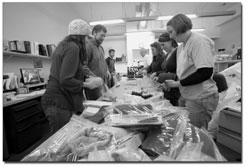 Employees of Sugnet-Moore Environmental put together health kits for the United Methodist Committe on Relief. The kits will be sent from Durango to warehouses and then distributed to Haitian earthquake survivors. The group was hoping to package as many as 500 of the kits, which contain basic hygienic needs such as washcloth, toothbrush and soap, using their funds as well as money donated for the cause./Photo by Stephen Eginoire
by Missy Votel
Even as Durangoans dig themselves out from the most recent gift from Mother Nature, many are digging deeper to help those in Haiti who were not so lucky.
Since the 7.0 magnitude earthquake struck the impoverished Caribbean nation last week, numerous local efforts have sprung up to offer relief in the form of cash or goods.
At Fort Lewis College, Martin Luther King Week activities offered the perfect impetus for raising awareness and funds for the plight of Haitians.
"I was walking down the hall last week and overheard a student say she wished Fort Lewis was doing something for Haiti," said FLC Dean of Arts and Humanities Linda Schott. "And I thought, 'Oh my gosh, that's such a natural connection for MLK week.'"
Schott, who coordinates events for MLK week, said each year the school looks for a theme to tie the event together. Some of the ideas kicked around this year included health care reform, diminishing funds for Native American students and a food drive. But the tragedy in Haiti spoke loudest. "We try to pick a theme that focuses on the issue of 'carrying on the dream,'" said Schott. "Haiti seemed so relevant, especially given its history of racism and American imperialism. It made prefect sense to focus our efforts there."
Soon, the idea for the Haitian Earthquake Relief Campaign took off, jumpstarted by a $10,000 gift from FLC supporter and founder of Crocs Inc., George Boedecker. Since selling the Crocs company in 2006, Boedecker has become a part-time Durango resident and assistant coach for the FLC men's basketball team. He now runs the philanthropic Boedecker Foundation, with orphanages in Africa and Mexico. He also works with OnexOne, a charity founded by actor Matt Damon that builds sanitation and clean water systems in Third World countries.
"(Damon's) helping out in Haiti, and from what I heard, it's unbelievably brutal. They wanted to know if I wanted to get involved," said Boedecker.
He said by contributing to FLC, he not only will help Haiti but help the college, where three of his children attended school.
Schott said during MLK events, there will be an opportunity to donate to two organizations: the Red Cross and Partners in Health, which was founded by Dr. Paul Farmer, known for his work in Haiti. Schott said people may remember Farmer from the 2007-08 Common Reading Experience as the subject of the book, Mountain Beyond Mountains: The Quest of Dr. Paul Farmer. Schott said the hospital Farmer founded outside Haiti is one of the few that survived the quake.
The FLC drive is purely a monetary one, meant to raise funds quickly. "This is a way of creating a sense of urgency. I think a lot of people want to do something but get busy with everyday life. This is a way of taking that step and dropping $10 in the basket," Schott said.
Cindi Shank, executive director of the local chapter of the American Red Cross, said that as of Monday Southwest Colorado residents had donated more than $5,000 to her office. The money will be used to fund medical centers on the ground as well as aboard the U.S Comfort, a Navy medical ship; for food, water and basic survival supplies; field hospitals; and latrines and sanitation facilities.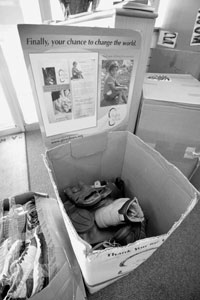 Used shoes fill the Soles for Souls collection box at Browns Shoe Fit Co. The store collects worn shoes all year for the program, but is currently collecting sandals and sneakers for Haiti./Photo by Stephen Eginoire
She said as of now, there is no request for additional volunteers in Haiti. "Right now, it's more important to get supplies than volunteers," she said. "We don't want to add stress to the infrastructure by sending in a bunch of extra people that will also need food, water and shelter."
She said the firsthand account she's gotten from a friend with the Virginia Technical Response Group in Haiti is "mind boggling." As of Monday, he was still finding people alive in the rubble although rescue crews hadn't even begun searching for victims in the villages outside Port au Prince. "There are going to be several million people affected who are going to need assistance," Shank said. "People just have no concept. We're talking three years of the Red Cross being on the ground there with human-assistance services."
Although money is the preferred way to help, it is not the only one. The First United Methodist Church is coordinating an effort to send "health kits" to Haitians containing basic hygienic supplies such as soap, washcloths, toothbrushes, toothpaste and band-aids. According to project volunteer Marcia Heidenreich, the kits will go to the national United Methodist Committee on Relief, which has several warehouses throughout the country. From there, they will be dispatched to Haiti. So far, 44 kits have already been shipped from Durango with hundreds more expected throughout the week. "We will keep sending them as long as we get them," said Heidenreich. "I think people want to help. This is a very generous community."
Sugnet & Moore Environmental, a local consulting firm, has jumped into help with the effort as well. Last Tuesday, the staff formed a health kit assembly line, boxing the kits with items bought by employees or donated by other businesses they contacted to help out.
"We are hoping to assemble 500 kits this week," said co-owner Paul Sugnet. A part-time resident of Nicaragua, Sugnet has heard firsthand accounts of the devastation of earthquakes. "In 1972 there was a quake in Managua, and I've heard horror stories. And this one is much worse," he said. "It's so extremely sad because we all know Haiti, of all the countries, was the last one that needed more problems."
Sugnet said the cost of a heath kit averages about $12. "For $100, you can help 10 people," he said. "You don't have to donate too much to make a difference."
In fact, those short on cash need look no further than the back of their closet. Through the national nonprofit Soles for Souls, Browns Shoe Fit is accepting gently used shoes for Haiti. Because of the tropical climate, Browns Manager Steve Swisher said sandals or tennis shoes are preferred. "We are asking for shoes that can be worn by the recipient, without holes or rips. And because it is tropical 12 months out of the year, snowboots and Western boots are not relevant at this time."
So far more than 700 pairs of shoes have been collected, with the donation box at the front of the store being quickly overwhelmed. "I came to work this morning and there were bags and bags and boxes of shoes lined up outside," Swisher said Monday.
And while shoes or toothbrushes may not seem like much in a disaster of such large scale, Heidenreich, with the United Methodist, said aid in any amount helps. "When you're involved in a disaster, it doesn't matter if it's a big one or a small one." •