Packs full of passion
Local manufacturer Osprey continues to set a high mark for packs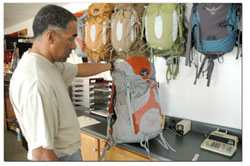 Gareth Martins, director of marketing for Osprey packs, shows off the "Good Design Award"-winning Osprey Exus 46 last week at the company's headquarters in Cortez. Now 35 years old, Osprey is at the forefront of the outdoor industry in terms of conservation practices and innovative designs./Photo by Brandon Mathis
by Brandon Mathis
Cortez, Colo.: Mesa Verde National Park, Sleeping Ute Mountain, one giant casino and global headquarters of renowned Osprey Packs. From Cortez, a team of marketers, a couple customer service reps, one repair specialist and a few others orchestrate one of the world's leading backpack manufacturers. While similar companies do whatever it takes to maximize profits and stay out of the red, Osprey shows ample gratitude to what makes their company tick: their employees and the outdoors for which their products are made.
Founded in Santa Cruz, Calif., in 1974 by Mike Pfotenhauer, the small, made-to-order backpack company eventually moved to an old textile factory in Dolores to be among the mountains and streams of the Southern Rockies. The new location offered easy access to a number of venues, from deserts and canyon country to thick-forested mountains and remote alpine peaks. Soon after moving to Dolores, Osprey moved down the road to Cortez, where it is headquartered today. In addition to its Cortez location, Osprey also has offices in San Francisco and Ho Chi Minh City, Vietnam. It serves 400 dealers worldwide while striving to produce high-end packs that draw recognition throughout the industry.
But they have worked hard to get there.
"In the late '90s, fabric mills started closing all over the southeast," said Gareth Martins, director of marketing for Osprey Packs. "That was where all the fabric came from, as well as hardware suppliers … we resisted as long as we could," he said referring to the move overseas. In Osprey's early days, all packs were made in Southwest Colorado by skilled Navajo sewers. "We had a fantastic situation with a local sewer base, but the writing was on the wall," Martins said.
When founder and head designer Pfotenhauer visited Southeast Asia, following the fabrics and hardware industry, he soon found incentives for establishing certain aspects of production there. Over time, production grew and moved to first Korea, then Vietnam. Now with the main design office in Ho Chi Min City and three factories working with materials and fabrics, Pfotenhauer moved his family to Vietnam to oversee production and design. Currently, 18 employees work for Osprey Packs in Vietnam.
Back in Cortez, at Osprey's main distribution center, the work environment is laid back, but everyone is busy. CEO Tom Barney is on the phone, flipping through the new catalog and discussing layout. In a large customer-service center lined with current Osprey products, agents talk to customers from all over the country, guiding them through questions, issues and product functions.
Awards and posters adorn the walls, as does an employee alternative-transportation log. "If an employee uses an alternative mode of transportation to get to work, they earn money. That money goes into a kind of account, and they can pro-form gear from other companies," Martins explained. "If you want a new bike frame, then keep riding your old one to work."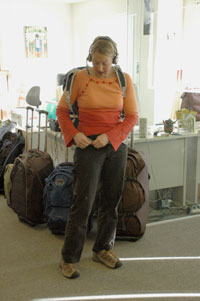 Returns Manager Meagan Waterman talks a customer through a pack fitting last week./Photo by Brandon Mathis
Osprey's green commitment doesn't stop there. The warehouse-like building has been modified to be highly efficient. Solar tubes allow Cortez's abundant sunshine to flood the top floor. Sun-tracking skylights move throughout the day to get the most of the natural light. Things like waterless toilets and recycled plastics and boxes are the norm. "From the moment they got here, the owners wanted everything to be recycled," Martins said. Osprey even has a "green team" that meets monthly to discuss new ways to be sustainable and efficient.
Further still, the company participates in carbon offsetting from reputable companies, supporting projects that help reduce emissions. "We found that a lot of offset programs were not legitimate, but now we see a direct transfer into things like solar banks or wind power," he said. Osprey buys green energy credits from renewable sources like wind or solar. Those credits are directly transferred to power Telluride's Prospect Bowl chairlift, or chair 12. "We've partnered with Telluride, and now several lifts are powered using green credits," Martins said. "They've done a great job of becoming more conscious, and it's great to partner with a company that's become more serious and aware of things."
Across the board, Osprey is involved in making a difference on a national scale. As a member of the Outdoor Industry Conservation Alliance, the company has teamed up with 165 other outdoor companies to help fund conservation grants. "It allows us to leverage money with other companies to make a big difference," Martins said. "Last year, the Conservation Alliance donated over $900,000 to various environmental causes around the country."
With all of its green efforts, it is almost easy to forget about the main thing Osprey does: producing top-of-the-line backpacks. "We are a design-driven company. We make gear carriers," Martins said. "If it doesn't carry gear, we're not going to build it."
Osprey has been winning awards for decades, and the only difference is the awards keep getting bigger. From several Backpacker Magazine "Editors' Choice Awards," to numerous Outside Magazine "Gear of the Year Awards," the ever-evolving designs from founder Pfotenhauer are getting attention year after year, all the while expanding from backpacks to urban day bags to luggage, like wheeled carriers.
Perhaps the most prestigious recognition Osprey has received is the Good Design Award for its Exus 46. The venerable award has been given by the Chicago Museum of Architecture and Design, and the European Center for Architecture, Art and Urban Studies since1957 based on a design's ability to enhance people's lives. The Exus, a high-volume, lightweight pack, recently received the award in Sports and Recreation. "It's really cool that we could go among some of the most innovative things on the planet, and be picked," said Martins. "They don't pick a lot of outdoor stuff."
In addition, Outside has twice called Osprey one of America's best places to work. Colorado Biz Magazine has noted Osprey is one of "Colorado's Best: The Top 50 Companies to Watch," along with Open Sky Wilderness Therapy and Zuke's organic pet treats, both in Durango.
"It's a nice stamp of approval," says Martins from the boardroom, which boasts recycled insulation in the walls. His sweatshirt reads "Dream Big and Dare to Fail," a motto of the late, great Antarctic explorer Norman Vaughn. "Much of our culture is based on every employee getting out and using our product and providing feedback," he said. "We have an open door for employees, customers and testers. We want to hear when something's not working. We want to hear if it's great."
The company, as a whole, is excited about the future, as people lean more toward alternative modes of transportation. Nevertheless, the company slogan, "Pack your passion. Go," remains relevant 35 years later. "There's tons of stuff on urban commuting, on-body hydrating, biking," Martins said. "I think that's our next adventure."
In this week's issue...
July 21, 2022

Land swap approved in Southwest Colorado, but not without detractors
July 21, 2022

The latest strategy to save the San Luis Valley's shrinking aquifer: paying farmers not to farm
July 14, 2022

Despite SCOTUS ruling, San Juan Generating Station plans to shut down