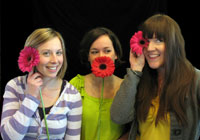 Divers: Kate, Natalie & Sarah from April's Garden
Interesting facts: The girls from April's want you to know that one white rose in the middle of a dozen red roses is not original
Got a dirty little secret?
Looking for guidance to remedy a sticky situation?
Seek help from the master of the kitchen! The Dish Diver has solutions to life's little messes. Send your problems to "Ask the Diver." - By mail to Durango Telegraph - Attn Diver -534 Main Ave., Durango, CO 81301; by email at telegraph@durangotelegraph.com, or by fax at 259-0448.
Dear Diver,
Where do you draw the line on Facebook friends? My husband accepts everyone, whereas I'm a little bit pickier. Am I really a "bitch" for not welcoming almost-strangers from 25 years ago into my cyber fold?
– Mel, Durango
Dear Mel,
As the new year brings about terms such as "de-clutter" and "simplify," why not apply those terms to your FB page? Think of friend-management like cleaning your closet, if you haven't worn it for a year then purge! Someone is bound to love it and in this case purging is healthy! Think of that guy who sat next to you in seventh-grade biology who keeps "friend-requesting" you like that orange turtleneck sweater that Aunt Mildred made you for Christmas in 1999… you know the one that gives you the uniboob and you've moved with five times. That stupid sweater makes you feel guilty because you don't like it and let's face it – so do all the randoms who want to fill your homepage with Farmville updates! So Mel – it definitely does not make you a "bitch" to ignore those random friend requests. Let your hubby know that it's
OK to click IGNORE and that it's time to purge!
– Your Farmville Friends
Diver,
Last Saturday, I went in for a few moments of après ski (two beers to be exact) and returned to find my beloved boards missing (aka stolen). The funny thing is, they're five years old, not really that fat and pretty beat top and bottom. Still, I'm pissed and want to find my old sliders. How can I track them down? How should I take my revenge once I find the culprit?
– Purgatory Pete, via e-mail
Dear Purgy Pete,
There's a valuable lesson to be learned in a nursery rhyme from childhood: "Three little kittens lost their mittens and soon began to cry. Oh, Mother Dear, we sadly fear, our mittens we have lost. What! Lost your mittens? You naughty kittens! Then you shall have no pie. Meeoww, meeoww, meeoww."
Moral: When you don't keep track of your shit, you don't get any pie!
Karma will take care of the rest…
– The Naughty Kittens
Dear Diver,
I've resolved to quit smoking and lose weight in 2010. Impossible, right? Well, here we are just a few days into the New Year and temptation is already calling around every corner. Please give me a few pointers for staying on track, away from the ashtray and out of the freezer section.
– Rapidly Warming Turkey
Dear Rabid Turkey,
We know who you are. You sit on the couch watching shows like "Jersey Shore" and "Hoarders" when you should be watching "The Biggest Loser" or "Intervention." Do NOT look the Oreos or that pint of Pinstripe in the eye!
Get up, grab your dog and get outside – you live in Durango!!! Cross country skiing, snowshoeing, running with your YakTrax, downhill skiing, ice climbing, kite boarding and ski biking await you – and all of these activities are less fun when hacking up a lung!
Short of that – start eating your meals out of your ashtray, it's great portion control and who wants a mouthful of ass (oops, we meant ash) anyway!
– The Flower girls who can't say "no" to the Oreos either
In this week's issue...
July 21, 2022

Land swap approved in Southwest Colorado, but not without detractors
July 21, 2022

The latest strategy to save the San Luis Valley's shrinking aquifer: paying farmers not to farm
July 14, 2022

Despite SCOTUS ruling, San Juan Generating Station plans to shut down