Farewell to a friend, Abbey Fest and movers and shapers


by Chris Aaland
I found myself reading "The Rubaiyat of Omar Khayyam" on Monday night. For those familiar with these classic quatrains, you know it's often quoted in celebration of life after the passing of an old friend. A one-man wake usually follows.
At 5:18 p.m. Monday, I heard Eddie Box Jr., interrupt the evening news on KSUT to announce the passing of former station manager Carlos Sena, 52, in Santa Fe.
Carlos was indeed a dear friend, albeit one I rarely saw this past decade. His stamp on public radio and the live music scene in the Four Corners is indisputable. Those he left behind acknowledge his death — many of us weren't surprised — with little shock, a host of stories that brought more laughter than tears, but emptiness nonetheless.
Carlos lived hard. No doubt he died a rocker's death because he lived a rock and roll lifestyle. He was politically incorrect before the term existed. He loved wine, women and song, often in great excess. But he also had a tender side. One of the main reasons he left Durango many years ago was to care for his elderly grandmother, who was 104 when she died.
Carlos arrived in Durango as the second professional station manager in KDUR's history in the late 1980s. A few years later, the green pastures of KSUT lured him away from college radio. In his wake at KDUR came Tami Graham. He later hired Beth Warren and Stasia Lanier at KSUT. He had a knack for spotting talent.
"We're there because of Carlos," Warren told me on Monday evening, her voice strained from calling KSUT staffers past and present to share the bad news. "I owe a huge debt to him … and also a few gray hairs." She called her mentor a brilliant man with a tortured mind and soul. We agreed he was our Spanish Buddha.
I recalled my early days as a DJ at KDUR some 20 years ago, when Carlos would request raunchy, early '70s Rolling Stones songs like "Happy" and "Star Star." If you asked Carlos whether he was an Elvis guy or a Beatles fan, he always answered, "The Stones."
I filled two cups on Monday night and stood on my deck looking at a snow-covered back yard. After a solemn toast, I drank one and turned a full glass upside down for Carlos. Vaya con Dios, mi amigo.
CB-3 (also known as the Chris Berry Trio) fuses funk, dance hall reggae and African rhythms at 7 p.m. Friday at the Community Concert. The String Cheese Incident's Michael Kang joins the trio. Berry's roots trace back to the ghettos of Zimbabwe, where he studied the mbira (a thumb piano with 29 keys) and the ancient rhythms of the Shona people.
The Abbey Avalanche Music Festival celebrates the one-year anniversary of the venue's new ownership with lots of national acts in a variety of genres. Highlights include 2006 Telluride Bluegrass band competition winner Greensky Bluegrass on Saturday, Austin alt-country up-and-comers Band of Heathens on Sunday, Tim Reynolds of Dave Matthews Band fame on Tuesday and the big band revival of The Swingtones on Wednesday. It continues into the following weekend with three more shows. A $50 Beacon Badge gets you VIP seating, all-access, early entry and front-of-line privileges. Tickets to individual shows are also available.
The Starlight hosts the Mac Jazz Trio from 6-9 p.m. Friday, DJ Ralphsta at 9 p.m. Friday, the Same Old Band at 9 p.m. Saturday and Colin Rooney at 9 p.m. Tuesday.
Elsewhere: The Jelly Belly Boogie Band appears at the Billy Goat in Gem Village at 8 p.m. Friday; and the Kirk James Blues Band plays a 5-7 p.m. FAC on Friday and 8 p.m. gigs Friday and Saturday at the Purple Haze.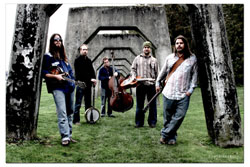 Greensky Bluegrass plays the Abbey this Saturday

This week's Top Shelf list acknowledges 10 individuals who shaped the Durango music scene the past decade. I'd actually been working on this list since before Christmas. It's fitting to arrive in print a few days after Carlos Sena's passing: the man truly shaped live music in Durango during the 1990s with many of this list simply carrying the torch after he left town. With apologies to the many other musicians, promoters, club owners, on-air personalities and behind-the-scenes volunteers who fill our ears with tunes, these 10 stood out in my mind:
• Travis Book: It's hard to believe he was just learning to play the bass a few years ago. Through his tenure in Broke Mountain, tours with the Colorado Playboys and international awards with the Infamous Stringdusters, Book is one of Nashville's brightest young pickers and harmonizers.
• Robin Davis: Pagosa Springs' Davis keeps flirting with national stardom, yet somehow keeps coming back to a part of the world he loves dearly. Quite simply, he's one of the best guitarists around.
• Pat Dressen: As guitarist and vocalist for The Badly Bent, he's certainly a stalwart on the local bluegrass scene. He's also a rock drummer, a gifted mandolin player, a writer and a voracious collector of vinyl records.
• Doug Eagle: The soundman's work goes unnoticed, but certainly not unheard. Eagle is meticulous when it comes to giving paying customers their money's worth.
• Jim Foster: A classical music aficionado, his marketing genius has benefited Music in the Mountains and Fort Lewis College's Artist in Residence program.
• Benny Galloway: Burle has penned tunes for Yonder Mountain, the Stringdusters, Drew Emmitt and others. He's a lyrical craftsman.
• Stasia Lanier: KSUT's music director has one of the keenest ears for Americana of any radio person in the nation.
• Bryant Liggett: KDUR's station manager and longtime program director champions rock 'n' roll and alt-country, along with countless local bands.
• Erik Nordstrom: The Nord is the unofficial poet laureate for Durango's working class, outfitting himself with three chords and the truth.
• Gary Pennington: Recently retired from concert promotion, he filled the Community Concert Hall and larger venues with Rock & Roll Hall of Famers, Grammy winners and legends from many genres. •
If your cup is full, may it be again? E-mail me at
In this week's issue...
July 21, 2022

Land swap approved in Southwest Colorado, but not without detractors
July 21, 2022

The latest strategy to save the San Luis Valley's shrinking aquifer: paying farmers not to farm
July 14, 2022

Despite SCOTUS ruling, San Juan Generating Station plans to shut down