Puckheads, Beautiful Losers and The Belleville Outfit


by Chris Aaland

Sports fans get all worked up over the Olympics. Hockey fans, in particular, go bonkers whenever the Winter Olympics come around. The XXI Winter Olympics should be extra special for puckheads, as we cross our fingers for a Sidney Crosby vs. Alex Ovechkin, Canada vs. Russia gold medal game. Factor in the heated rivalry between the American and Canadian women's teams, and it's 16 days of frozen Nirvana.
There's a lot more than pucks and sticks, though. I've found myself glued to the tube for ski jumping, mogul skiing, snowboard cross and short-track skating. When the Chinese husband-and-wife team of Shen Xue and Zhao Hongbo (he's only five years younger than me!) won gold in pairs figure skating, I got misty-eyed. I even gasped at a few of the outfits (how 'bout those German clown get-ups in the short program?)
Athletic excellence is celebrated locally this weekend, too, as Fort Lewis College inducts the 1999 Skyhawks men's soccer team and four individuals into its Athletic Hall of Fame. The '99 Skyhawks finished second in the nation and helped put the entire Durango soccer community on the map. Several celebrations will take place throughout the weekend, including a reception at Lady Falconburgh's on Friday. Benj Fredrick, a member of the '99 team, worked with Ska Brewing on commemorative 2005 and '09 national championship pint glasses to raise money for soccer scholarships at FLC. Buy one for $10 and take advantage of Ska beer specials Friday at Falcs.
The Beautiful Loser Society comes out of its winter cocoon to play the Dolores River Brewery Saturday. Chuck Barry and company released their sophomore effort, "The Long, Slow Decline," late in 2009. Two-thirds of the songs on "Decline" are new, full-band versions of familiar numbers from Barry's sparse 2001 solo outing. Through all three of his albums, Barry has become somewhat of a Faulkner for Four Corners rednecks. The Dolores River Brewery may as well be his Jefferson.
The Belleville Outfit returns to the Henry Strater Theatre for a 9 p.m., 21+ affair on Friday. I've caught their act twice before: once at the Pagosa Folk'n Bluegrass Festival, another time at the Hank. If memory serves me correct, you can expect lots of thirtysomething women gyrating to the catchy, gypsy-grass fiddle of Phoebe Hunt and twin guitar attack of Marshall Hood (nephew of legendary Texas fiddler Champ Hood) and Rob Teter.
Texas Renegade comes to the Abbey Theatre at 8 p.m. Friday in a homecoming of sorts for band members Eli and Tyson Carver (bass and guitar/mandolin, respectively). The two are 1998 graduates of Durango High School. The five-piece country-rock act counts themselves among the new wave of Texas artists, in the same vein as the Band of Heathens, Reckless Kelly and Jack Ingram. Diehard honky-tonk fans will also recognize drummer Luke Ayers, who has played locally with Austin-based bands Genuine Cowhide and Dave Insley's Careless Smokers.
String Cheese Incident fans can rejoice as EOTO, the brainchild of SCI's Michael Travis and Jason Hann, brings its organic mix of breakbeat, house, drum & bass and trip-hop to the Abbey at 9 p.m. Saturday. Travis and Hann play different instruments in
Raashan Ahmad and Coolzey take their beats and rhymes to the Abbey at 9 p.m. Sunday. Ahmad is best known as the frontman and MC for the Crown City Rockers.
The Summit hosts a pair of fund-raisers this week. Tonight (Thursday) features "The Manifesto" benefit for the Fort Lewis College Sociology Club, with music by Waiting on Trial and DJ Codestar, live painting, juggling and more. Then on Saturday, the "Dream Machine" Burning Man art project includes performance with members of the Salt Fire Circus, art stations, body paintings, a costume contest and music by Lucy and a host of DJs.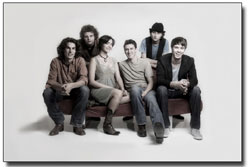 The Belleville Outfit comes to the Henry Strater Theatre this Friday night

Friday's musical lineup at the Summit includes an acoustic happy hour with Eric Keifer from 6-9 p.m. followed by the twin bill of jam-band Whurm and local openers Aftergrass.
The Mancos Valley Distillery is now hosting live music. Once a vessel for Ian's Back Alley Rum, it's turned into a cultural hotspot for Montezuma County. Craft distiller Ian James, formerly employed by Durango Brewing Co. and other microbreweries around the state, has long been a champion of local music scenes. This Friday, Spinning Wheels do an acoustic show at the distillery; on Feb. 26, Baby Toro hosts its CD release social there (more about that in next week's "Top Shelf").
This week's indoor Ska-B-Q features the Celtic music of Giants Dance and free posole from Zia Taqueria.
The Starlight schedule includes the Bob Hemenger Trio from 6-9 p.m. Friday, Jonezy's Club Meds at 9 p.m. Saturday and The Daydreamers at 9 p.m. Tuesday.
Elsewhere: Jack Ten High plays the Derailed Saloon at 9 p.m. tonight; Kirk James has a solo happy hour at the Abbey from 5-7 p.m. tonight and a gig with his blues band at Vallecito's Schank House from 7-11 p.m. Friday; the Jelly Belly Boogie Band is at Desperados at 8 p.m. Friday and the Derailed at 9-ish Saturday; and The Chills strut their stuff at the Purple Haze during the 5-7 FAC and from 8-midnight Friday and Saturday.
In honor of the Vancouver Olympics, here are four of my favorite Winter Olympic hockey moments:
1. The Miracle on Ice, 1980, Lake Placid. By the time Mike Eruzione put the U.S. up 4-3 with 10 minutes remaining in the third, I'd already become a lifelong hockey fan.
2. Peter the Great, 1994, Lillehammer. Future Colorado Avalanche center Peter Forsberg beat the Canadians in the shootout of the gold medal game with his one-handed, slide-it-in goal that's become popular in today's NHL shootouts.
3. The women arrive, 1998, Nagano. Cammi Granato and company beat powerhouse Canada in pool play and the gold medal game to capture Team USA's lone women's ice hockey gold.
4. Super Joe, 2002, Salt Lake City. Colorado Avalanche center Joe Sakic scored two goals and assisted on two others in the championship, leading Team Canada to a 5-2 win over the U.S. and, shockingly, its first Olympic hockey gold in 50 years.
They storm the crease like bumblebees? E-mail me at chrisa@go brainstorm.net •
In this week's issue...
March 17, 2022

Lake Powell drops below threshold for the first time despite attempts to avoid it
March 17, 2022

Purgatory Resort set for expansion but still faces hurdles
March 10, 2022

New health care studio takes integrated approach to healing