A thaw in the market
Real estate shows signs of rebounding in Durango

SideStory: Foreclosures climb in La Plata County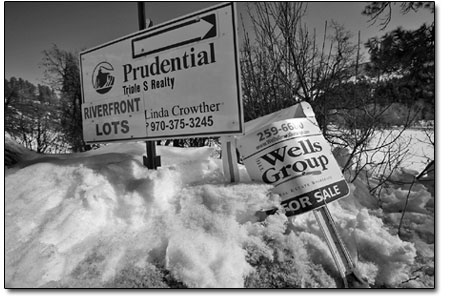 An array of real estate signs emerge from a receding snowbank in Durango this week. After a year of trending downward, the market is beginning to stablilize, with both prices and transactions making steady gians over the last three or four months as compared to last year at this time./Photo by Stephen Eginoire
by Missy Votel

The snow may still be piled high around Durango, but general consensus is that the local real estate market has bottomed out and the clouds are finally beginning to lift on a dismal sales year. According to the latest numbers from the Multiple Listing Service of the Durango Area Association of Realtors, residential sales in La Plata County are making modest gains after several months of a downward trend.
"From January through September 2009, we were continuing a major slide in transactions," said Don Ricedorff, DAAR president and real estate broker with the Wells Group. According to the MLS, countywide home sales were down 30 percent from the same time frame in 2008, with median prices taking a 10 percent hit.
However, things began to turn around in the fourth quarter of 2009, the period from Oct. 1 – Dec. 31, with both the number of transactions and median home price increasing over the same period in 2008. Fourteen more homes were sold countywide in fourth quarter 2009, from 66 to 80, and the median home price also went up slightly, from $342,000 to $344,000. The first part of 2010 shows more promise yet, with the pace of home sales nearly double that of early 2009, with 55 sales closing as of Feb. 15, compared to 29 sales in the same time last year. The median price also took a bump over early '09, from $300,000 to $345,000.
"What this shows is that even though the fourth quarter of 2009 was up, the growth is still continuing into first quarter 2010," said Ricedorff.
In-town Durango homes mirrored countywide trends. Although overall numbers for 2009 were down from 2008 – with total volume down 27 percent and median price down 3 percent – things began to turn around in the fourth quarter. According to DAAR, total transactions in-town increased by 62 percent last year over fourth quarter 2008, with the median home price staying relatively unchanged.
While the trend is welcome news, it is not totally unexpected, said Ricedorff. He just returned from the Colorado Association of Realtors Winter Meeting, held in Denver earlier this month, where national financial experts confirmed that the national real estate market bottomed out about four or five months ago. "We were pretty confident we'd have a strong first quarter of 2010," he said.
Ricedorff said the main contributors to the turn around are the infusion of TARP funds to banks and lenders as well as the extension of the First Time Homebuyer Credit. According to the National Association of Realtors, first-time homebuyers accounted for half of all residential transactions in 2009. In Colorado, first-time homebuyers made up 40 percent of the market in 2009. "The credit is definitely working," said Ricedorff.
Slated to expire at the end of '09, the $8,000 credit was recently extended until April 30, and another $6,500 credit was also added for current homeowners who have owned their residence for five consecutive years. These, combined with historically low interest rates and the knowledge that prices may have already hit their low point, has created a lot of incentive for buyers. "Word is getting out that now is the time to buy," Ricedorff said.
Tina Miely, who along with partner Bree Adamian, made up the top sales team for Coldwell Banker Heritage House Realtors in 2009, said the first-time homebuyer credit had a definite impact on her sales. "We were slammed in December with six closings," she said. "I think the credit is what is really stimulating sales."
This contributed to her 2009 numbers being down in dollar volume, but not amount of transactions. "Most of our action was in the lower end of the market," she said.
Ricedorff confirmed that much of the action is in the under $350,000 home market, with 56 of this year's sales so far being in that segment. However, he noted that the formerly dormant high-end market has also seen improvement. "From Oct. 1 to the end of December, 2009, there were 32 homes sold in the $500,000 - $1 million range and eight in the $1 million-plus range," he said. "These are pretty good numbers considering that up until 2005, we weren't even seeing double digits in that range," he said.
However, for the most part, current conditions dictate that most agents are having to work harder for a smaller piece of the pie. "We literally are going to work every day, including weekends," said Miely. "We're busy, but we're working really hard to stay busy."
Other agents have not been as lucky. According to Ricedorff, there were 389 local agents in 2007, the high-water mark for area real estate, but by the end of 2009, that number has dwindled to 304. "That's a pretty significant number," he said.
However, the slump in real estate extends beyond the obvious agent fall out. Home sales affect a wide range of the economic sector, from furniture and home improvement stores to landscapers and interior designers. "Every home sold is equivalent to one job in the economy," he said, citing recent statewide statistics. "The average income derived from the sale of a home is about $69,000 from additional purchases and services. That's one of the reasons the federal government tried to stimulate the market. They recognized it really impacts the rest of the economy in a significant way."
What happens once the credit and TARP funds run out is anybody's guess, but based on the real estate bust in the late '80s, Ricedorff is optimistic. "In the late '80s, there were a number of years where the market dropped until it started gaining speed again," he said. "We would hope to see that again."
However, he said weaning the market, and the economy in general, from federal assistance, will be a balancing act. "We need to get the economy growing organically in the second half of the year and we need more job growth," he said.
Economists who addressed the Colorado Association of Realtors said 2009 will be an important transitional year in growth, with the economy beginning to gain steam by the fourth quarter of 2010. And while all agree there likely will not be a return to the explosive peak years of 2005-07, the market is expected to make a slow, steady and "healthy" recovery. "It's a good outlook," said Ricedorff. "Hopefully, that will put us in good stead for 2011." •
In this week's issue...
March 17, 2022

Lake Powell drops below threshold for the first time despite attempts to avoid it
March 17, 2022

Purgatory Resort set for expansion but still faces hurdles
March 10, 2022

New health care studio takes integrated approach to healing