Bruised potato, 'Rave On' and guilty pleasures


by Chris Aaland

The past three weeks have been difficult ones at the Aaland house. Otto, who turns 3 years old Friday, has battled a series of ailments, including a head and chest cold, a nasty cough, the stomach flu and, most recently, an outbreak of a full-body rash due to an allergic reaction. All of this has kept him out of school, forcing Shelly and I to alternate taking days off from work to stay home with him. We're not immune, either, as each of us has come down with his various illnesses.
During this time, I've developed a voracious appetite for the History Channel and other learning-based networks. I've discovered that the Knights Templar and Scandinavian explorers left clues from a 1362 expedition into what is now southwestern Minnesota; that India continues to move northward at a rate of approximately 2 inches per year, further thrusting the Himalayas upward; and that Bear Swensen and Eric Dufrense are the craziest truckers on the planet, hauling loads of freight along the Tuktoyaktuk, an ice road over the rivers and lakes of the Northwest Territories.
In particular, I've become addicted to "Pawn Stars," a relatively new show that chronicles daily operations at a family-owned Silver and Gold Pawn Shop in Las Vegas. People bring an odd assortment of treasurers to be appraised, pawned and sold. Items have included a 1769 lottery ticket signed by George Washington, a bag of silver rupees recovered off the coast of India dating back to 1702 and a bell from a sunken Dutch East India Co. ship circa 1602.
Each of the items brought into the shop tells a story, be it a piece of junk like counterfeit baseball cards or a life-sized Power Ranger, or rarities like a 1924 St. Gaudens Double Eagle gold coin. Rick Harrison, the store's owner, possesses a tremendous amount of historical knowledge and seems to get as much excitement out of deciphering an item's value (often tens of thousands of dollars more than the prospective seller imagines) as he does in making a buck. Whether it's a vintage guitar, antique Scottish daggers, Civil War firearms or classic cars, he knows intimate details about an item's origin.
Music is another medium that offers unique insight into history. Those who attended Béla Fleck's "Africa Project" concert at the Community Concert Hall at Fort Lewis College earlier this month can certainly attest to this, with artists from Mali and Tanzania accompanying the legendary banjo player on two-millennia-old African instruments.
One way in which history lives on is through tribute bands, and two rock acts receive such treatment this week. Many claim the difference between a cover band and a tribute band is respect, with the latter laboring to recreate the entire audio-visual performance, sometimes right down to each note.
Actor/musician Billy McGuigan pays homage to Buddy Holly in the musical "Rave On!" at 7 p.m. Saturday at the Community Concert Hall. McGuigan plays Holly, one of rock's first stars who died in a place crash that also killed Ritchie Valens and the Big Bopper in 1959. Expect to hear McGuigan and fellow cast members bring Holly's story and music to life, which performances of such tunes as "That'll Be the Day," "Peggy Sue" and
Strange Design, which plays Saturday night at the Henry Strater Theatre, recreates historic Phish shows in their entirety (much like the Dark Star Orchestra has done for the Grateful Dead).
The Summit stretches musical boundaries this week with two interesting acts. Tonight (Thursday) features Concepto Trambor, an ensemble of seven drummers and percussionists who play Afro-Latin grooves using nothing but percussion. Created in 2000, the group splits time between New Mexico and Los Angeles. On Saturday, guitarist/DJ/producer D.V.S. brings his eclectic mix of dance floor beats, vintage soul melodies and modern rock textures. D.V.S. has toured with numerous acts, including DJ Logic, Devotchka, Cabaret Diosa and the Motet.
The Summit's lineup also includes the familiar ska sound of Warsaw on Wednesday and the techno and house music of DJ Benjamin K Saturday.
Steamworks hosts two local acts this week, with Spinning Wheels playing at 10 p.m. Friday and Knucka at 10 p.m. Saturday. Spinning Wheels is a rock act that recently released its first album, "Hummingbird World." Knucka is a Pagosa Spring group that blends rock and psychobilly.
This week's lineup at the Starlight features jazz with the Mac Groove Trio from 6-9 p.m. Friday, heavy hitters featuring DJ Mr. A. and Michael Dark at 8 p.m. Saturday and a Mardi Gras party Tuesday night.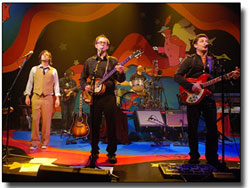 Billy McGuigan pays homage to Buddy Holly in the musical "Rave On!" at 7 p.m. Saturday at the Concert Hall
Back Alley Blues does three sets at the Purple Haze this week, including a 5-7 p.m. Friday Afternoon Club set and 8-midnight gigs Friday and Saturday. The latter is also a Mardi Gras party.
The indoor Ska-B-Q is back in Bodo. The Daydreamers play country and folk from 5-7 p.m. tonight. Complimentary Zia posole will be available.
Also: Nina Sasaki and Larry Carver are joined by Ben Gibson of Tumblin' Dice for an evening of rock at the Derailed Saloon from 5-9 p.m. Friday; and the Kirk James Blues Band plays Desperados Bar & Grill from 7-11 p.m. Saturday.
With special thanks to my buddies at DirecTV, this week's Top Shelf list acknowledges some of my other guilty TV pleasures :
1. "American Pickers," the History Channel. Two guys will dig through your junk to find Americana trinkets.
2. "Ax Men," the History Channel. I'll never complain about a paper cut again.
3. "Good Eats," the Food Network. Alton Brown is a culinary mad scientist.
4. "Hooked," National Geographic Channel. Hardcore fishing for some of the world's weirdest fish.
5. "Iron Chef America," the Food Network. Watching Morimoto cook is akin to watching Ted Williams swing a bat.
6. "Man vs. Food," the Travel Channel. Adam Richman devouring a burger topped with jalapeños, serranos, habañeros and ghost chilies (also known as bhut jolokia, the world's hottest pepper) – looks painful.
7. "MonsterQuest," the History Channel. It's not just Bigfoot. Apparently Joseph Stalin tried to breed an army of ape men.
8. "Outside the Lines First Report," ESPN. Bob Ley and company tackle big issues and foul play in sports.
I'll pawn you my gold watch and chain? E-mail me at chrisa@gobrainstorm.net. •