Food found
Traveling supper club highlights local, foraged food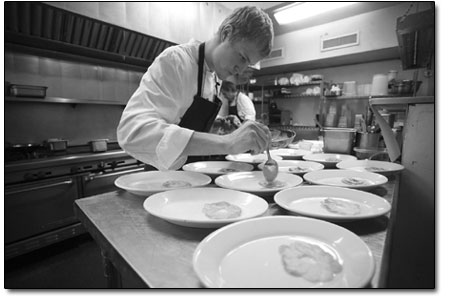 Marcos Wisner prepares "soft poached farm eggs" at the Brickhouse Café at the recent foundfood event. The traveling supper club is already picking up a strong local following./Photo by Stephen Eginoire
by Jen Reeder
Owen Clark left his childhood home near Bayfield eight years ago to pursue culinary training in Europe and New York City. When he returned to the area a few months ago, he was pleasantly surprised to find ingredients he'd used in the world's top restaurants growing wild on the ground.
It really hit home when he and some family members took a four-day backpacking trip to Emerald Lake and didn't pack in any food, instead relying on food they found or caught.
"That's really when I got blown away by how much wild food grows everywhere. All we had for four days was stuff that we fished, picked – I brought salt, pepper and oil and that's it," Clark says. So when he bumped into Marcos Wisner, a native Durangoan who had also been honing his culinary skills in New York and recently returned to Durango, it was "fortuitous," he says
"We ran into each other at the back of the Starlight Lounge or something one night and were like, 'Hey! What are you doing here? We should cook something together!'"
Soon they decided to start a traveling supper club, foundfood, to showcase the region's farmed and foraged bounty. The first event took place at the Brickhouse Café on Dec. 3, and the menu included five courses, a pre-entrée and pre-dessert, and wine and beer pairings.
The amuse bouche, a bite-sized hors d'oeuvre, epitomized what foundfood is all about: a smoked, cured brook trout (smoked with applewood tree trimmings from Clark's father's property), topped with wild sprouts and capers made out of mallow – and served on a river rock.
"Mallow produces these little buds around the end of summer, and I picked a ton of them, cleaned them, packed them in salt for three weeks and pickled them to make capers out of wild mallow buds," Clark says.
The second course was a sunchoke soup poured tableside – the bowl was artfully filled with pickled walnuts, barley, sunchokes and garlic chips before the soup was poured into the bowl. Other menu item descriptions included phrases like, "grilled scallion tops as a nest to hold the egg in place;" "that crazy mesquite flavor done as a fruit leather over the top;" and "spruce syrup from spruce when I was clearing trees that had blown down at Vallecito."
"The flavors were amazing," says Molly Wiser, a Durango resident who attended the first foundfood dinner. "They're sort of the Tad Elliotts of food in this town."
Marcos Wisner says foundfood is a labor of love – they aren't making money yet, but they're enjoying the experience.
"We put a lot of work into this food because we love doing this – to make the food we want to make and use the techniques we've worked so hard to learn," Wisner says.
Wisner was a student at Durango High School when he got his first restaurant job as a dishwasher at Carver Brewing Co. He worked his way up to "burger flipper" and discovered he had an aptitude for cooking. So he worked as a free apprentice at East By Southwest.
"I'd go to school and then afterwards instead of extracurriculars, I'd go and work in the kitchen, learning sushi," he says.
Encouraged to attend the California Sushi Academy, he spent a summer studying there, living in a tent on the roof of the school to cut down on costs.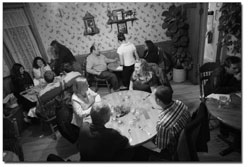 Durango gourmands enjoy a five-course meal which included smoked trout and a sunchoke soup, among other locally grown and found creations./ Photo by Stephen Eginoire
"It was great – I could hear the ocean at night!" he recalls.
After spending time as a sushi chef in Crested Butte and in Austin, Texas, at Uchi, one of Austin's top restaurants, he moved to the culinary training ground of New York City. There, he scored a coveted position at Masa, rated the world's best sushi restaurant by San Pellegrino after perfectly butchering a quarter of a pig.
They told him: "It's going to be 80-hour workweeks, and we can only pay you for 60." He was so thrilled at the opportunity that he jumped at the chance.
"I don't think I fully grasped what an 80-hour work week was," Wisner says.
Meanwhile, Clark was working the same intense schedule at the esteemed Blue Hill under Chef Dan Barber, who foodies may recognize from the television show "Top Chef." When Marcos was transitioning out of sushi and into broader cuisine, he dropped off a resume at Blue Hill.
"I was working as a meat cooker, and my chef came up to me and said, 'You're from Colorado, right? Are you from Durango? Some kid just dropped off a resume who's from Durango,'" Clark recalls. "I literally put down what I was doing and went out to the dining room to see if he was there. You don't meet people from Colorado in New York!"
But Wisner instead took a job at one of the city's top French restaurants, Jean-Georges, and the two – who had never known each other growing up – saw little of each other because of their demanding work schedules. As fate would have it, they both moved back to Durango during a time of transition because they missed the region's natural beauty.
"I really missed nature in general – you don't get that in New York by any means," Wisner says. "I'd go an entire month without seeing a horizon line."
Independently of one another, Wisner and Clark went to Durango's top restaurants with their impressive resumes (Clark also worked at WD-50, for any "Top Chef" viewers out there) and their fresh ideas for revamping menus. Reception was lukewarm; the two were often told, "We've had this on the menu for 10 years, so our customers expect it," Clark says.
"We both realized Durango's restaurant scene is comfortable with the way things are," Wisner adds. "Nobody's willing to lose money to progress forward. So we figured, let's do it ourselves."
Clark and Wisner plan to host foundfood dinners every two weeks at different restaurants around Durango, with food showcasing local farmers' and butchers' goods.
"As unsupportive as the big, fine-dining restaurateurs of Durango have been, everybody else has been really excited about what we're doing," Clark says. "We're excited."
Diner Molly Wiser thinks the rest of the town should be excited too.
"We should really be supporting them and their love of flavor and love of Durango," she says. •
The next foundfood event will meet Dec. 19 at Rylee Mac's Market and Cooking School. For more information on the event or the traveling supper club, visit www.foundfood.weebly.com.
In this week's issue...
July 21, 2022

Land swap approved in Southwest Colorado, but not without detractors
July 21, 2022

The latest strategy to save the San Luis Valley's shrinking aquifer: paying farmers not to farm
July 14, 2022

Despite SCOTUS ruling, San Juan Generating Station plans to shut down