The first stage
Durango presses for first stage of 2011 Quiznos Pro Challenge

SideStory: The price of the peloton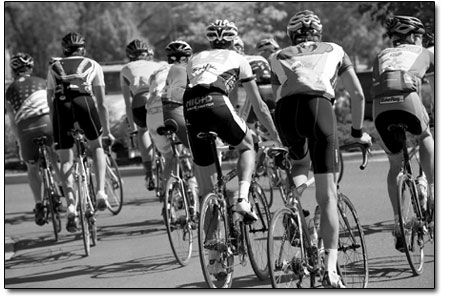 Members of the Durango Wheel Club spin out of the Rec Center parking lot last year for a group ride. Road bikers as well as local businesses could have a heyday next year if local efforts to secure the first stage of Lance Armstrong's Quiznos Pro Challenge are successful./Photo by Stephen Eginoire
by Will Sands

The wheels are in motion to bring top international road racing to downtown Durango. Local governments and cycling advocates are putting together an application to host of next summer's Quiznos Pro Challenge – a revival of professional road racing for Colorado. The seven-day stage race, set for Aug. 22-28, 2011, is expected to bring top international talent through a wide expanse of the state and promises to be a marketing boon for each of the race's host cities.
Cycling legend Lance Armstrong and Gov. Bill Ritter announced the birth of the race early this month on the Capitol steps in Denver. For the last year, the pair has worked to resurrect the legacy of the Coors International Bicycle Classic – a preeminent cycling race from 1979-88 – and bring worldclass competition back to Colorado. The race has been dubbed the Quiznos Pro Challenge in honor of its main sponsor, the Denver-based sandwich chain.
"What started out as a daydream of mine on a long ride outside of Aspen will now become a reality," said Armstrong, a part-time resident of the resort town. "This race, although new, is already rich in history, as is Colorado's storied cycling background – a perfect way to honor our past champions and highlight our future ones."
The world's top professional cyclists and teams are expected to compete in the challenge. The race will include a mix of mountainous, sprint and downtown stages deliberately chosen to "highlight the beauty of Colorado and its communities." The only given in the Quiznos Pro Challenge is that Denver will serve either as the race's start or finish.
With visions of the Tour de France spinning in their heads, communities all over Colorado have started scrambling for the status of hosting one of the race's remaining six stages. The towns of Aspen and Crested Butte are already on the verge of completing their 55-page application in hopes of playing host to the Quiznos Pro Challenge. Meanwhile, the City of Boulder is weighing whether the benefits of hosting a stage would merit the expense.
Durango is also working up its application in advance of the Sept. 10 deadline, and proponents are aiming high. Durango would like to play host to the Pro Challenge's starting line. A consortium of local officials and advocates have started down this road and have confidence that organizers will see the value in Durango's legendary road riding opportunities, cycling legacy and history of community support.
"We're very interested in this event, and we're organizing at the local level to make it happen," explained Ron LeBlanc, Durango City Manager. "We've put a team together that will subsequently submit the application. We've also started coordinating with Telluride and Mountain Village. We think that cooperative effort will improve our chances and offer a logical flow for the race."
Durango makes for a natural starting point for a variety of reasons. Starting here, cyclists could cover a larger portion of the state, south-to-north, on their seven-day journey to Denver. More significantly, Durango has a proud history of hosting top cycling events: it was home to the inaugural Mountain Bike World Championships in 1990 and the Iron Horse Bicycle Classic is coming up on its 40th anniversary in 2011.
"For all the right reasons, this community supports cycling, and we have a strong history of events," LeBlanc said. "We have the local assets to make this happen – a record of hosting exceptional races and a strong volunteer core. It's a perfect fit."
Other partners in the effort to bring the Quiznos start to Durango include the Iron Horse Bicycle Classic, Durango Chamber of Commerce, Durango Area Tourism Office, La Plata County and Trails 2000. The benefits of hosting the stage and landing in the Technicolor spotlight would be beyond measure, according to Mary Monroe, Trails 2000 executive director.
"Hosting an event of this caliber would give Durango much more positive exposure than we could ever hope to buy," she said.
Like LeBlanc, Monroe believes that Durango is eminently qualified to host the race. Looking around the State of Colorado not many other communities have the size or capacity to fit the bill. "When you look at the requirements that are listed in the application, there aren't many towns that could host a stage," she said. "But Durango is a perfect fit. We've got the infrastructure, and when you look at what we've done with the Iron Horse, Durango could easily pull this off."
Monroe added that the final shape of the race should reflect Armstrong's original daydream – a course that not only highlights Colorado's landscape but also its community spirit.
"This race will belong to everyone in Colorado," she said. "And it's going to take a team effort from everyone in the state to make this happen and show the world what Colorado has to offer." •
In this week's issue...
May 2, 2019

Rafting season is already under way on the Animas River, which has been flowing at near record levels and almost double the average rate for this time of year.
April 25, 2019

Over the past couple decades, Jeff Robbins' work as an oil and gas lawyer – with a specific focus on serving local communities – allowed him to build relationships and gain the experience needed to carry out one of Colorado's most sweeping reforms to oil and gas regulations, Senate Bill 181.
April 18, 2019

It's a good thing Heidi Steltzer can't tolerate the heat or the open ocean. "I thought I wanted to be a marine biologist, and I got seasick," said Steltzer, a professor in the Biology Department and Environmental Science program at Fort Lewis College.