Supersuckers, Brewer's Invitational & Carverfest 2010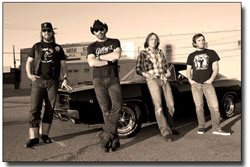 The Supersuckers return to Durango to ring in Ska's 15th anniversary in style this Saturday

by Chris Aaland

Every so often, a band and a town forge a special relationship that transcends interstates, time zones and musical trends. Locally, we've seen it happen with Hot Rize in the early '80s, Leftover Salmon in the '90s and the Gourds during the last decade. The Supersuckers might be the next.

This blue collar rock band sprung from the vibrant Seattle scene of the early 1990s, yet it was different than the flannel-wearing grunge acts. Led by bassist/vocalist Eddie Spaghetti and guitarist Dan "Thunder" Bolton, the quartet plays rock the old-fashioned way: two guitars, a bass, a drum kit and amps turned up to 11. Country always influenced their music, as evidenced by their 1997 effort, "Must've Been High," which ranks as an alt-country classic. Spaghetti's solo debut, "The Sauce," tackles outlaw country favorites by Willie Nelson, Kris Kristofferson and Billy Joe Shaver. Their music also ranges from punk to hard rock with the occasional nod to Top 40 hits (like Outkast's "Hey Ya!," done by Eddie and the boys on "Devil's Food"). Of course, a band that proclaims itself as "the greatest rock & roll band in the world" can't take itself too seriously. Spaghetti often closes each song with "cha-cha-cha" and assumes over-the-top arena rock poses at the front of the stage.

There's a certain D.I.Y. attitude that drives the Supersuckers. They have their own label (Mid-Fi Recordings), tour nonstop even after 22 years and still find time to support a number of worthy causes. Like Johnny Cash before them, they embrace the downtrodden, routinely playing for such causes as Farm Aid, the West Memphis 3 and homeless military veterans.

Like Hot Rize, Leftover Salmon and the Gourds, the Supersuckers hail from a city that shares many similarities with Durango. Boulder (home to Hot Rize and Leftover Salmon), Austin (the Gourds) and Seattle (the Supersuckers) are all hotbeds for the arts, education, liberal thinking, mom & pop businesses, environmental ethics and a bohemian lifestyle. Sounds familiar?

And then there's the beer. Boulder and Seattle have long been known for their craft suds. And no fewer than nine micros are scheduled to launch in Austin in 2010 – not too shabby for a state whose brewing reputation was once shouldered by the watery likes of Lone Star and Pearl.

Of course, Durango knows its brewing. Carvers turned 20 a few years ago, Durango Brewing cleared the same milestone this spring, and now Ska celebrates 15 years in business. (The baby of the bunch, Steamworks, turns 14 next month.)

Ska Brewing rings in its 15th anniversary in style by hosting a brewer's invitational from 4-9 p.m. Saturday with live music by the Supersuckers, Farmington Hill and the Beautiful Loser Society. Fifteen guest brewers will be on hand, including Bristol, Breckenridge, Carvers, Durango Brewing, Left Hand, Marble, New Belgium, Odell's, Oskar Blues, Pagosa, Steamworks, Second Street, Santa Fe, Stone and Three Rivers. And Ska also releases something new at the fiesta: "Dementia," which is a bourbon barrel-aged Euphoria Pale Ale. Many (including me) consider the seasonal Euphoria to be Ska's best offering.

Needless to say, I'm as eager to taste Dementia as I am to hear the Supersuckers launch into "Creepy Jackalope Eye." $30 admission gets you a commemorative pint glass, live music and a dozen 4-ounce tasters. Tickets are available at Ska, Southwest Sound and brownpapertickets.com.

The Balcony Bar & Grill and the Summit host an end of summer luau to benefit the Durango chapter of the American Cancer Society at 5 p.m. Saturday. Come dressed in Hawaiian attire and enjoy island food specials, tropical drinks, hula hoop, limbo and costume competitions with Hawaiian-inspired door prizes. A $5 donation gets you access to both bars.

Local musicians celebrate all things Larry Carver at CarverFest 2010 at 7 p.m. tonight (Thursday, Aug. 26) at the Derailed Saloon. Carver's third annual birthday celebration and pro-jam will include Void Where Prohibited (from San Francisco), plus members of Black Velvet, the Kirk James Blues Band, Tumblin' Dice, the Jelly Belly Boogie Band, the Lisa Blue Trio, Cosmic Accident and Hello Dollface. Food and drink specials will run all night long.

If you stray westward on Friday, check out the Lawn Chair Kings at the Columbine Bar in Mancos. The boys kick things off around 9 p.m.

This week's Starlight schedule includes salsa night with DJ Edit at 8 p.m. tonight, jazz on the patio from 6-9 Friday; DJ Double from 9-close Friday; the DBC barbecue with $1 DBC beer, cheap dogs & burgers, plus live music from Cyle Talley from 4:30-8 p.m. Saturday; a late night set by Lucy from 9-close Saturday; and Music del Mundo with DJ Maize from 9-close Sunday.

Elsewhere: Morbid Justice plays heavy metal at tonight's Ska-B-Q; Spark Madden & Niko DJ play The Summit tonight; Jonezy spins vinyl at the Cosmo on Friday from 9 'til close; and Seven plays The Summit Friday.

This week's Top Shelf list recalls some of my favorite suds in Ska's first 15 years:

1. Dragon Ass: A doppelbock brewed in honor of Snowdown 2008.

2. Local Series #13, Hoperation Ivy: Don't worry, be hoppy.

3. DIFF: The unfiltered Belgian wit benefits the Durango Independent Film Festival annually.

4. Ska Sour: A sour pale ale that celebrated the 10th anniversary of big beers, Belgians and barleywines.

5. Royal Embalming Fluid: Another Snowdown classic, this was a honey lager brewed with dates and figs.

6. Skavery Wheelsucker Wheat: A collaboration with Avery that's now in its second year.

7. Local Series #9, Import-Style Pilsner: The green-bottled brew is a favorite in the Local Series.

8. Strong Scotch Ale: Ska's first foray into oak barrel aging celebrated the grand opening of their new world headquarters.

9. Davy Jones Lager: An amber lager brewed with molasses that celebrated yet another Snowdown.

10. Decadent Imperial IPA: Brewed in honor of Ska's first decade. •

Got a jackalope face? E-mail me at chrisa@gobrainstorm.net.