The gift of cycling
Local woman shares L-O-V-E with victims of abuse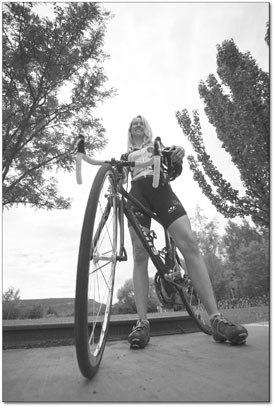 Former competitive cyclist Shantelle Pierce stands with her road bike in Durango on Tuesday. Now a physical therapist in Aztec, Pierce has started L-O-V-E, a grassroots effort that give bikes to women and children who have been victims of domestic violence. The women and kids, many of whom have never ridden a bike, gain a new sense of freedom and empowerment from cycling. /Photo by Stephen Eginoire
by Malia Durbano

Michael Engleman, coach for the U.S. Women's Cycling Development Program, made a difference in the life of local cyclist Shantelle Pierce, and now she's paying it forward.
Pierce raced BMX bikes as a young girl and then competed on mountain bikes in college. As a member of Engleman's team, Pierce, who earns her living as a physical therapist, noticed fellow team members getting hurt in some fairly serious crashes. "I decided the sport was too dangerous and the risks were too high," she said. "I can't afford to get hurt." When Pierce left the team, Engleman gave her her gear.
Pierce, who now has a physical therapy practice in Aztec and regularly rides with the Durango Wheel Club, grew up in Farmington no stranger to domestic violence. Not long ago, she woke up at 3 a.m. with the spark of an idea that would grow beyond her comprehension. "I reflected on how wonderful it felt to be the recipient of Engleman's generosity," she said. "Growing up in an abusive household, having someone do something nice for you was a new experience."
Pierce had always used cycling as an escape and channeled her energy into riding instead of drugs or alcohol. "Riding helps you clear your mind and get a new perspective on things," she said. "It lets you experience something positive in the midst of negativity."
And at 3 a.m. that morning, she came up with an idea. "It was just a concept I had – I wanted to help other women who had experienced domestic violence. My inspiration became to give the gift of riding to other women – to provide a healthy, positive alternative, to help build confidence and get exercise. By providing a new skill, riding also helps build self-esteem."
Pierce saved money and bought seven bikes for adults and three for kids and donated them to Alternative Horizons, a Durango nonprofit providing support to survivors of domestic violence.
Another 3 a.m. light bulb then flashed for Pierce: the name of the project and the logo magically appeared. "I Googled hill climb races and saw Cycle to the Sun on Maui," she said. "It reminded me of my life, the intense challenges and obstacles I had to overcome and the uphill battle. I imagined how everything would be good when I got to the top. Riding and racing are accomplishments that build stamina and strength and prove that you can overcome struggles and challenges in life. Overcoming the abuse in my life made me stronger and wiser."
The logo for Pierce's project shows the sun beaming down on a cyclist on top of a big heart. The letters L-O-V-E inside the heart are colored in with bright geometric designs and expand into Ladies Overcoming Violence Everywhere.
Since the 3 a.m. revelations, the project has started taking on a life of its own. "It's still not even an official nonprofit," Pierce said. "It's just a grass roots effort gaining tremendous support from the community."
Early this spring, Pierce noticed an empty field full of debris behind a domestic violence shelter in Farmington. Susan Kimbler, director of the Navajo United Methodist Center, was thrilled when
Pierce approached her and offered to build a trail on the property. "Projects like this are beyond our reach," Kimbler said. "I wouldn't have a clue how to even start a trails project. Then an angel like Pierce steps forward."
Bill Stanley, former mayor of Farmington, enlisted he help of San Juan County to haul three dumptruck loads of construction debris, yard waste and litter. Mary Monroe, director of Trails 2000, designed and flagged a trail and supervised as the volunteers cut the singletrack. The residents in the shelter then lined the course with rocks. "When the women realized the course was for them, and that they could get outside and use it, they adopted a sense of ownership," Monroe said.
She added that the Farmington project was a good fit for the Durango-based trails advocacy group. "Our mission is to create community and help people get outdoors, so this was the perfect project for us," she said.
Reflecting on the experience and the growth of L-O-V-E, Pierce agreed. "Women who have been abused don't get excited about much," she said. "As they worked together outdoors and saw they were accomplishing something, the enthusiasm blossomed. They finished the whole course in one afternoon."
Numerous other Durangoans pitched in as well. Local architect Steve Eccher welcomed the opportunity to get out from behind the desk and get his hands dirty. "It was very rewarding seeing the immediate results of our work," he said. "And the kids at the shelter were so excited as we helped them learn how to ride without training wheels."
Chris Latshaw closed his insurance office in Durango for the day to help with construction of the singletrack. A longtime supporter of Trails 2000 and a friend of Pierce's, he took advantage of the opportunity to give back. "I've had a passion for biking since they took off the training wheels," he shared. "There was nothing when we got there. The biggest reward for me was seeing the joy in the faces of the kids. They missed out on or were never exposed to the sheer joy of just riding."
The trail has offered a new outlet for the women and children living in the shelter, Kimbler added. "Going out is not a part of their experience," she said. "Coming from a crisis center, security is everything. This will help them get used to going out. The women couldn't believe that people they didn't even know would come and do something for them. Their hearts were touched. This beautiful space provides an escape from their lives."
As Pierce follows her heart, support for L-O-V-E is growing. Grants from Wal-Mart, Merrion Oil and other local businesses are helping with the purchase of bikes and helmets. Cycling shops in Durango, Farmington and Aztec are now accepting donations of new and used bikes. "My next goal is to get a good solid number of bikes for each shelter and for each woman who leaves the shelter and wants to take one with her," she said. "I also want volunteers to help women ride and get them into cycling."
Once the pedals start moving, the experience speaks for itself. "Riding means lots of different things to different people," Pierce said. "For these grown women who have never ridden a bike, it provides a sense of freedom. As a means of transportation, it creates independence and increases self-esteem and confidence."
Thanks to the effort, numerous women and children are now on the trail to recovery. "The outdoor experience is new for some women, and they were a little nervous at first," Pierce said. "But one woman jumped on a bike and took off around the track. She came back and gave me a big hug with a huge smile, and that's all the thanks I need."
L-O-V-E is in need of financial support, new and used bike donations and volunteers. For more information on the project or to help, e-mail Shantelle Pierce a spiercept@gmail.com. •
In this week's issue...
June 13, 2019

In the words of the great Salt-N-Pepa, let's talk about sex (baby.) There, we said it.
June 13, 2019

The plan to bring more singletrack to Silverton is rolling forward. Last week, the Bureau of Land Management announced the beginning of a 30-day public scoping period on its proposed Silverton Area Travel Management Plan.
June 10, 2019

Snow, avi debris, high flows force cancellation