Portraits of life
Open Shutter showcases work of Jimmy Williams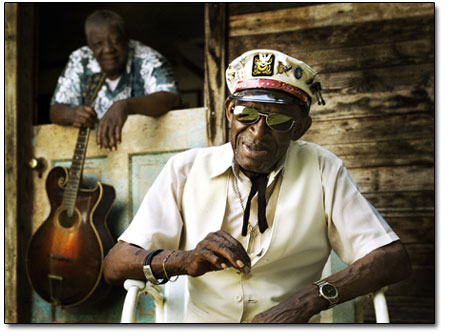 "Captain Luke," one of 16 photos featured in Jimmy Williams' "Music Makers" series, on display at the Open Shutter through Sept. 22.
by Stew Mosberg

It's taken a couple of years to bring Jimmy Williams' work to Durango, but Open Shutter owner Margy Dudley knows the value of diligence as much as she does a great photograph. The coming exhibit features two of Williams' series – "Music Makers" and "Tuscany Landscapes" – and opens Aug. 6. Arguably an unrelated juxtaposition of subject matter, pairing images together showcases the photographer's perspective on life and living.
Capturing the spirit of a person or a locale is the highest objective when pointing a camera. For amateur photographers, it is often a hit-or-miss endeavor. But for 35-year photography veteran Jimmy Williams, it is more than his profession, it remains his passion.
A highly successful commercial image maker and North Carolina native, Williams brings a technical understanding to his work and imbues it with sensitivity for his subject, be they people or places. His portraits cut through the extraneous and get directly to the essence. The exhibit's Italian landscapes are lyrical, poetic, atmospheric, painterly. The portraiture is insightful and Homeric.
To create the musician series, Williams collaborated with the Music Maker Relief Foundation (MMRF), an organization that helps true pioneers and forgotten heroes of Southern music to gain recognition and meet their day-to-day needs.
Commenting on his work and experiences making these memorable portraits, Williams said, "Music Makers is an ongoing series that pays tribute to the faithful disciples of Southern musical traditions. Music, the blues in particular, has always been an interest in my personal and professional life. I'm particularly captivated by the souls who have a commitment to Southern musical practices as a means of self-expression, historical preservation and in the case of many of the Music Makers artists, an honest means of survival."
One captivating aspect of viewing these images is that they somehow evoke the sound of the music itself. It isn't difficult to imagine a guitar riff or the affecting voice of a singer who has seen and experienced life in ways few of us have.

Their faces and, in some cases, the hands of the artists in these photos are wordless tributes to lives made more bearable through music. In addition to the obvious, Williams' careful attention to the backdrops, the lighting, the details of a room or the texture of a wall, provide further harmony to a world of chords and melodies, each recorded for posterity in Williams' pictorial homage.
Williams described the encounter that started him on his photographic journey to visually document these musicians. "In 2004, I photographed James. During the photo shoot, this quiet elderly African-American man broke out in a simple blues rendition of 'Stardust,' a favorite tune of his late wife. He was not a musician by trade, but his soulful interpretation of the melody overcame the shakiness of his pitch. James' delivery was innate. The emotional connection created while taking this portrait stirred my desire to continue with a series."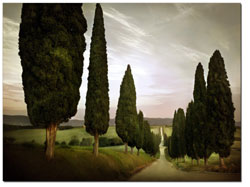 "Cypress Lined Road," from Williams' "Tuscany Landscapes."
The resulting images will benefit more than just the fortunate viewers, Williams contributes to the Foundation's cause. "Natalie Ogura, my producer for these shoots is the primary researcher for the locations in working with the Foundation," he explained. "She also works very closely with the individual artists to help establish locations that are meaningful to the musicians."
In return for the opportunity, Williams donates the usage of the photography to the Foundation and to the artists for use in their marketing materials and CD covers.
A percentage of sales also go to the MMRF. Williams' successful commercial business provides him with a great deal of travel. With clients such as the U.S. and British Virgin Islands, American Airlines, Land Rover, Carnival and Norwegian Cruise Lines, Harley Davidson, and Barilla, he is often afforded the enviable position of traveling at someone else's expense. "Commercial clients hire me to bring an emotional connection between their product and … the viewer."
Looking at the regional Italian landscape will likely prime the viewer to want to travel there for themselves, and if they've been fortunate enough to have visited, they'll want to return. The pastel colors of these photos are dream-like, the Cyprus trees majestic and stately, the rolling hills suggestive of a peaceful, slower pace.
Regarding the superlative Tuscan images on view at the Open Shutter, Williams waxed poetic, "Every time I travel to Tuscany, the cynical part of me expects its artful splendor to have succumbed to the shallower trappings of modernity and tourism. But time and again, this enduring land manages to enchant with storybook awe and emotion. Every cypress and every winding road reminds us that seasoned beauty never grows old."
He achieves a good deal of the enchanting results through introspection and being engulfed in the subject. "Before I raise my camera," he explained, "I always open myself up to the moment and trust my emotions to dictate and inspire a compelling story."
Williams defined his method succinctly when he said, "Whether I'm shooting a portrait or a landscape, my purpose always remains the same: to establish a connection with the subject and to produce utterly real and meaningful moments. The emotions are raw. Sometimes private. Always honest."
"Tuscany Landscapes" and "Music Makers" will be on exhibit at the Open Shutter Gallery through Sept. 22. Williams will be on hand for an opening reception Fri., Aug. 6, from 6-9 p.m. The show includes 28 prints; 12 color Tuscany Landscapes and 16 Music Maker portraits, two of which are black and white. Each of the images is printed in a limited edition of 25. •
•
In this week's issue...
June 13, 2019

In the words of the great Salt-N-Pepa, let's talk about sex (baby.) There, we said it.
June 13, 2019

The plan to bring more singletrack to Silverton is rolling forward. Last week, the Bureau of Land Management announced the beginning of a 30-day public scoping period on its proposed Silverton Area Travel Management Plan.
June 10, 2019

Snow, avi debris, high flows force cancellation