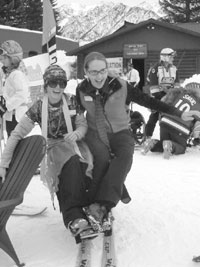 Diver: Ann Marie Meighan and Gloria Kaasch, Adaptive Sports Association
Interesting facts: Ann Marie and Gloria are actually connected at the hip and spend more time with one another than is clinically recommended. In their daily diving duties they wash it all: dishes, boats, bikes, clothes, vans, Elmo, faces …
Got a dirty little secret?
Looking for guidance to remedy a sticky situation?
Seek help from the master of the kitchen! The Dish Diver has solutions to life's little messes. Send your problems to "Ask the Diver." - By mail to Durango Telegraph - Attn Diver -534 Main Ave., Durango, CO 81301; by email at telegraph@durangotelegraph.com, or by fax at 259-0448.
Dear Diver,
Please help me with a social conundrum I have struggled with for years. Basically, what I want to know is, when you bring beer/wine/booze to a party, is it OK to take home the leftovers? I don't want to come off as cheap, but if I know my pricey microbrew is just going to sit in a dank basement or forgotten corner of the fridge, I'd rather take it back home and give it a more deserving send-off. You know? Will people think bad of me?
– Thirsty
Dear Stingy Beer Holder,
BYOB does not mean "come to my house, use my facilities, drink my keg beer, trample mud on my carpet, eat my food and then take that nice micro-brew home with you." Leave the good beer take the bad beer—like those wine coolers that always end up in the fridge after a party. I would also recommend coming aground from the basement parties and try the back yard or patio. At least then you know your gifted beer will be left in a cooler or maybe even a fridge! If giving a good beer to a friend that invited you into their home doesn't sound like a plausible solution, stay at home with your micro-brew six pack and relish in its flavor by yourself.
– Divers
Dear Diver,
Please help settle an ongoing debate. Who is the greatest hair band ever? I say Poison, because they definitely had the biggest hair, but my buddy says Rat, because they were the best musicians. I say talent should not figure in the equation, unless we're talking about creative use of teasing, eyeliner and hairspray.
– Brett's Fan Club
Dear Brett's Dim follower,
Def Lepard wins over our hearts. The rest is a matter of opinion. Some would argue Twisted Sister especially if we are going for eye liner. Cinderella and Ratt are not far behind. Winger wins in body but not song. Vixen takes first in the female division. Poison should not even be mentioned … ever! Remember, one must never judge the '80s by talent or creativity because it was an era of following and neon. But don't take our word for it—we were barely alive during this era.
– Divers
Dear Diver,
What's up with some of the squatter settlement on local public lands? I'm all for multi- use, but some of these folks blatantly erect virtual tent cities about 20 feet off the trail, and I'm pretty sure they're not treading lightly. Suffice to say, I now purposely take a detour around such "settlements" to avoid the mess and the drunk lady who heckles me every time. Help – am I turning into a stodgy conservative or am I right to feel a bit of resentment?
– Squatters Wrongs
Dear Wrong Question,
Get off the River Trail if it upsets you so much. I'm sure you know that the cost of living in this town is outrageous. Did you ever stop to think those "tents" are someone's little part of the Durango Dream? And the drunken lady is currently jobless and drinking bloody marys minus the juice at 8 a.m. to deal with her day. I am sorry that reality is interrupting your hike or bike ride. While you complain about the influx of squatters you neglect the underlying problem that global warming and the economy are contributing factors. Stop worrying about how you are perceived when you bring up this situation and focus on how the situation came to be.
– Divers