Charting new territory
Animas High and Mountain Middle School forge ahead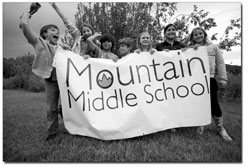 Future students of Mountain Middle School, from left, Pearce Fazekas, Amanda Meserve, Eli Cagan, Irie Sentner, Alyssa Maisel, Arianna Cagan and McKenzie James pose with the school's banner this week. Although not slated to open for another year pending charter approval, the school is reporting 92 percent enrollment./Photo by Stephen Eginoire
by Missy Votel

Despite a glum outlook for public school budgets across the state, Durango's charter school community is forging ahead.
"Amazing things are going on, it's a good time to be Animas High School," said that charter school's Head of School Michael Ackerman.
On Aug. 23, AHS welcomes its second freshman class, bringing the school's total enrollment to around 150 ninth and 10th graders. "It's night and day different than last year," said Ackerman. "We're getting three to four students a day walking in off the street asking about enrolling."
The outlook is similar at Durango's first planned charter middle school, Mountain Middle School. Originally slated to open this fall and based on the same High Tech high model as AHS, MMS delayed its opening last November at the behest of the Colorado Charter School Institute. "CSI asked us to withdraw our charter application last fall because our opening would coincide with changes in the state standards," said MMS Board President Nancy Heleno. "With new standards going into effect in 2011, they didn't want us to prepare for 2010 only to have to do it over again in 2011."
As a result, MMS is readying its latest charter application to submit in the next few weeks. Heleno is expecting acceptance late this year. "I feel confident we'll get a charter because we've done everything they've asked of us and our community," said Heleno.
Despite the fact that the school won't open for a year, Heleno said it already has reached 92 percent of its first year forecast of 112 students. The school's target for the 2011-12 school year is 56 sixth-graders, 28 seventh-graders and 28 eighth-graders. The goal is ultimately to have 56 students in each grade. So far, the school has received "intent to enroll" forms for 38 sixth-graders, 44 seventh-graders and 21 eighth-graders. "It is amazing to have such a substantial number one year away from opening, especially in Durango where we've been known to wait until the last moment," said Heleno.
Although the school has not announced a location – it is illegal to sign a contract for property until a charter has been approved – Heleno said there are several options. "We are talking to several property owners," she said. "Our intent is to be as close to town as possible. Unfortunately, the 7,000-plus-square-foot facility inventory in this town is very small."
Heleno said many parents who were planning on sending their kids to MMS in 2010 will be home-schooling this year and pooling efforts with the newly formed Education Consortium. "A group of parents is home-schooling this year, which can be scary for parents who never set out to home school," she said. The "stop-gap" measure will help pay for tutors two days a week at a location yet to be announced. "A lot of home-schoolers run into problems in middle school with subjects like math and sciences or whatever parents aren't experts in," said Heleno.
For the other days of the week, home-school parents will have the option of using 9-Rs shared schooling or the free, public online charter school, Colorado Virtual Academy. Beginning next year, MMS plans to have its own two-day-a-week home-schooling option – the Education Alliance.
In the same spirit of alliance, the MMS Board of Directors also launched the "One Community, One Goal" program this year. The idea behind it is to share efforts and open communication lines among local schools and educators, particularly School District 9-R and charter schools. "We decided at the beginning of the year to put the tense dealings behind us. We're too small a community to not do the right thing for every child, whether from a public, private, home or charter school," said Heleno.
The first result of this effort was last March's Education Summit, which included representatives from MMS, AHS and 9-R. The three entities met with a local mediator and walked away from the table with a new understanding and commitment to collaboration. "It was the first time we all came together, and we all decided the real stakeholders in all this are the children," said Heleno.
Perhaps the biggest outcome was an agreement by 9-R to forego exclusive chartering authority. The district also offered up free office space to the charter schools in its administrative building and the principals of Escalante and Miller middle schools will serve on the vetting committee for the new MMS principal. "We want a good relationship with those schools," said Heleno. "There's going to be cross-over as kids find the place that's right for them."
She said MMS has also joined forces on professional development efforts and is planning on co-writing a technology grant with 9-R. "Grantors are looking for this kind of collaboration," said Heleno.
Ackerman, with AHS, said his school recently received $375,000 in grant money, which is being used for facility upgrades. The school is finishing an expansion into the space to its south, which will bring the school's total square footage to 15,000. The school is adding two new computer labs; two 10th grade classrooms; two biology rooms; and a ski-themed lunch room, "The Lodge." There will also be new digital moviemaking facilities and a digital sound booth, operated in conjunction with the Stillwater Foundation, which moved in across the street.
"We have sunk huge amounts of money into our technology infrastructure," said Ackerman.
Also new to AHS this year will be a mountain biking team, taught by DEVO coaches Sarah Tescher and Chad Cheeney; a robotics team; and a school band, described as a mix of electronics and hand drums. "Look out Snowdown parade," Ackerman quipped.
And while he said he feels "blessed" for the infusion of funds, finances are a constant source of concern for charter schools. Although school districts can finance their facilities using property tax (mill levy) or bond measures, charter schools cannot initiate a mill levy on their own. On average, charter schools in Colorado spend about $500 of the annual $6,700 per pupil revenues on facilities, according to the Colorado League of Charter Schools. A small percentage of charter schools – five out of that state's 160, or 3 percent– were awarded State of Colorado "BEST Funding" for facilities in 2010.
The rest must make do, Heleno said. "When charter schools need money, we take it from per pupil funding or fund-raising," she said. "It's a monumental stress on charter schools."
An attempt to get included on 9-R's November mill levy ballot fell short because of legal concerns. Although school districts are required to submit ballot issues for charter schools under their authority, MMS is not authorized under 9-R. It would be authorized under the Charter School Institute, and as such, would be subject to a different set of funding mechanisms.
Although Heleno argues that MMS would only request $114,240, or 3.6 percent, of the total take, she still supports 9-Rs mill levy. "Obviously, it was really disappointing, but our board voted to publicly support the mill levy," she said. "My friends' kids, who my kids have grown up with, go to 9-R schools. If a friend gets an ice cream cone and you don't, you don't knock it out of your friend's hand."
In the meantime, Heleno said MMS is working with the League of Charter Schools to get the ballot laws changed. "We were hoping our community would be the first and set a precedent for charter schools across the state," she said. "Will that happen this year? Next year? Or ever? We don't know."
Nevertheless, Heleno and Ackerman are more than optimistic about the new face of charter schools in Durango. "We're just where we were before talk of the mill levy," said Heleno. "Our responsibilities now are to balance the budget, hire first-class teachers and fund raise. This community is too small not to work together." •