Triple S, Fuzz-Huzzi and a visit to the Balcony Bar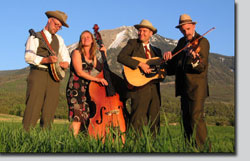 Sweet Sunny South comes to The Hank on Saturday at 7:30 p.m.

by Chris Aaland

I hold a soft spot in my heart for old-time music — the kind of stuff played for centuries in the Appalachians on banjo and fiddle. Tunes like "Little Maggie," "Lonesome Road Blues" and "Skillet Good and Greasy" from the likes of Tommy Jarrell, Hobart Smith and Doc Watson.

A few weeks ago at the Durango Bluegrass Meltdown, renowned old-time music historian and clawhammer banjo master Riley Baugus told stories about the men and women who passed these songs down to a new generation of musicians interested in keeping the tradition alive. Baugus was kind enough to let me record his performances (in fact, he told me to share them with the world).

Earlier this week, at home battling a four-day chest cold and nasty cough, I tracked the recordings in preparation to transfer to CD. I was amazed at the musicianship of Baugus and the Stuart Brothers, who accompanied him. Fortunately, my old-time fix will be satisfied this weekend.

Regional old-time favorites Sweet Sunny South just released their fifth album, "Carried off by a Twister," and will have crates of the new discs for sale at their Henry Strater Theatre concert at 7:30 p.m. Saturday. Aside from a handful of festival and Paonia-area shows, the band has been taking an extended break for awhile. Since their last album, 2007's "Showtime," SSS members have released a jug-band children's album ("Duck Duck Gray Duck") and two other side projects. One was "In a Different Time," and album by the old-time outfit Hard Pressed, which is led by SSS fiddler Cory Obert and his wife and former Durango resident, Andrea Lecos. The other was Honey Don't, a bluegrass band with alt-country leanings that includes SSS's Bill Powers and Shelley Gray. Their eponymous debut was among my favorite regional releases of 2009. I'm anxious to hear the new SSS material, both live and on disc.

The Abbey features the electronic and ambient/chill music of Bluetech and Emancipator at 9 p.m. Friday. A classically trained pianist and master of software production, Bluetech is one of the most ingenious producers today. Some have called his sound "primordial electro-dub alchemy." Emancipator is a young electronic producer who literally came out of nowhere. His first live show was last July, at the famous Roseland Theatre, no less, opening for Bonobo. His first album, "Soon It Will Be Cold Enough," came out in 2006. Far East listeners picked up the vibe quickly, as he landed sponsorships and garnered immediate media attention in Japan. One of his songs was even played at the Beijing Olympics. Brian Ess opens.

Stevie Ray Vaughan-style blues comes to the Abbey at 9 p.m. tonight in the form of the Jake Loggins Band. Called a "young prodigy" by the Colorado Springs Gazette Telegraph, the baby-faced Loggins plays straightforward, rocking blues and sports lightning-fast fingers and a commanding voice. Motivator opens.

Fuzz-Huzzi, an upbeat indie rock and power-pop band from Imperial Beach, Calif., plays the Summit tonight, April 29. The four-piece won the 2006 Los Angeles Music Awards Independent Artist of the Year and is currently touring in support of its latest record, "Smell the Streets of Hollywood."

Carvers sponsors a "science pub" benefit for the Durango Discovery Museum at 7:30 p.m. tonight. Desktop hydrologist Jeff

Morehead will lead an informal discussion on different schemes for simulating Animas River runoff based on snowpack levels. Attendees will predict the timing and amplitude of spring runoff and make their best attempts to win this year's high water contest. While the event is free, the purchase of a ticket to enter the contest is required.

The Henry Starter Theatre hosts "Wine to Water," a nonprofit event benefiting clean drinking water worldwide, at 5:30 p.m. Wednesday. Enjoy an evening of international cuisine and delicious wine tastings prepared by Mahogany Grille Executive Chef Dave Cuntz and special guest Chef Safari from Zanzibar, Tanzania. Cuisine from six countries and 12 regional wines will be featured.

El Patio, a favorite local watering hole and sunshiny music spot, has changed ownership and is now the Balcony Bar & Grill. The new owners, the Kitchen and Wall families, have revamped the menu to reflect a New Orleans and Southern BBQ feel. Russ Crossland (of Jack Ten High) is coordinating the booking of top local talent and live music will be featured from 4-8 p.m. Wednesdays through Fridays. The summer music slate kicks off with the Robin Davis Duo on Wednesday. While performing in countless local bands on guitar, mandolin and fiddle, Davis is a great songwriter and one of the bluegrass world's best up-and-coming flat-picking guitarists.

In addition to Thursday's Fuzz-Huzzi show, the Summit also hosts acoustic happy hours (6-9 p.m.) with allgood on Friday and Rupnow & Friends on Saturday, a Good Neighbors reunion show with Lucy and Peter Robot at 10 p.m. Friday, and a graduation bash for Fort Lewis College seniors with Lucy and an assortment of local musicians at 10 p.m. Saturday.

Speaking of FLC graduation, the college's 47th baccalaureate class walks at 8:30 and 11:30 a.m. Saturday in Whalen Gymnasium. Retiring Professor of Political Science Byron Dare will deliver the commencement addresses to 525 graduating seniors.

This week's schedule at the Starlight includes regular events like Salsa Night (8 p.m. tonight) and Musica del Mundo (9 p.m. 'til close Sunday), plus jazz with Prattle (6-9 p.m. Friday) and DJs Ralphsta and Wesley Jack (9 'til close Saturday).

Also of note: Nina Sasaki & Larry Carver play the St. Clair Winery & Bistro in Farmington at 6 p.m. tonight; Back Alley Blues does its regular 5-to-7 Friday Afternoon Club gig at the Purple Haze; the Kirk James Blues Band returns to the Billy Goat Saloon in Gem Village at 9 p.m. Friday; Tumblin' Dice plays rock and blues from 8 'til midnight at the Purple Haze Friday and Saturday; and Black Velvet, with Sasaki, Carver & Randy Crumbaugh, rock Desperado's Bar & Grill at 7 p.m. Saturday.

This week's Top Shelf list acknowledges my favorite old-time musicians to play Durango this past decade:

1. Mike Compton & David Long

2. Foghorn Stringband

3. Chance McCoy & the Appalachian String Band

4. Reeltime Travelers

5. Martha Scanlan & the Stuart Brothers

6. Stairwell Sisters

7. Sweet Sunny South

Gonna buy me a sack full of flour? E-mail me at:

•
In this week's issue...
July 21, 2022

Land swap approved in Southwest Colorado, but not without detractors
July 21, 2022

The latest strategy to save the San Luis Valley's shrinking aquifer: paying farmers not to farm
July 14, 2022

Despite SCOTUS ruling, San Juan Generating Station plans to shut down