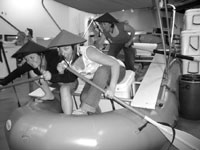 Divers: Stacy, Ashleigh and Lani of 4 Corners Riversports
Interesting facts: These ladies aren't afraid to talk tube size with the most manly of river men
Got a dirty little secret?
Looking for guidance to remedy a sticky situation?
Seek help from the master of the kitchen! The Dish Diver has solutions to life's little messes. Send your problems to "Ask the Diver." - By mail to Durango Telegraph - Attn Diver -534 Main Ave., Durango, CO 81301; by email at telegraph@durangotelegraph.com, or by fax at 259-0448.
Dear Diver,
I just read that spring is now arriving about 10 days earlier in the United States than it did two decades ago. Did I miss something? How did Durango manage to dodge the "spring creep?"
– Still Wearing Down
Dear Still Wearing Down,
I'm going to blame it on the influx of cold-hearted and icy-brained Tea Baggers who have suddenly popped up in our little corner of the world. Combine that with the heat-sucking souls of the crotchety Right Winger constituent, and it's pretty clear to me that they're to blame for this weather phenomena. Hey, they can blame just about anything on Obama, so why not start blaming something on them. Global warming works in mysterious ways.
– The Divers
Dear Diver,
What's up with Durangoans who get "laid off," file for unemployment and then leave for 3-week trips down the Grand Canyon or Hawaii? As a 9-to-5er who coughs up bucks for payroll tax and Social Security year-round, I'm feeling a little jilted. How can I get even with my seasonal friends?
– Wally the Wage Slave
Oh Wally,
I am all about working the system, but as a fellow slave laborer, I feel your jilt. Did you know citizens have the authority to turn in people who abuse the unemployment program? There are even special investigators who track them down and haul them to court where they must pay thousands in restitution (evil cackle). Better yet, why not work a little extortion yourself? Threaten to turn them in if you don't get your cut of Uncle Sam's gov't surplus. But, because you are a good, upstanding citizen, you will not use the money for selfish leisure pursuits. Go on a local shopping spree for someone who deserves new shoes (size 8 is popular) or a hot meal.
- Keeping it Local, The Divers
Dear Diver,
Considering all of the earthquakes and volcanic eruptions, is the world ending? Should I start maxing out my credit cards or wait until we get a closer to 2012?
– N. Damus, via e-mail
Dear Mr. Damus,
Yes, the 2012 apocalypse is approaching. But let's be real, your credit cards are already maxed out due to beer, river trips, new kayaks, new skis, more beer, Luna Azul, designer mountain bike clothes, and everyday Durango life. Go "find" someone else's card and "accidentally" use most of their money. Or, take a lesson from the 19-year-old bank robbery suspect. Once the Earth splits into pieces it won't matter anyway.
– The Divers
In this week's issue...
July 21, 2022

Land swap approved in Southwest Colorado, but not without detractors
July 21, 2022

The latest strategy to save the San Luis Valley's shrinking aquifer: paying farmers not to farm
July 14, 2022

Despite SCOTUS ruling, San Juan Generating Station plans to shut down