Cinco times dos
Community, students rally to put on weekend of events

SideStory: Cinco schedule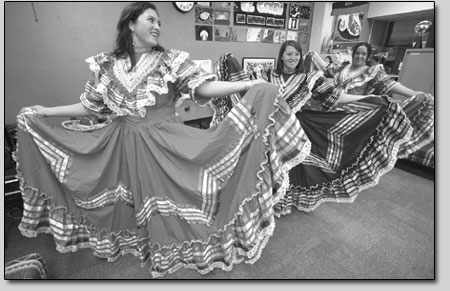 From left: Shirena Trujillo-Long, Melissa Smith and Theresa Garcia-Rogriguez, members of Fort Lewis Baile Folklorico, model the dresses they will be wearing for their performance debut Sunday at Buckley Park. Smith, a junior at FLC, was responsible for planning this year's Cinco de Mayo in Durango. The long-running event in Durango was cancelled by after bad weather led to low turn out over the last few years. /Photo by Stephen Eginoire
by Missy Votel

Just as an underdog Mexican army fought off the French at the Battle de Puebla, so have members of the Latino community joined forces to make sure celebration of that victory, and Latino heritage in general, lives on.
Upon realizing late last year that Durango's annual Cinco de Mayo fiesta was being cancelled, a Fort Lewis College student and the Southern Ute Tribe stepped in to offer not one but two separate events this weekend.
The first, a joint partnership between the Durango Educational Alliance for Multicultural Achievement (Del Alma) and the Southern Ute Tribe will take place at the Sky Ute Casino in Ignacio on Saturday. The second event, sponsored by Fort Lewis College's El Centro de Muchos Colores and the FLC, will take place Sunday in downtown Durango at Buckley Park.
"That way it will be a weekend long celebration and people can choose to go to one or both events," said Shirena Trujillo Long, director of El Centro.
Durango's Cinco de Mayo fiesta has been held continuously since 1995, first at Santa Rita Park and later at Buckley. Originally the brainchild of Barbara Conrad, it was operated under the umbrella of the Durango Arts Center. The event was later taken over by the Durango Latino Education Coalition and, most recently, Del Alma. However, poor weather and resulting low attendance for the outdoor celebration over the last few years led Del Alma to cancel the event late last year.
"Two yeas ago we had snow, and last year we had rain; we had maybe 20 people," said Maria Baker, Vice President of Del Alma's Board of Directors. "Putting on an event that size for a nonprofit is really difficult. It takes a certain amount of money, with no guarantee of return. It was a very difficult decision for us."
However, Baker, who also works for the Southern Ute Tribe, said an opportunity arose to partner with the Sky Ute Casino on the event. In addition to offering up its parking lot for the event, the casino also helped bring in entertainment and market the event. And, in case of rain, everything can be moved inside.
"We're really excited," said Baker. "We think it's going to become a Four Corners event."
And while Ignacio's gain was Durango's loss, it wasn't for long. When Fort Lewis College junior and Durango native Melissa Smith found out there would be no Cinco celebration, she went to work.
"I've lived here all my life, and when I heard there wasn't going to be a Cinco in Durango, it just wasn't right," said the international business and Spanish major. "It's a tradition, my family goes every year, and I really wanted to keep the celebration here."
Smith, a work study student for El Centro, approached Trujillo-Long about organizing a Cinco event as part of her job.
"She said she wanted to put on Cinco in 2010," recalled Trujillo-Long. "I told her the first thing she'd have to do is get money."
Smith then had a crash course in grant writing, which she passed with flying colors. "It was the first grant application I had ever seen," she said. "We asked for $1,000 and got double what we had hoped for."
With the $2,000 courtesy FLC's Center for Civic Engagement via El Pomar Foundation, the wheels on Cinco revival began rolling. Former Cinco organizer and executive director of the Durango Latino Education Coalition, DeeDee DeHaro-Brown, soon came aboard when she heard about the effort. "I came out of Cinco de Mayo retirement," DeHaro-Brown joked. "When I heard there wasn't going to be one in Durango and Melissa was going to make it happen, I volunteered to help."
DeHaro-Brown said she was impressed with how well Smith and other students took charge. "They really took the bull by the horns. With such short notice, they just learned an incredible amount."
Trujillo-Long said the grant, along with community support, has made it possible to offer a "smorgasbord of Latino entertainment," including mariachi music, folklorico dancers, live music, DJs and a DJ contest, piñatas and more. "We're trying to have entertainment on the stage all day," she said.
One of the highlights includes the Albuquerque band Chicanisimo, of which two members are Durango High School graduates. "They have sort of a Northern New Mexico/Southern Colorado flair," Trujillo-Long said. The Stillwater Foundation's Latin percussion ensemble "Que Pasa" will also be performing.
In addition, a brand new local dance group will also be making its debut. Fort Lewis College Baile Folklorico, taught by FLC grad and former Del Alma dance instructor Jen Cossey, will be taking the stage for the first time.
"We have been practicing since January," said Trujillo-Long, who is one of the group's roughly dozen dancers, along with Smith. "We got the dresses through a grant from the FLC Foundation and borrowed a few from Del Alma."
The group is made up of FLC students and alumni as well as local high school students. The hourlong performance will include dances from Jalisco, Chiapas and Nayarit. "The dances are all unique to their regions," she said. "It's all in the feet, sort of like tapping, but the beauty is in the dress."
And while a lot of the emphasis will be on Mexico, Trujillo-Long said the event is open to all corners of the local Latino population as well as the community as a whole.
"Cinco is probably the largest event that celebrates Latino culture in Durango," said DeHaro-Brown, adding that the alcohol-free event is another plus for families. "It's a real friendly event."
For her, it was well worth coming out of retirement to get involved with this year's event. "It's just been so much fun working with the FLC students, they have so much enthusiasm."
Smith said the enthusiasm has been contagious. "We've gotten a lot of people really supportive of the event and really excited to help out," she said.
Of course, there's still one person who has not fully pledged her support: Mother Nature. "We just hope it doesn't rain," Smith said.
In this week's issue...
July 21, 2022

Land swap approved in Southwest Colorado, but not without detractors
July 21, 2022

The latest strategy to save the San Luis Valley's shrinking aquifer: paying farmers not to farm
July 14, 2022

Despite SCOTUS ruling, San Juan Generating Station plans to shut down