Mile-High comedy, Lynx and Janover, and championship rings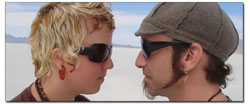 Lynx and Janover bring their unique show to the concert Hall tonight, Thurs., April 22.

by Chris Aaland

Hats off to the board members and volunteers of the Durango Bluegrass Meltdown, which hosted its 16th annual festival of high and lonesome sounds last weekend. As they say in the bluegrass world, mighty fine indeed. It's a nice reminder of both the great local talent we have and upcoming festivals on the horizon. And, true to form, nearly all of the snowpack finally melted in my yard.
Now that spring is here, the music scene will start quieting down for awhile until June festivals beckon. But there are still a lot of events slated for this week.
Denver-based comedian Spencer James, a regular at the Mile High City's Comedy Works, comes to the Hank on Friday. His acting credits include the smash ABC hit "Lost," and he's opened for the likes of Tye Barnett, Jimmy Dore and Rocky Laporte.
Many people associate the Community Concert Hall with acts geared toward older folks, and there's no denying the venue has hosted countless Grammy winners in the folk, country, bluegrass, blues, rock and classical worlds. But hip-hop and down-tempo electronica take center stage at 7:30 p.m. tonight, April 22, with LYNX & Jamie Janover. LYNX starts the mix with boxing, rhyming and amplified mini-kit percussion, while Janover is known in the bluegrass and folk worlds for his hammered dulcimer playing (I've seen him several times as a "tweener" at Telluride Bluegrass). Youssoupha Sidibe joins the pair and adds to the eclectic roux by playing traditional West African sounds on the kora (an indigenous harp) and with the Sufi devotional chanting of the Senegalese Baa Faa community.
Euforquestra returns to the Abbey on Friday. One of Colorado's busiest touring bands, they've earned a loyal local following thanks to numerous shows at the Abbey and the Summit and appearances at regional festivals. Their self-proclaimed "Afro-Caribbean-barnyard-funk" blends such genres as Afrobeat, Afro-Cuban, samba, salsa, reggae, funk and dub.
Underground West Coast rapper Luckyiam brings his crew the Living Legends to the Abbey at 8 p.m. Saturday. Also known as PSC, Lucky, LuckyOne and Cool Man Number 1, he learned the art of Left Coast hip-hop at the Goodlife Café in the early '90s from the likes of Heavyweights Freestyle Fellowship and others. Albums like "Most Likely to Succeed" and "Justify the Mean$" have cemented a reputation he's built over nearly two decades.
Steamworks presents a world music double bill featuring Las Cruces' Liquid Cheese and Montgomery, Ala.-based BPM at 10 p.m. Friday. Expect to hear plenty of reggae, rock, ska, Afrobeat and world groove. Liquid Cheese's recent "Live at Steamworks Brewing" album is available. As the band is sponsored by Jagermeister, expect plenty of specials on Jager shots and Jager bombs.
Celebrate Earth Day at 5 p.m. tonight, April 22, at Carvers with Waiting on the Mountain (local bluegrass band Wild Mountain joined by Robin Davis and Chris Lane of Waiting on Trial). Chosen as Durango's 2009 Green Business of the Year, Carvers will feature their all-organic, solar-brewed Lightner Creek Lager.
Steamworks hosts a medical expense fund-raiser from 6-9 p.m. Wednesday for one of its former employees, Carla Toth, who suffered a brain aneurysm last year and incurred extreme medical bills. The event includes an auction of goods and services donated by caring friends and local businesses.
The Community Concert Hall hosts the Fort Lewis College men's soccer team's national championship ring presentation Friday. A silent auction featuring autographed jerseys worn by the players in NCAA title game will start at 6:30 p.m., with the ceremony to follow at 7:30. Admission is free, and complimentary appetizers will be served. A variety of Skyhawk soccer goods and wares, including souvenir pint glasses and 1999 commemorative jerseys courtesy Ska Brewing, will be sold. Proceeds benefit men's soccer scholarships.
The Summit's slate of events this week includes a Grateful Dead/Led Zeppelin tribute night featuring RedEyedJinn, Dead Zeppelin and Stone 66 tonight, a Durango Roller Girls fund-raiser with the Freeman Social, Jaki & the Joysticks and Black Market Electric on Friday and local rockers Seven on Saturday.
Also of note: back-to-back nights by Neil Nelson & the Saloonatics at the Purple Haze from 8-midnight Friday and Saturday; the Kirk James Blues Band at Desperados Bar & Grill from 8 until midnight Saturday; and the Boycotts at the Starlight Tuesday.
This week's Top Shelf list recounts some of my favorite moments from last weekend's Meltdown:
1. Town Mountain's outfits at Sunday's finale at the Durango Arts Center. Apparently the Asheville boys found some costumes backstage and dressed like the Beatles on "Sgt. Pepper's Lonely Hearts Club Band."
2. Said band's beautiful renditions of Townes Van Zandt's "Loretta," which featured the sensitive vocals of Robert Greer and fretwork by Barrett Smith, who is a flat-picking guitarist of rare virtuosity.
3. Mark Epstein and Cindi Trautmann's old-time, banjo-and-fiddle duet during Saturday's Under the Radar set.
4. Riley Baugus with the Stuart Brothers. Besides being one of the world's foremost clawhammer banjo players and keeper of old songs, Baugus is a first-rate storyteller who knows the roots of nearly every old-time fiddle tune, reel and air you can name.
5. Jeff and Tristan Scroggins, a father-and-son duo (dad plays in the Blue Canyon Boys) doing a Latin jazz-infused, Grismanesque banjo-and-mandolin instrumental during the Super Jam.
6. Audie Blaylock & Redline. KDUR's Bryant Liggett, a self-professed "I'm not really that into bluegrass" kind of guy, called Audie's sets among the best bluegrass he's ever seen live.
7. Golden voices. Analise (20 years old), Jocelyn (17) and Shelby Gold (14) may be young, but their incredible harmonies have taken more than a decade to forge.
8. Finders and Youngberg. Mike Finders' "Moonlight on the Colorado" always brings tears to my eyes.
9. Bar-D Wranglers. Their Saturday set evoked legends like Bob Wills, Sons of the Pioneers and the Sundowners.
10. Super Jam host David Smith and the Blue Moon Ramblers each making dedications to Toby Peterson, the former owner of Farquahrts who died of a heart attack last week. •
She wears them sevens on her sleeve?
E-mail me at chrisa@gobrainstorm.net.
In this week's issue...
March 17, 2022

Lake Powell drops below threshold for the first time despite attempts to avoid it
March 17, 2022

Purgatory Resort set for expansion but still faces hurdles
March 10, 2022

New health care studio takes integrated approach to healing