Grassroots green
Four Corners Green Living Expo returns to Durango

SideStory: Just the fac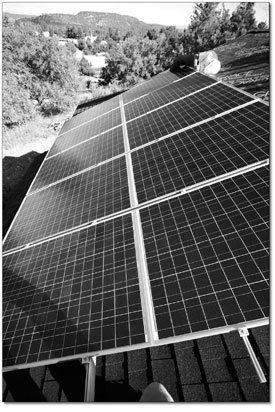 This weekend's Green Living Expo will showcase sustainable lifestyle options, ranging from home solar systems to xeriscaping. The Expo features more than 100 vendors as well as interactive displays, kids activities and numerous workshops./Photo by Stephen Eginoire
by Anna Thomas

Green is the new black. It's everywhere you look. On your next lunch break, rake in a federal bike-commuting tax credit and pedal on down to Wal-mart, where you can pull some organic Oreos off the hybrid diesel-electric delivery truck and wash 'em down with an organic cola.
Yup, "green" has gone mainstream. For many, it's about time. For others, it's business as usual.
For such local green pioneers, this weekend's Four Corners Green Living Expo is a chance to showcase their wares and to involve as many like-minded people as possible in the green movement.
The idea for the Expo was sparked four years ago in the mind of local activist Carol Clark. Founder of the Durango Farmers Market, Clark ran it for a decade before she and business partner, Kristen Muraro, started Eco Logic Events two years ago. A sustainable event-planning service, Eco Logic brought to fruition the environmentally responsible Singlespeed World Championships and Oktoberfest events, among others. When Clark returned to Durango after a visit to Chicago's Green Festival, her gears started turning. She knew she was onto something great.
"Durango's got a lot of sustainable initiatives happening, and a lot of businesses that are already doing environmental practices," Clark said. "I thought that model could be used as an example for an (Expo) in Durango."
The first Expo, held last April, boasted a list of vendors 75 strong, with more than 2,000 people in attendance. The Expo provided a chance for, say, a homeowner interested in doing a green remodel to meet with green builders face to face, instead of flipping anonymously, and blindly, through a phone book.
Heading to "AAA Builders" in the Yellow Pages, Clark said, just won't work when looking for a green builder. "You're not going to find what you're looking for.

A highlight of last year's Expo was Bicycle Lemonade, which is back by popular demand this year. The program "squeezes" new bikes from old, offering a rehab center for bikes in all stages of disrepair. The refurbished cycles are then sold for practically peanuts, which are then put into finding new parts.
Also returning to the Expo is the Durango Discovery Museum, which will run an interactive display of kid-friendly, eco-activities like solar car races, power generating bicycles, and paper making.
This year's Expo is rolling out the red carpet for several brand new programs, as well. Take Habitots (yes, "tots") for example. Two tot-sized, sustainably built playhouses will feature two different methods of green building. Mantell-Hecathorn Builders Inc. and Sol-Tek Contractors each designed and constructed a playhouse with materials contributed by local businesses.
Mantell-Hecathorn's is a pint-sized model of energy efficiency, utilizing new materials and featuring the green building technology that is the standard for residential green-building certification programs.
"The goal of the program is to create an educational tool to demonstrate specific materials and building science techniques," said Greg Mantell-Hecathorn. "We also hope that the playhouse will help the public understand proven financial savings."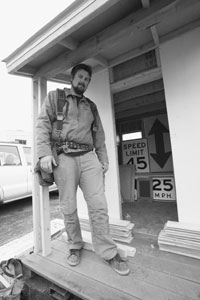 Luke Daniels, of Sol-Tek, stands on the deck of a playhouse he built for this weekend's Expo. The structure, built from recycled material, will be donated to Mercy Medical's child-care center./Photo by Stephen Eginoire
Sol-Tek's playhouse is constructed from recycled materials such as reclaimed barn wood, siding and framing, and will be powered by a solar panel donated by Shaw Solar.
Luke Daniels, who owns Sol-Tek, also4 owns Counter Kulture. He uses ground glass from the Durango Recycling Center to create custom countertops, a sustainable alternative to the classic quarried stone.
Daniels described his playhouse as "funky." He explained that while elements of recycling can be used in home construction, his playhouse represents the extreme end of the reduce-reuse-recycle spectrum.
"It would be pretty interesting if you built a house this way," Daniels said. "We want to show that you can be super creative and use recycled products in all sorts of ways to achieve aesthetics and functionality."
So what do you do with two tiny green homes? That's the best part. In keeping with the Expo's community-oriented theme, both will be donated to the Durango community following the Expo. Sol-Tek's will become a permanent display at the Child Care Center at Mercy Regional Medical Center. Mantell-Hecathorn's will go "on tour" in Durango until October, when it will become an exhibit at the Durango Discovery Museum.
If you're a professional in the green building field, another program at this year's Expo will give you the chance to catch up on continuing education credits. The Expo will host a lecture as part of Four Corners Office for Resource Efficiency's Sustainable Building Education Program.
The lecture will be presented by the designers of the Twin Buttes Ecovillage, the proposed (and highly contested) Durango development that will feature 4 acres of open space for every acre of developed land. The talk will focus on the evolution of the Twin Buttes development into a sustainably built community.
The keynote speaker at the Expo will be Auden Schendler, executive director of Sustainability at Aspen-Snowmass. In addition to being Aspen Skiing Co.'s guru of green, Schendler is also the author of Getting Green Done: Hard Truths from the Front Lines of the Sustainability Revolution.
His speech on Saturday night at the Smiley Building will be part of the "Green Scene: A Night at the Expo." Soup and bread donated by area restaurants will be served to attendants in handmade bowls, donated in turn by local potters. Short films will be shown following the speech.
The soup kitchen-like sense of community is not lost on Clark. "It's really a social," she said.
While big boxes may have the big bucks to outfit delivery fleets with hybrids to crisscross the country, and mega-corporations can smack an organic label on just about anything, it's clear that the roots of Durango's green movement are still made of grass. •
For more information about the Expo, to become an exhibitor, donate food or bowls, or to register for the lecture, visit www.4cornersgreenliving.com or call Kristen Muraro with Eco Logic Events at (970) 946-0715.
In this week's issue...
July 21, 2022

Land swap approved in Southwest Colorado, but not without detractors
July 21, 2022

The latest strategy to save the San Luis Valley's shrinking aquifer: paying farmers not to farm
July 14, 2022

Despite SCOTUS ruling, San Juan Generating Station plans to shut down