Bang the Beat
Local musicians and artists partner to help Haiti

SideStory: Just the facts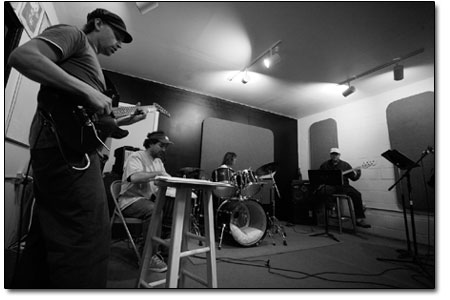 Band director Jesse Ogle and Steve Dejka, music director, lead practice at the Stillwater Foundation on Monday night. The foundation is partnering with local artists and musicians to host "Bang the Beat" this Saturday at the Abbey Theatre. The event is a fund raiser for the Albert Schweitzer Hospital in Haiti./Photo by Stephen Eginoire
by Stew Mosberg

Durango is again reaching beyond city limits to help others in need. "," a benefit concert to raise funds for earthquake ravaged Haiti, lands at the Abbey Theatre on April 10. The collaborative affair will raise capital for a hospital in Haiti that has a local connection.
The Albert Schweitzer Hospital (HAS) is located about 45 miles from Port-au-Prince and was built in 1954 by the grandparents of Dr. Wendy Grant, of Durango Orthopedics Associates. Grant followed her grand father's and father's footsteps into medicine and practiced at HAS during her medical schooling and residency.
Following Haiti's catastrophic earthquake on Jan. 12, Grant received word from her uncle Ian Rawson, the hospital's current managing director. HAS had been struggling to keep up with almost 500 patients a day, far more than the 80 the hospital normally received. Because of its deep roots in the community, its excellent Haitian staff and its extensive ties with medical organizations around the world, the hospital has been able to offer surgical care, food and even housing to those who come to its doors. According to Grant, it is also providing prosthetic limbs and physical therapy to patients who required amputations.
However, HAS operates on a very tight budget in normal times, and in the first week after the earthquake, it spent three months of its usual annual budget. "Things have changed," said Grant, "The population (of the community served by HAS) has increased from 300,000 to more than 450,000 since the earthquake. As a result there are extra demands on the hospital and staff."
The Abbey Theatre concert, "Bang the Beat," is the brainchild of Steve Dejka, music director and founder, along with Terri and Tony Gasaway, of the Stillwater Foundation. The organization was created in 2005 to provide musical education and athletic opportunities for Durango children and adults.
The music program started with one steel drum band and has added a new group every four to six months. The program currently has two teachers – Dejka, a drummer, and Jesse Ogle, a bassist. "Bang the Beat" will showcase everything from jazz and blues to rock and Latin rhythms.
Commenting on how the idea for the benefit concert originated, Dejka said, "All the press concerning Haiti had an impact on me, and I simply wanted to do something. In the middle of rehearsing with the Stillwater Latin Band it all hit me. I stopped rehearsal and talked to the band about my idea. I realized one band was not enough. Live music was not enough."
After reading an article about Wendy Grant, Dejka spoke with Anne Beach of Music in the Mountains about partnering. "She was thrilled with the idea," he said. They then contacted Grant and some local artists and the event began to take shape. Staging a musical performance was the obvious choice, but then the idea of having live art was suggested by pianist Lawrence Nass. Dejka reached out to local artists Elizabeth Kinahan and Miki Harder and they, too, jumped on board.
In addition to money from ticket sales, Stillwater students will seek pledges from the community for every 30 minutes of music performed. Easels will be on site for participants to create art as the music plays. There will be a community canvas for everyone to paint something on, and that piece will be auctioned off at the end of the evening.
Speaking about her and Harder's roles, Kinahan was enthusiastic. "I am really looking forward to actually watching the ways people relate to music, and seeing the results of music being heard, internalized, and coming back out in the form of visual art," she said. "I think the whole idea is fascinating and is sure to be really fun and exciting."
Kinahan went on to applaud Dejka, saying, "I think it is great that Steve created this benefit to help the hospital, and I love to see the ways it is enriching our own community as well. He is bringing together fantastic people, a ton of talent in a wide variety of musical genres and visual arts, all in a great location and all for a really important cause. I am truly grateful to be a part of that."
Harder shared her colleague's enthusiasm. "The whole idea of music with art is awesome," she said. "We'll be upstairs in the west cubbies at the Abbey. I'll be face painting, which I love, and will paint filigree on arms, legs, faces. There's going to be a giant canvas for anyone interested to paint their loving message on to Haiti."
The evening will also include a presentation by Grant about the hospital itself. Two host bands will perform during the night, and local musicians are invited to sit in. In addition, a salsa band started by pianist Ryan McCurry will also take to the stage. And just to add spice, dance instructor Suzi DiSanto will open the evening with a Salsa lesson. •