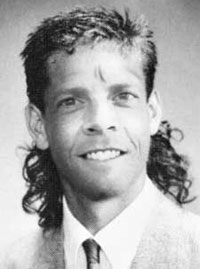 Diver:Chris Bettin, of Durango, Colo.
Interesting facts:Chris really wanted to be Axl Rose when he was younger, but is sort of glad he turned out not to be.
Got a dirty little secret?
Looking for guidance to remedy a sticky situation?
Seek help from the master of the kitchen! The Dish Diver has solutions to life's little messes. Send your problems to "Ask the Diver." - By mail to Durango Telegraph - Attn Diver -534 Main Ave., Durango, CO 81301; by email at telegraph@durangotelegraph.com, or by fax at 259-0448.
Dear Diver,
Every time my precious week of vacation comes up, a massive storm blows through Colorado and grounds jets in Denver. The hiccup invariably leads to me and my family getting stranded in Albuquerque and trading beach time for a holiday in the Land of Enchantment. What have I done to anger the gods of the friendly skies? How do I remedy my misstep?
– Done with the Duke City
DDC,
Are you one of those insufferables we've been suffering lately who complain about the timing of the 9R Spring Break, as if one week later makes a difference in March? How many March's do you have to live through in Durango to understand that March, April, May and most of June are referred to as the Indian Winter. We'd wager you're of the same ilk that foretells an end to global warming with each snow flurry. Seriously God(s) doesn't like complainers or Vi McCoy. So, if, as we suspect, you were on your way to the 505 bitchin' about 9R taking its break simultaneous to Fort Lewis College, or damning homosexuality to hell, or anything in between for that matter, your just deserts come with a visit to Route 66 (in your case add another 6).Soon you'll be able to vacation on Mars and burn the living crap out of yourself for all we care.
– Diver
Dear Diver,
What's your opinion of Kate Gosselin? Love or hate? Hair extensions or reverse mullet? Better with Jon or without? Most importantly, could she be a possible soul mate for a lonely Durango man?
– Richard, via email
Dick,
Lucky for you my friend this Diver tunes into PerezHilton.com daily just to catch up on this very topic. We're the only two in Durango that will admit it. I'll bet you watch The Hills too. Me too. Can I call you Dick? Fantastic. Look, we've really studied this and think that Kate Gosselin may be a sign of the apocalypse. What else would explain the world's endless fascination with this raving maniac of a mother and her schlubaholic husband? It's a sure sign that global intelligence is imploding upon itself at exponential rates that will soon leave us incapable of any functionality outside of the brainstem, rendering us all into a George Hamilton-like state where it only appears we're alive because we're breathing and basically ambulatory. We give a crap if we never hear another word about Kate or Jon again, but we're just automatons now, still tuning in because we can't look away, unable to seek out any other form of edification, unsure if we've read a book in years. So…..ideally Kate and Heidi Montag become pals. Heidi and Spencer convince Kate do go under the knife for even more work (she's already $35k in at last count), and she comes out as Heidi's evil twin. Moooo ha ha ha ha. Can you imagine it? We would lose ourselves in Google picture searches for the rest of eternity if there were two of them. Is it too much to ask if Spencer and Jon find themselves on a rocket ship to Mars with DDC? And then yes, we two Durango men will make our move, with soma in hand and punch drunk on our meaningless celebrity fantasy lives.

– Diver
Dear Diver,
How do I get one of those nifty bike jerseys with the big "D" on it? Do you have to live here for a certain number of years, turn in a quick Iron Horse time or go through freshman initiation? Please let me know, I'm suffering from lycra envy.
– A local pedaler
Pedaler,
We'll answer your question with a question. Why?
This outfit is worn by members of the Durango Wheel Club, which any bozo can join on-line for 30 bones at www.durangowheelclub.com. Your membership comes with a water bottle, and you can order big "D" gear there too. We Divers prefer to wear our athleticism a bit off our sleeves, and backs for that matter. We think you cyclists, as you call yourselves, look surprisingly similar to the Faun Tumnus from the Lion the Witch and the Wardrobe, and it keeps us from joining your little wheel club. Much like Dick's affinity for celebrity gossip, this makes us outcasts in a community that's chock full of people aching to tell you about whatever stupid fringe sport they participate in. So join away you lemming. If you see the other D's drop off a cliff, you know what to do. The "D" does not stand for Durango contrary to a popular misconception, but it's an homage to a word in a Manfred Mann's Earth Band song from 1977, if that matters at all to you.
– Diver