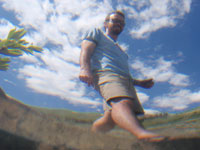 Diver:Jarrod Regan of Raider Ridge Café
Interesting facts: According to www.gangstaname.com, Jarrod's official gangsta name would be "King Poo-Poo Pants."
Got a dirty little secret?
Looking for guidance to remedy a sticky situation?
Seek help from the master of the kitchen! The Dish Diver has solutions to life's little messes. Send your problems to "Ask the Diver." - By mail to Durango Telegraph - Attn Diver -534 Main Ave., Durango, CO 81301; by email at telegraph@durangotelegraph.com, or by fax at 259-0448.
Dear Diver,
My husband recently had a dream he was abducted by aliens, and I've heard that dreams can relate to actual abductions. Plus, he has been acting a little stranger than usual and suddenly has a weird rash on his back. Please advise.
– Martha in Durango
Dearest Martha,
I don't put a lot of stock in any of this extraterrestrial hoopla. There is obviously a simple and legitimate explanation for your husband's odd behavior and rashes. It is clear to me that he has been moonlighting as a WWF wrestler. His little "abduction" story is the perfect cover. He can explain away any bruises, cuts or scrapes he might incur in the ring. These abductions would allow him to travel for days at a time to make it to his match with Sgt. Slaughter or the Wild Samoans. Plus, getting body-slammed into the mats enough times by Hacksaw Jim is sure to cause some rashes. However, if you prefer to believe his story about the little green men taking him aboard the mothership, I would recommend your husband visiting www.highdesertshaman.com and viewing the remote healing video.
– Yours Truly, King PPP
Dear Diver,
Why does Durango always celebrate Oktoberfest in September? I love the party and always manage to get Muniched. I'm just curious if we're suffering from cultural confusion or have a little too much Spaten on the brain.
– St. Pauli Girl
My Bavarian Beauty,
There are so many problems here; I don't know where to start! First of all, in Germany, Oktoberfest is a 16-day celebration ending the first weekend of October. So I think it is all the good people of Durango who are getting "Muniched" by only getting two measly days to get drunk and eat our hearts' content of sausage. Secondly, there have been 27 official St. Pauli Girls, which one are you? Lastly, the only cultural confusion we have here in D-town is evident by the fact that we can't decide if we are a ski, bike or river town. It's so hard to choose!
– Auf Wiedersehen, Das Geschirrspüler
Dear Diver,
My significant other has taken up smoking again after 12 nic-free years. She says she's only puffing occasionally, using it to cope with stress and is not going to get addicted. Well, I found an empty pack of Marlboro Lights the other day, my pillow smells like the Old Solid Muldoon's and butts are popping up all over the place. What should I do?
– Airing my concerns
Air Jordan,
It's best to fight fire with fire. I would suggest that you pick up some new disgusting habits of your own. You could start by clipping your toenails at the dinner table. Then move on to peeing in the shower (you know you do this already, but make sure she knows about it). Next, invent a new diet consisting solely of schweinsbraten and sauerkraut, that's sure to leave some interesting smells in the sheets. And to top it all off, go on a 16-day drinking binge in Munich with St. Pauli Girl. That should teach her!
– Best of luck, Diver