A Tour d'Art
Open Studio Tour reveals the local art world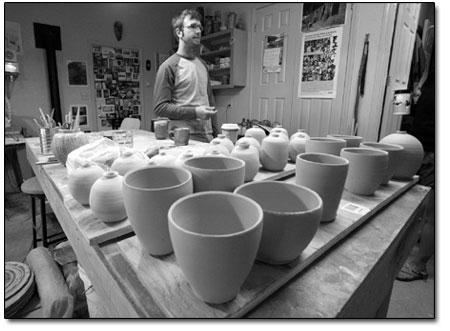 Durango ceramicist Joe Kroenung hangs out in his studio on Junction Creek earlier this week in advance of the Durango Open Studios tour this Saturday. After a few-year hiatus, the event has been resurrected by local artists./Photo by Stephen Eginoire
by Stew Mosberg
It is been almost four years to the day since Durango experienced the last full-scale artist's studio tour. Happily, Durango artist Crystal Hartman has come forward to bring a new improved version to town, and it promises to be an audacious weekend for art l0overs. The tour gives the public a chance to talk to the professionals in their workspace and gain a better understanding of what it means to be an artist.
Conceiving the idea in the fall of last year, Hartman began researching art associations and alliances and kicked the idea around with a few other artists. What she found was that most artists agree there are only a few opportunities for them to exhibit their work, and that there is little appreciation by the general public of what it takes to be an artist, or what goes into the creative process. In addition, tours of art studios, such as a recent one in Pagosa Springs, also draw visitors from far outside their respective areas, making a positive economic impact on the community.
The previous two tours in Durango were started by local artist Sharon Abshagen, involved 16 artists, and coincidentally ran the same weekend in September as this incarnation. Reminiscing about her experience in the earlier tour, Karyn Gabaldon said, she was glad to see the idea resurrected, noting it was the impetus for her to open her downtown gallery. "It was very successful, but a little hard for a private person like myself to have people I didn't know in my studio, which is very sacred to me," she recalled. "That was when I realized I would rather have a gallery downtown."
Hartman's idea of reviving the tour initially met with skepticism, but she said some people were into it right away. Running this weekend, Sept. 26-27, the "Open Studio Tour," as it is known, will include 22 studios, 27 artists and have three designated auxiliary locations. Delighted by the response to her plan and the resulting number of participants, Hartman exclaimed, "I had no idea how big this was going to get!"
Many artists work in small rented spaces or tiny spare rooms, and they are not in a position to accept tour visitors. To accommodate those individuals, Hartman sought other venue options where those individuals could exhibit. She first approached the Durango Arts Center (DAC) and was able to secure the Barbara Conrad Gallery for several weeks, culminating on the weekend of the "Open Studio Tour." The art on display in the DAC exhibit, titled "Open Door," is a juried affair, with three jurors ultimately selecting 10 artists to show about 60 works in a variety of mediums.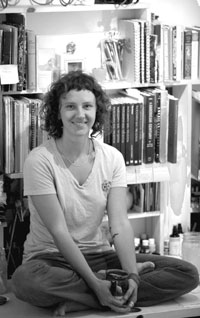 Crystal Hartman, in her home studio last week, organized the Open Studios tour to help people understand firsthand the art-making process./Photo by Stephen Eginoire
As one might imagine, assembling a varied group of artists is difficult at best, and putting it all together requires a number of people. Undaunted, Hartman worked tirelessly for many months to coordinate the event and earned support from several colleagues and sponsors. Funding came from registration and advertising fees plus in-kind services provided by sponsors. However, the expenses were still not covered, and Hartman dipped into her own resources to fill in the financial holes and ensure success of the venture.
Two of her colleagues, who live in Bayfield, joined forces to help their artistic neighbors participate in the Open Studio Tour. Kinsee Morlan and Meisa Chase collaborated with Crystal under the auspices of Morlan's Red House Gallery and created "Co-lab at Three Springs." On Mercado Street in the Three Springs commercial area, an available space is being turned into an exhibition gallery for the weekend. Close to a dozen artists working in a variety of mediums will be on hand to showcase and discuss their creative output.
The women believe the guerilla-style show at Three Springs can be a regular occurrence and think that people will really like what they see and that it can be the first of many. "We're really excited to have a venue with no restrictions," Chase says. "The space is huge, the walls and floors are raw and unfinished, and it couldn't be a more appropriate place to show the cutting edge output of some of the artists on view."
In addition to the Barbara Conrad Gallery show and the Co-lab at Three Springs, Wildflower, at 532 Main Ave., also will be presenting four widely different artists' work.
According to Hartman, the Open Studio Tour is already a success because it has generated great interest within the art community. "The thing I'm most excited about," she says, "is the artists getting stoked. Now I'd like everyone to up the ante, to branch out, to create, and to work together. I want people to care. It's about the artists feeling excited, sharing their ideas and workspace, the act of getting ready for the tour. I love this project; it's all about creativity."
The effervescent Hartman is quick to point out that most people have no idea artists do in their studios, what kind of music they listen to or even the actual process of creativity. "Understanding that," she explained, "will give people a greater appreciation of art. This is a chance to see and learn about it first hand, from the artists themselves." •