Prone position, Los Lonely Boys and early Meltdown


by Chris Aaland
Sports fans like me can finally assume the prone position on the couch in front of the idiot box, frosty beverage in one hand and remote in the other. In what seems to be its latest opening day ever, the NFL returns with a meaningful game when the defending Super Bowl champion Steelers host the Titans at 6:30 p.m. tonight (Thursday). Like the changing of the colors, the opening of archery hunting, green chile roasting and beerfests, the chance to see 600 lbs. of man-on-man collisions is a seasonal reminder that winter is near.
Sure, it's been a stellar summer of sports on the flat screen. My purple-pinstriped Todd Helton jersey has seen regular wear this summer as the Rockies salvaged their season and are chasing a Wild Card spot or, possibly, their first-ever division title. Although not a golfer myself, I was entranced by Tom Watson's run at the British Open in July and Tiger Woods' rare unraveling at the PGA in August. Who can ever forget Roger Federer's epic five-set win over Andy Roddick at Wimbledon this year? USA soccer's run to the finals of the FIFA Confederations Cup nearly yielded a monumental upset of Brazil.
But futbol ain't football. None of it would cause me to drive through the night Saturday to return from a three-day business trip to Denver and Pueblo so I could catch the 11 a.m. kickoff of the Broncos-Bengals, an affair that will generate little interest outside of the Rockies and Southern Ohio.
If the gridiron isn't your game, there's plenty of music happening this week.
Los Lonely Boys return to the Community Concert Hall at 7:30 p.m. Saturday. Playing Texican rock & roll, the Austin-based, Grammy-winning trio also incorporates elements of blues, soul, country and Tejano. Championed by Willie Nelson, Los Lonely Boys hit the big time in 2003 with their self-titled debut and catchy single, "Heaven." Next month, they'll release "1969," a five-song EP that acknowledges some of their influences. The diverse little collection includes the Garza brothers' takes on Santana's "Evil Ways," the Beatles' "She Came in Through the Bathroom Window," Tony Joe White's "Polk Salad Annie" and the Doors' "Roadhouse Blues."
The Durango Bluegrass Meltdown hosts its annual fund-raiser from 5-9 p.m. tonight at the Durango Brewing Co. The Badly Bent, Waiting on Trial, the Scrugglers and Wild Mountain will perform on the DBC loading docks. $10 at the door gets you music, BBQ and a souvenir pint glass. Kids under 10 are admitted free.
The Montezuma Land Conservancy hosts its 11th annual Harvest Beer Festival from 5-10 p.m. Saturday at the Cortez Cultural Center. For $25, you get unlimited beer tastings of a bevy of local suds, including those by Carvers, Dolores River, Durango Brewing, Main Street, Moab, Ska, Steamworks and 3 Rivers breweries. There's also live music by Dave Insley's Careless Smokers and the Angry Dawg Jazz Band, door prizes, locally-grown food, a silent auction and massages.
The Abbey Theatre has a busy week, with concerts by Dubskin (a five-piece roots and dub reggae band from Fort Collins) at 9 p.m. tonight, Annie Brooks (CD release party) at 7 p.m. Friday, Dave Insley's Careless Smokers (honky-tonk)
The Summit welcomes RedEyedJinn on Friday, funk by the Felonious Groove Foundation Saturday and The Butchers on Sunday.
The Starlight hosts live jazz by the Bob Hemenger Trio at 6 p.m. Friday, DJ Bram at 9 p.m. Saturday and The Daydreamers at 8 p.m. Tuesday, in addition to its regular weekly schedule.
Nina Sasaki, Larry Carver and Ben Gibson play El Patio from 5-9 p.m. tonight. Sasaki and Carver also perform on Rylee Mac's patio from 5-8 p.m. Friday.
The 24th annual Colorfest Hot Air Balloon Rally takes place Saturday and Sunday in Pagosa Springs, with launches near the hot springs at 8:30 a.m. Saturday and Stevens Air Field at 8:30 a.m. Sunday. The balloon glow takes place at dusk Saturday at Stevens Air Field. A battle-of-the bands in Pagosa on Saturday features, among others, Durango's Motivator.
Hopheads, rejoice! Two local favorites are slated for release this week. Euphoria becomes Ska's fourth ale to appear in cans. Don't be shocked by the blue vessels: It's the same great tasting pale ale, only with a new color scheme and logo design. Not to be outdone, Durango Brewing unleashes their popular Colorfest seasonal fall ale.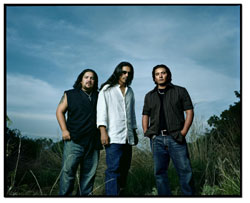 Los Lonely Boys return to the Community Concert Hall at 7:30 p.m. Saturday
This week's Top Shelf list features 10 dramas I'm waiting to watch unfold in the NFL this year:
1. Michael Vick. From All-Pro to Alpo, No. 7's trek from the NFL to jail to salvation is something that even VH1 couldn't script.
2. Terrell Owens. The denizens of Buffalo have seemingly embraced him, but will the 35-year-old ever grow up? Stay tuned.
3. Brett Favre. Circle Sun., Nov. 1, on your calendar. That's when Cheesehead Nation's former favorite son returns to Lambeau.
4. Josh McDaniels. Can the baby-faced Broncos coach get control of his team or are the Donkeys already playing for draft position?
5. Brandon Marshall. Glad I never bought a No. 15 jersey. For all the hype, talent and off-field shenanigans, we forget he only caught six TD passes last year.
6. Tom Brady. The classy QB returns from knee rehab, but will his Patriots ever be as dominant?
7. The Houston Texans. Sports Illustrated pegged them as a division champion. I'm already writing off my Broncos, so the Gary Kubiak-coached club is my sentimental favorite this year.
8. Mark Sanchez. A rookie starting quarterback in Gotham? It'll be interesting to see how the former Trojan handles the ribbing he'll take from the New York media when he inevitably faces on-field struggles.
9. The Arizona Cardinals. Did Kurt Wagner, Larry Fitzgerald and company really almost win the Super Bowl last February, or did I dream the whole thing?
10. Gus Bradley. My former fishing buddy and ex-FLC defensive coordinator assumed the same position with the Seattle Seahawks last spring. If the 'Hawks are in the hunt, I'll be cheering for the team with the neon green piping on their jerseys. •
End over end, neither left nor to right? E-mail me at chrisa@gobrainstorm.net.