Going mainstream
Stand-up paddleboarding wave hits Four Corners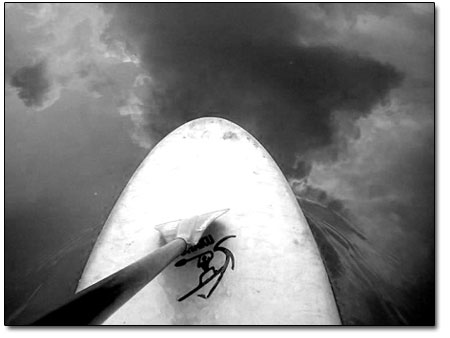 Board, paddle and open water is all that's needed to experience the solitude of SUP./ Photo by Brandon Mathis
by Brandon Mathis
he man's paddle breaks the surface of the water and he pulls the blade back and gently glides forward. Random silhouettes of fish dart beneath, and swallows dart like jet fighters over the calm, smoky, mirror of the Animas River. Standing atop an 11-foot apparatus resembling a surfboard, the paddler begins to settle into a rhythm, stroking on one side and then the other. A bewildered man on the shore and his four-legged companion cut short a game of fetch and stare out with matching expressions of curiosity.
"Is that a big surf board?" the man asks.
"It's a stand-up paddleboard," the paddler replies.
"Is it hard?"
"Not really, it's great."
That paddler is by no means alone.
Stand up paddle boarding, known as
"We sold two last year and this year, we must have sold 20," he says. "Our rentals are gone practically everyday." Miely then flashes a smile and adds, "Want to take one out?"
Like standing on a giant surfboard, SUPs are generally propelled by a single paddle, but can be ridden much the same as a surf board in waves. Different styles of board are available depending on their intended use. Shorter, rocker-shaped or inflatablr boards are better for river running, while longer, wider boards are more ideal for flat-water touring.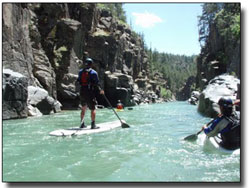 Local SUP whitewater pioneer Tony Miely sizes up the next horizon line during a first descent of the Rockwood Box at low water. "Overall, I had a good time," Miely remarked, adding that next time he will go with more water and pads to "make my life a lot easier and the run less painful."/Courtesy photo
SUPs have worked their way inland from a SUP for short, is booming throughout the world and beginning to take off in Durango. "It's the fastest growing sport in the world, and around here, it's really taking off," says Tony Miley, co-owner of 4-Corners River Sports. Miely and full of enthusiasm, has been involved in paddle sports for 18 years and moved to Durango for its climate and "high-quality whitewater."
Lifelong surfer Dick Benzie, owner of Pine River Surf Co. in Bayfield, grew up riding waves all over California and Mexico but now gets his surfing fix in the seemingly unlikely waters of southern Colorado. "There is some link from surfing to paddling on whatever kind of water there is," Benzie says. In his 50s, Benzie looks like a surf guy: tan, fit and passionate about his love for the sport. His company runs guided paddle trips for wherever clients want to go. "I'll go out with whoever calls me," he says. "I deliver the boards, paddle with them, and hang out – whatever they want." Benzie adds that he wants to bring some "Aloha" here to the mountains. "This whole thing, if it wasn't for surfing, would never have come about. There is so much unused water out here, and this is the perfect vessel for it," he says.
One of the most attractive aspects of SUPs is the versatility. From meditative flatwater paddles on Vallecito Reservoir, to foamy, whitewater runs through Smelter, people are finding new ways to push the SUP's potential. Its simplicity is surprisingly rewarding, fans say. Andy Corra, U.S. National downriver kayak champion and co-owner of 4 Corners, says it helps him see the river in an entirely new way. "I discovered it last summer, and was like 'Wow!' I totally get what people get about surfing: the simplicity. You come home, same shorts you wear from work, slip out of your flip-flops and onto a board and just start paddling," Corra says. "You can make it a stroll or a run, as hard or as easy as you want. I throw my dog on, and we just cruise."
One thing for sure is, it's a workout. Whether just cruising above 32nd Street or working to stay upright surfing Corner Pocket, SUPs require core muscles that don't always get the attention they need. "You're using a lot of those ski and snowboard muscles, that everybody in Durango seems to have," says Miely. "It really helps develop those balance skills."
Back in Bayfield, Benzie is planning a slew of opportunities for people wanting to get involved. "It's amazing what it does for people, paddling on glassy water, looking to see what's around the next bend. You can call it a spiritual feeling." Benzie plans to create group trips "Aloha style" with cookouts and camping on waters from here to Lake Powell. "We're going to focus on four- to five-person outings: Mothers, daughters, husbands and wives." He says he is "super stoked" about his upcoming SUP trip down the Pine River through seldom-seen canyons and remote settings. "Surfing is like nothing else you could ever imagine, and this fills it up pretty good, like a powder day. It's a passion."
At 4 Corners, everyone agrees SUPs are a blast. Durango native Lani Hana is hooked. "I love the peacefulness," she says of flatwater excursions. "And it's also so much fun to try and surf them." She claims her core muscles hurt by the end of the day just from laughing the whole time. "It's like you're a tourist in a ducky."
Paddling north of town, one gets a small taste of what it's all about. Board shorts, board, paddle and sunglasses, the transition from rat race to solitude is quick. "People pick it up pretty quick," Miely said.
Benzie adds that unlike other outdoor sports, SUP is relatively uncomplicated. "There are no ropes, no gears, no moving parts. It's raw, bare – like walking on water."
So what does the future hold for SUPs in the Four Corners? "I think flat water is gong to be the biggest portion of this sport," says Corra. "But 10 years from now, we'll see kids pivoting on waves and doing amazing things."
For now, it's just a great way to get out on the water. "It's such a broad spectrum of where you want to take it," says Benzie. "You can have it anyway you want: a total-workout paddle or a clear-your-head paddle. It's a good way to end a day thinking, 'This is about as good as it gets.'" •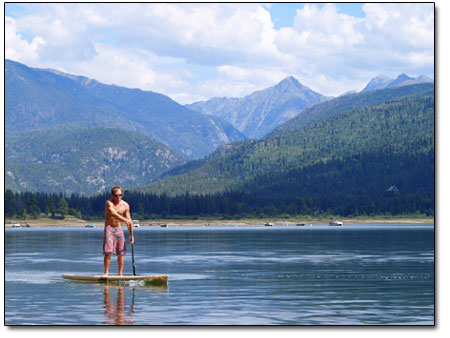 Bayfield's Dick Benzie goes for a spin on Vallecito Reservoir earlier this summer. Benzie, a longtime surfer, owns Pine River Surf co., which offers paddle tours and rentals throughout the Four Corners. Although relatively new to the area, stand-up paddleboarding, or SUP, has been around for decades, brought to the mainstream by legendary Hawaiian surfer Laird Hamilton./Photo by Sanford Grey