The dispensary boom
Marijuana dispensaries open just ahead of moratorium

SideStory: First steps – Durango's road to medical marijuana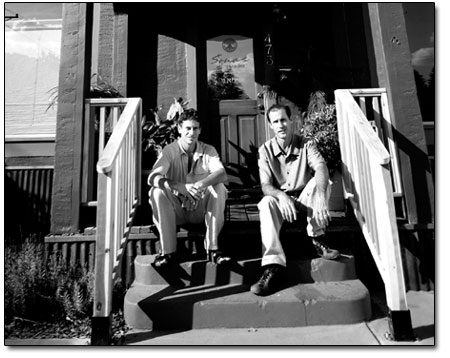 James Kahn and Mark Busnardo, owner of Durango Healing Center, sit outside their medical marijuana dispensary on Monday afternoon. The business is one of two to recently open in Durango. A deluge of other business license applicaitons for similar operations has caused the City of Durango to declare an emergency moratorium on openings until it can update current city code./Photo by Stephen Eginoire
by Will Sands
Marijuana is now up for legitimate sale in Durango storefronts. Medical marijuana dispensaries – retailers that sell the drug to certified patients – recently starting sprouting up in town. But this sudden "boom" has prompted the Durango City Council to take a step back and pass an emergency moratorium freezing applications for similar businesses.
Colorado's path to the legitimacy of medical marijuana dates back to 2000, when voters passed Amendment 20. The vote came as a relief to people using cannabis to treat ailments ranging from chronic pain to cancer or AIDS. And after surviving a major legal challenge, Amendment 20 went on the books, regarded as the strongest medical marijuana law in the country.
The door to medical marijuana opened wide in La Plata County in 2007 when Durango became the third city in the state to create a medical marijuana clinic (see sidebar). Since that time, more than 110 local residents have received their Colorado medical marijuana registration cards and now legally use marijuana to treat what ails them.
Amendment 20 also clarified the terms "patient" and "caregiver" and paved the way for dispensaries to administer safe and known quantities of the drug. But it was not until last February that Colorado dispensaries got the green light from the Obama Administration and Attorney General Eric Holder. At that time, Holder announced that the Justice Department would discontinue the Bush Administration's raids of established medical marijuana dispensaries. Durango now has two legal dispensaries.
Natures Medicine broke into Durango as the first dispensary, opening its doors on 32nd Street on Aug. 17. Natures Medicine is an offshoot of a Loveland-based business and offers a variety of alternative medicine techniques as well as medical marijuana. Durango resident Dusty Higgins, who owns the local franchise, said he wants to help people attain a better quality of life. "I watched my Grandfather wither away while he battled leukemia. Malnutrition affects around 85 percent of cancer victims, and it kills," he said. "I believe in these (alternative) treatments, and I want to help others in similar situations."
This week, a second marijuana dispensary will open its doors to the Durango public. The Durango Healing Center will start business at its location on College Avenue this Saturday. Like Natures Medicine, the focus at the Durango Healing Center is on alternative medicine and holistic health. Local owners Mark Busnardo and Jim Kahn plan to offer a mix of supplements, bodywork and medical marijuana and share the space with Sonas Integrative Medical Care, a practice owned by a board-certified physician and nurse practitioner.
"We're hoping to offer full caregiver service," Busnardo said. "Prior to starting the Healing Center, we had conversations with a number of local health professionals. They were all looking for a safe and professional setting where they could send their clients for alternative treatments and medical marijuana."
Kahn is an attorney, served as the Deputy District Attorney in Telluride for two years and sits on the legal committee of the National Organization for the Reform of Marijuana Laws. Based on this background, Kahn argued that the time for medical marijuana in a regulated setting is long overdue.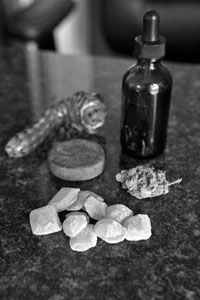 Edibles, smokables and essential cannabis oil are just some of the options available to dispensary patients./Photo by Stephen Eginoire
"When the voters passed Amendment 20, it was a strong statement that this is a substance people consider to be medically viable," he said. "Whether the FDA says so or not, it has been shown to be effective medicine for a variety of ailments without many of the side-effects of pharmaceuticals."
On opening, the Durango Healing Center will offer six strains of locally grown marijuana, complete with names like "Blue Dream" and "Misty." Busnardo and Kahn hope to eventually sell 20 varieties and plan to be an all-organic dispensary. In addition to smokable marijuana, the Durango Healing Center will offer tinctures and hard candies, which offer the benefits of the drug without psychoactive effects.
"We know that there are a lot of people out there in need," Kahn said. "Also, once you get into business, you become aware of how shady the black market can be. The legitimate dispensary really shines light on the dangers and shortcomings of buying marijuana illegally."
Nonetheless, the City of Durango has concerns about the sudden spread of dispensaries in Durango. In addition to the Durango Healing Center and Natures Medicine, Holistic Health has a business license to sell medical marijuana in Durango. Natures Own Wellness, a new dispensary planned for Highway 3, has also received a business license. Following the Aug. 17 opening of Natures Medicine, the City received several other applications to open similar operations.
"We've been getting multiple applications for business licenses and realized that our codes are not prepared for this kind of establishment," City Manager Ron LeBlanc said. "We think it might be prudent to step back and do some more research."
As a result, the Durango City Council passed an emergency moratorium on medical marijuana dispensaries on Tuesday. The moratorium freezes permit applications until Oct. 31 and enables the council and city staff a little breathing room to address issues associated with the public sale of medical marijuana.
"The truth is we really haven't had a chance to sit down and look at the implications," LeBlanc said. "Possible concerns include security of these establishments and the risk of robberies in a place that might have cash on hand and a substance that people might be interested in."
In the meantime, Natures Medicine and Durango Healing Center will get down to a new and unusual form of local business.
"These dispensaries are in the best interest of Durango for a variety of reasons," Kahn said. "The town can have its finger on the pulse of marijuana sales and be proactive. It's much better than continuing with the status quo and busting people in alleyways." •