Kinfolk, Reservoir Hill and Kool & the Gang


Reservoir Hill in Pagosa will again be rocking this weekend with the return of the Four Corners Folk Fest

by Chris Aaland
Friday found me backstage at Red Rocks, in the caverns, for Yonder Mountain String Band. Having spent much of my youth at the storied amphitheatre, it was a dream come true. Free food and cocktails were pleasant perks. Seeing photos from throughout Red Rocks' history and a 30-foot plaque on the ramp leading to the stage with the names of every act that's played there was the real treat.
For droves of twentysomething neo-hippies, though, the show was all about Yonder. I have to admit, I've often had mixed feelings about the Nederland quartet. When they first started out, their mix of reverence for bluegrass standards and irreverent takes on Ozzy Osbourne appealed to me. There's no doubt that their early shows in Durango and Telluride were special. But the Kinfolk, as Yonder fans are known, began to test my patience when they'd swarm my tarp each year during the Telluride Bluegrass Festival.
This summer, though, I've caught Yonder at its peak four times. At Mountain Village in June, they recreated a '99 show famously bootlegged by the late taping legend Sandy Alexander. Three days later on the Fred Shellman Memorial Stage, they recreated the Talking Heads' "Girlfriend Is Better" with the help of Sam Bush. At RockyGrass, they were the unannounced act hoping to play for an older bluegrass crowd. And at Red Rocks, new material was featured alongside tasty covers of Dylan, the Dead and Woody Guthrie.
When leaving Red Rocks, all 9,000 attendees received a copy of their newest CD, "The Show." I listened to it several times driving back from Denver, surprised by the mix of Danny Barnes-style banjo, Guthrie-inspired ballads and AOR radio-friendly rock. Electric guitars and drums can be heard through much of the album, and there's little in the way of bluegrass. These guys have their eyes on bigger venues and radio play beyond NPR and college stations. I think it's Yonder's best and most sophisticated album to date.
No doubt the highlight to this week's musical slate is the 14th annual Four Corners Folk Festival, running Friday through Sunday on Reservoir Hill in Pagosa Springs. The lineup is heavy on past Folkwest and KSUT music blend acts, including Tim O'Brien, Darrell Scott, the subdudes, the Infamous Stringdusters, Eddie From Ohio, Sara Watkins (formerly of Nickel Creek), the Greencards, the Bills, Shannon Whitworth, Anne & Pete Sibley, and others. The family-friendly fester also features a late night stage, on-site camping, workshops and kids' activities.
Party like it's 1979 on Friday night when Kool & the Gang play "Jungle Boogie," "Celebration" and all your other disco favorites at the Sky Ute Casino in Ignacio. It's not just another retro rehashing with a totally new lineup, either. Brothers Robert "Kool" and Ronald Bell still bring the funk on bass and tenor saxophone, along with several other longtime members. While disco and motorcycles don't necessarily go hand-in-hand, I can't get the image of the late Glenn Hughes' "Leatherman" Village People character out of my head, horseshoe moustache and all.
The three-day ABATE party at the Wildhorse Equestrian Center in Ignacio brings sounds by the Kirk James Blues Band on Friday, Tumblin' Dice on Saturday and Rick's at Six on Sunday. Family fun includes a pig roast, midget tossing (it's true, read the flyer) and more.
There's a ton of other rally-related music across the Four Corners this weekend, including a mess of Formula 151 gigs, more Kirk James Blues Band appearances, the Jelly Belly Boogie Band and others — far too many to list.
Steamworks hosts a free show at 10 p.m. Friday by Dolores' Playing in Traffic, which combines ska, rockabilly and acoustic rock on twin guitars, bass, drums and saxophone. They won the Steamworks Audience Appreciation Award at last spring's Spotlight for Stardom event at the Community Concert Hall.
The Starlight serves up a variety of music this week, including jazz on the patio with the Jeff Solon Trio at 6 p.m. Friday; rock by Oatie Paste at 9 p.m. Saturday; and Kentucky Deluxe at 9 p.m. Tuesday.
Denver jam-band Midnight Ultra plays the Summit on Saturday and Sunday. The group fuses rock, funk, jazz, punk, blues and reggae and has shared the stage with the likes of Bill Kreutzmann and New Riders of the Purple Sage.
The Summit also hosts the last-ever show by The Good Neighbors tonight (Thursday) and its monthly First Friday event that blends live visual art with music by Crusher Sound System and DJ Mowgli.
The Hank presents the theatrical musical performance "Cross that River" by Allan Harris through Sept. 18 (Mondays and Tuesdays excluded). Harris explores the role of black cowboys in the American West in song, including blues, country, bluegrass and soul.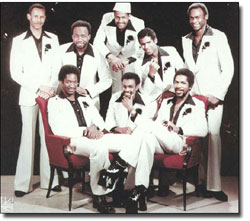 Party like its 1079: Kool and the Gang plays the Sky Ute this weekend

The caverns at Red Rocks brought back lots of memories from my high school and college days, when I attended nearly 20 shows there. This week's Top Shelf list recalls my favorites:
Crosby, Stills & Nash, 1987. Two days after having ACL surgery, a chance meeting with Graham Nash at a movie theatre allowed me to get dropped off backstage, hop through a side gate, and hold down second row seats.
Bob Dylan backed by Tom Petty & the Heartbreakers, '86. Twenty Little Caesar's pizzas improved our lie and parted the up-front general admission section like the Red Sea.
Eric Clapton, '85. Contrary to what Liggett and the Nord will tell you, Clapton is God.
Bruce Hornsby & the Range, '87. Hornsby didn't know the gates opened early, but delivered an impromptu acoustic set to the few hundred souls who arrived before soundcheck.
Def Leppard, '88. Green beams bounced off the monoliths like it was Friday night at Laser Floyd.
Robert Plant, '88. He only did four Zeppelin tunes, if memory serves me right, but most were from "Physical Graffiti."
Joe Jackson, four straight tours from '84 - '89. Every show featured a completely different band and musical style.
The Kinks, '87. You could tell the Brothers Davies wanted to kick each others' asses.
Huey Lewis & the News, '85. I thought I'd get laid out of the deal. Yes, my grapes are still sour.
Night Ranger, '84. My first experience with way too many wine coolers. •
The town line's far away? E-mail me at chrisa@gobrainstorm.net.