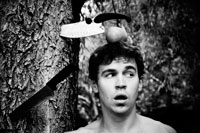 Diver:David Halterman, of Nature's Oasis
Interesting facts:This one-time Durango shooter has gone back to his In-Sink-Erator roots
Got a dirty little secret?
Looking for guidance to remedy a sticky situation?
Seek help from the master of the kitchen! The Dish Diver has solutions to life's little messes. Send your problems to "Ask the Diver." - By mail to Durango Telegraph - Attn Diver -534 Main Ave., Durango, CO 81301; by email at telegraph@durangotelegraph.com, or by fax at 259-0448.
Dear Diver,
I was, am and will continue to be horrified by the incident near Vallecito involving the road-raging truck driver and a group of bike riders. I'm just a casual bar-and-back rider but couldn't believe anyone would run riders off the road, try to hit them head-on and then menace them with a pistol. What's worse is that he's out on $5,000 bail and driving the streets again. Dearest diver, how would you punish this reckless scofflaw?
– Pedaling for pints in Durango
Hey Pedalin',
Ever heard of Bernhard Goetz? In 1984, he pulled an unlicensed .38 Special on four muggers intent on robbing him in a New York Subway. Five shots later, Bernhard was hailed as the "Subway Vigilante," bringing gonzo justice to the scene. Hell, he even ran for NYC mayor. Which brings me to your question, my concerned suds-sucking citizen. If pistol-brandishing rednecks were to endanger your existence, no matter what the circumstance, it's your human right to protect yourself. I can think of nothing more terrifying than a road biker, clad in the season's hippest tights, waving a .45 in my face as I narrowly swerve to miss him. Am I suggesting road bikers should carry illegal firearms tucked into their spandex? Yes. Yes I am.
– D.Halt.
Dear Diver,
What exactly is shea butter? How does it work? Should I consider using it?
– Walter, via e-mail
Yo Walt,
There's actually an amazing history to the most beloved butter of all, shea butter. Stay with me here. Fifteenth Century painter Raphael made the famous "Madonna with Child." Then, in 1985, Madonna became the "Material Girl." One of the producers for the movie "Material Girl" was Hilary Duff. Hilary Duff was born on Sept. 28. On Sept. 28, 2008, the last baseball game in Shea Stadium took place before its demolition. Members of the demolition crew complained of dry, flaky skin so their foreman brought them a discarded case of popcorn butter from the demolished concession stand, and VOILA! Shea butter was born. I can recommend it. I use it daily on the dry skin around my hypothalamus, but it just goes straight to my thighs.
– D.Halt.
Dear Diver,
I've been following this column for quite some time and have always enjoyed the cast of characters. Here's an idea – how about a giant rager featuring the various contributors to "Ask the Diver" from the past several years. What's your vision for the perfect diver party, and how do I get invited?
– Mitch in Durango
Howdy Mitch,
Having spent two years as an employee of theTelegraph, as well as making half a dozen or so diver appearances, I feel I'm well qualified to answer your question. My vision is this: The Durango Revolution. By my calculations, 33.333333 percent of the population of Durango has answered the "infamous three questions" at one time or another, gracing readers with homespun philosophy and bong wisdom for nearly a decade. The stars are aligned for a recolonization of D-town. Four hundred-and-fifty of Durango's most pretentious wise-asses abandoning ship and forming their own colony, maybe call it Granduro, Rougdan, or some other anagram of Durango. (I hear there's lots of housing available at Three Springs). Sounds like a riot, no? Assemble at midnight on the deck of the old Telegraph office for a pre-revolution cup o' tea, adorned in your finest tranny gear. You can be our drummer boy.
– D.Halt.