A visit to the'African Art Market'
Durango Arts Center presents impressive cultural arts program

SideStory: The market at a glance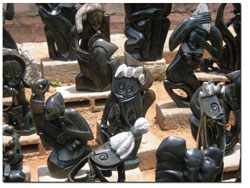 Shona stone sculptures will soon be on display at the Durango Arts Center as part of the "African Art Market" exhibit. The exhibit will provide aid to several African relief organizations./Courtesy photo
by Jules Masterjohn
It's been a long time since the Durango Arts Center presented a cultural arts program with the breadth of the upcoming African Art Market. Perhaps never before in its history has the organization offered such an extensive look at a culture and its arts. More than 10 years ago, the DAC presented an exhibit and programs featuring Moroccan weavings with demonstrations by local weavers, creating the connection between North African arts and those from this region. But that's ancient history by now.
Welcome back, DAC!
This resurgence of interest in a world beyond the Four Corners is due to local arts education advocate and artist Nancy Fredrick Conrad. Conrad has a long history with the DAC and wanted to bring back some of the multicultural vitality previously exhibited in the gallery. She also values the arts as a vehicle for global awareness and peacemaking.
In Conrad's eyes, the African Art Market is an unprecedented opportunity for the community to meet and visit with a diverse group of internationally recognized artists, musicians, photographers and local representatives of global, nonprofit organizations. "Each is putting his or her talents toward building bridges of understanding between our cultures," she said.
Conrad got the idea for the market last February and started moving on it in June. "One thing led to another, and for awhile, it seemed like every conversation I had, someone had a great idea for me to pursue, each addressing different aspects of our community's interests, from presenting film to drumming workshops to humanitarian efforts," she said.
With this endeavor, Conrad carries on the legacy of former DAC gallery shop director Mary Puller, who organized memorable and inspiring multicultural shows during her tenure nearly a dozen years ago. Conrad first brought the African Art Market idea to Puller, a friend now living in Tucson, and she suggested Conrad attend the Santa Fe International Folk Market. It was there last summer that she met numerous African artists and importers and took her first steps toward the African Art Market becoming a reality.
As with many endeavors that are of service to the greater good, serendipity played a role in the development of the African Art Market. During a camping trip, Conrad entered into a casual conversation with some fellow campers, only to find out that one young woman had recently returned from travelling to Africa with Engineers Without Borders. Inspired by her story, Conrad invited Kate Dorrell to share her photographs and experiences providing clean water in Ghana.
In addition, nationally known photographer and local resident Suzi Moore McGregor had seen the film, "The Devil Came on Horseback" and suggested a screening. The film documents the genocide that is taking place in Darfur as seen through the eyes of an American witness.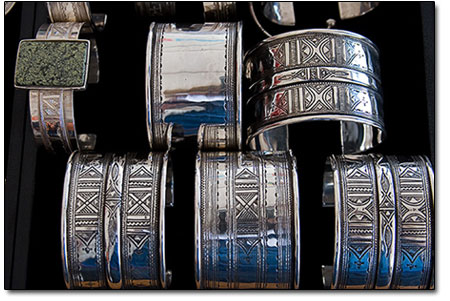 Moussa Albaka's silver bracelets will offer Durangoans a glimpse of traditional Tuareg geometric designs./ © Judith C. Haden, Courtesy of the Santa Fe International Folk Art Market organization
Margy Dudley, owner of Open Shutter Gallery, offered to provide photographic works by acclaimed photographers Phil Borges and Nick Brandt. Along with McGregor's, their images from Africa will hang in the DAC gallery.
McGregor suggested her stepson also present during the 12-day program. Andrew McGregor is president and founder of The Tiziano Project, which provides community members in conflict, post-conflict and underreported regions with the equipment, training and affiliations necessary to report their stories and improve their lives.
Kicking off the educational programs is Joshua Fisher, visiting professor of art history at Fort Lewis College. His presentation will explore the function of and meaning in African art. Wrapping it up will be Durango teacher Judy Duke, founder of "Make All Children Smile in Zimbabwe." She will share her experiences selling unique African crafts, including Shona stone sculptures, to benefit widows and orphans in Zimbabwe.
It all begins Tues., Nov. 3, when the gallery doors open for the African Art Market exhibit and sale, featuring works by internationally acclaimed Nigerian silversmith Moussa Albaka, maker of Tuareg jewelry and recipient of the UNESCO Seal of Excellence, and Akeem Ayanniyi, drummer and founder of Agalu, Yoruba Cultural Troupe of Nigeria. Each of these artists will be demonstrating their skills in the gallery, and Akeem will be offering a drumming workshop.
With the help of African importers Momadou Bah and Alaji Duwara, the DAC gallery will be filled with various tribal arts from Ghana, Zimbabwe, South Africa, Nigeria, Cote d'Ivoire and Zaire. On display will be Shona stone sculptures, African trading beads, Tuareg silver jewelry, Bolgatanga market baskets, drums, telephone wire baskets, mud cloth, clothing, Kente cloth, paintings and more.
Thirty local artists will support the cause with the addition of their African-inspired canvases. These works will be part of a silent auction that runs the duration of the African Art Market.
Through Conrad's initiation and steadfast vision and guidance, as well as the ideas and efforts of many other community members, the African Art Market will undoubtedly serve as one of the area's most informative and inspirational recent events while helping to provide much-needed funds to African relief organizations, the artists and the DAC.
Kelly Waller, coordinator for the Santa Fe International Folk Market, was delighted to hear of the African Art Market in Durango. "This is exactly what we try to do – get exposure for these artists in different places around the country." Last year, the Santa Fe market presented the work of 46 artists from 123 countries with purchases totaling more than $1.95 million. "Ninety percent of that goes home with the artists and changes lives around the world."
As the African proverb says, and we know that these wise words can be interpreted symbolically, "It takes a whole village to raise a child." •
The African Art Market will be held Nov. 3-14, with an opening reception and opportunity to meet the artists on Fri., Nov. 6, at the Durango Arts Center. Gallery hours are Tuesday through Saturday, 10 a.m. - 5 p.m.