The new shape of ski season
DMR reconfigures dates, discounts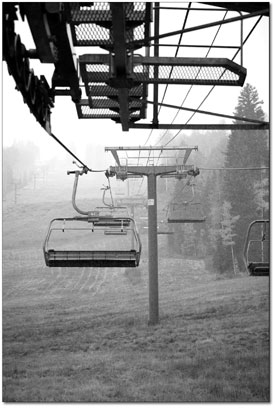 Light snow falls at the base of Durango Mountain Resort earlier this week. In light of past years' late openings, the resort said it is reconfiguring its season this year, with a tentative weekend-only schedule Thanksgiving - Dec. 18. DMR plans to open full time Dec. 18, or earlier if snow is good. Weekday passes will be honored on weekends during early season./Photo by Stephen Eginoire
by Missy Votel
As Southwest Colorado ski areas wait for the snow to start falling, they are taking measures to ensure skier numbers don't.
Despite a helping hand from Mother Nature, the winter of 2008-09 saw dwindling skier days across the state due to a souring economy. Both Durango Mountain Resort and Telluride reported skier days decline by as much as eight percent last season compared to the 2007-08 season. However, resort officials were quick to point out that, as is the case with much of the skiing experience, it's all relative. In other words, one man's powder day is another man's hardpack.
"When you consider that we were about eight percent off the previous year, which was our best year of all time, the numbers are actually quite good," said Telluride PR and Communication Manager Tom Watkinson. "We can compare 2008-09 to our third best season ever."
Watkinson credits strong numbers at Telluride to an abundance of natural snow as well as numerous on-mountain improvements, including the opening of Revelation Bowl and its corresponding lift. The previous year saw the opening of Black Iron Bowl, in Prospect Basin. "I think all the new terrain was a huge draw," he said.
Watkinson also said despite tough times, many skiers just weren't willing to part with their skiing ways. "People weren't willing to give up their ski vacations," he said. "Maybe instead of taking two or three trips, though, they just took one."
Across the San Juan Mountains at Durango Mountain Resort, Marketing and Sales Director Sven Brunso had a similar take. "I think skiing is still perceived as something important. It's seen as family time, where the kids and parents can be engaged, even if it's just on the chairlift." Brunso said the biggest pinch last year was likely felt by retailers, with many visitors opting to cut out the extras, such as T-shirts and dining out.
The thinking behind the early-season weekend-only schedule is to allow snowmaking crews to shore up the limited supply of manmade snow during the slower weekdays to offer a better product during the weekend. Last year's warm days had MR snow crews working to play catch up just to keep a ribbon of white on the hill. "What we found last year was, we couldn't make much snow, it would just melt during the day," Brunso said. "This year, we hope to have a run open for a few days, resurface during the week, and open again with a better product. The whole goal is to offer more skiing than we've ever offered, even if we're dealt a bad hand by the snow gods."
Both resorts are expecting similar economic circumstances this year, and are attempting to head off any more sloughing in skier numbers with a number of incentives, for locals and visitors alike.
Perhaps the biggest news at Durango Mountain Resort, in addition to the opening of the Legends gladed area, is an expansion of the ski season. Although there has been some confusion over this year's opening date, which may be limited to only weekends depending on snow conditions, Brunso said the 2009-10 season will actually offer as many as 21 more ski days than previous seasons. The current plan calls for a "soft" opening pm Nov. 26 with the resort planning to be open Thursdays – Sundays through Dec. 18, when it will open daily. The ski area will stay open a month later as well, going to a weekend-only schedule in April.
Brunso said the idea behind the season's new structure is to offer a product to passholders and visitors earlier in the season than in years past. Over the last two seasons, unusually warm falls have delayed the season opening until early December. Last year, opening day was Dec. 6.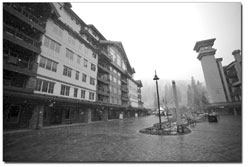 The DMR plaza sits empty on Monday. Things should start picking up, albeit on a limited basis, once the ski season opens Nov. 26./Photo by Stephen Eginoire
"In light of the challenges we have faced in the recent past with the unpredictability of cold temperatures and early/late snow conditions, our team has been working on a plan to try to get our valued local pass-holders and ticketed customers more days of skiing or riding – on the days you can actually ski or ride – within the constraints that Mother Nature throws at us," wrote DMR Gary Derck in a letter to passholders on the resort's website.
Of course, if the San Juans are dealt a winning hand, Derck noted in his letter that the resort would open for "full" resort operations as soon as natural conditions allow. "If we get a bunch of snow in November, we may open up for a weekend or open for Thanksgiving and stay open," said Brunso.
On the late end, Brunso said in past years, the resort has found itself closing in early April with a huge base and plenty of good skiing to be had. "Once Spring Break ends, the weekdays are slow, but we always have good snow in April, so we decided to let the locals come up on April weekends and ski."
Brunso said the move to the weekends-only schedule was in no way dictated by finances, as some have complained. In fact, during the early and late-extended seasons, weekday season passes will be honored on the weekends. "Our intention was the opposite of wanting to take things away from the locals, we wanted to be open as many days as we could to locals."
In addition to its season pass holders, Brunso said DMR is also trying to reach out to others with several locals and college days as well as plans for a Friday Afternoon Club. "We want to offer locals a chance to ski at least two or three times a winter," he said.
In an effort to reach out to those strapped for cash in its feeder markets, DMR also recently announced its "Best Deal Ever. Period" campaign, which offers three nights of lodging and three lift tickets for $57 per person/per day. The deal is good throughout the entire season, but trips must be booked by Nov. 15. "That's $8 less than a walk-up lift ticket, with lodging," he said. "We understand the economy is tight, and we want people to know even though skiing can be an expensive sport, you can still find a good value."
Although not necessarily known for its bargain prices, Telluride is also trying to do its part to ameliorate ticket window shock. Walk-up prices will remain the same this year, as will the price for a T-card, which offers one free lift ticket and 25 percent off walk-up prices for $60. In addition, Telluride is also offering cuts on six- and 10-day passes. "We definitely have some pass products that make skiing more affordable," said Watkinson. "The six- and 10-day passes can get you on the hill for as little as $49.50 a day."
The best bargain at Telluride, however, is the children's passes: $125 for 6- to 12-year-olds and $175 for 13- to 18-year-olds. "You can make that up in a few days," Watkinson said. "It really helps families save a lot of money. Regionally, it's great."
As for the season schedule at Telluride, Watkinson said the resort also plans a "soft" opening Thanskgiving Day, as always, with terrain dictated by snow. As for an extended late season, he said only time will tell. Right now, plans call to close April 4, but last year, good snow extended closing day a week. "That was really a local and regional appreciation week to say 'thanks for supporting us,'" he said. "If you get the word out, people will come. Especially if the snow keeps flying the second we close, like it always does." •
In this week's issue...
March 17, 2022

Lake Powell drops below threshold for the first time despite attempts to avoid it
March 17, 2022

Purgatory Resort set for expansion but still faces hurdles
March 10, 2022

New health care studio takes integrated approach to healing