Durango's farm aid
Open Space Conservancy continues to help local growers

SideStory: 'The Ranches of Colorado' – John Fielder rallies for agricultural preservation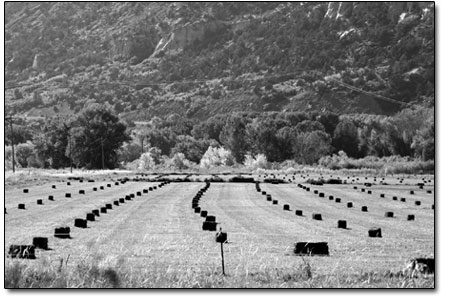 Hay bales dot a field along County Road 250, northof Durango this week. According to a recent report, more than 50,000 acres of agriculture land were lost to development in La Plata County between 1997-2006. The La Plata Open Space Conservancy is working to change that and the local food landscape by helping farmers get conservation easements to keep their land in production./Photo by Stephen Eginoire
by Will Sands
Efforts to keep large pieces of the local landscape from vanishing are continuing. The La Plata Open Space Conservancy is coming to the end of another year of banner open space preservation, and cows, corn and local food consumers are among the beneficiaries.
Mirroring a statewide trend, La Plata County has lost and continues to lose startling amounts of agricultural acreage. A report, released by Environment Colorado Research and Policy Center in 2006, revealed the number of farms being lost throughout Colorado and examined the environmental and economic impacts of trading cows for condos. In the 10 years leading up to the report, more than 1.26 million acres of agricultural land in Colorado went beneath the blade for development.
"Colorado is losing the equivalent of five family farms every week," explained Pam Kiely, Environment Colorado's land use associate and author of the report.
Spotlighting La Plata County, the report revealed that more than 50,000 acres of local farms and ranches were transformed into lots and housing between 1997-2006. That acreage represents a staggering 10 percent of La Plata County's developable land.
"A lot of farms have gone out of production, and a lot of smaller operations have been aggregated into larger ones," said Jerry Zink, president of the La Plata Open Space Conservancy.
Zink has witnessed changes first hand and seen Durango's production of local food slip in his lifetime. He and his family grew up on the Waterfall Ranch in the Animas Valley and grew potatoes for many of Durango's restaurants and groceries. He also remembers a time when more than 30 local dairies fulfilled La Plata County's needs for milk and cheese.
However, Zink has also worked tirelessly to change the local tides. In 1994, Zink and his wife, Karen, placed their ranch into a conservation easement that ensured it will remain a working landscape for perpetuity. The Zinks went on to found the local meat processor Sunnyside Meats in 2002, with the vision of encouraging local agriculture and offering a healthy food supply for the community. Nonetheless, Zink added that La Plata County is still pretty far behind the eight ball on local food production. When asked about the state of local food security, Zink replied, "On a scale of one to 10, I guess I'd give us about a three."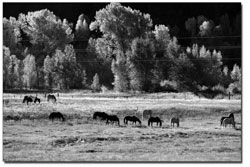 Horses take a morning graze along the Florida River, off County Road 234 on Tuesday./Photo by Stephen Eginoire
The La Plata Open Space Conservancy has worked tirelessly since 1992 to up that number and keep agriculture viable locally. During its 17-year lifespan, the conservancy has helped preserve 21,500 acres, and 5,200 of these remain in food production.
Kathy Roser, executive director of the nonprofit, is working to close another seven projects by the end of the year and increase local food production by another couple hundred acres.
"We're working to ensure that there are still places where people can grow local food," said Roser. "But the fact remains that the local food supply and Colorado's Western heritage are being slowly eroded
Local farms and ranches are vanishing for a variety of reasons, Roser said, but the consumer's lack of willingness to pay for food's real value is the main culprit. "I think the biggest challenge is that people are accustomed to paying next to nothing for food, and it's hard for farmers to get the real value," she said. "Consequently, a lot of producers can't afford to stay in agriculture, and many farmers and ranchers are having to work day jobs."
The La Plata Open Space Conservancy has been helping to bridge this financial gap for nearly two decades. By facilitating conservation easements – "the preservation tool of choice for agricultural lands," according to Roser – the conservancy has facilitated State of Colorado tax credits and kept the cash flowing to farmers and ranchers.
"We've been able to provide some major tax benefits through conservation easements so farmers and ranchers can pay off debts, acquire equipment or purchase additional land," Roser said. "Conservation easements also offer estate tax benefits, which help the heirs keep longstanding properties in the family and in agricultural operation."
Agricultural preservation is also on the rise in La Plata County, and much of the conservancy's effort is now being directed toward helping farmers keep their crops coming. "We've done well," Zink said. "In recent years, there's been a shift away from preservation from scenic and vacant land and an increase in conservation easements on agricultural lands."
However, land preservation is still only half of the equation, according to Roser and Zink. The local shopper also has to be willing to meet the farmer halfway and shell out a few extra dollars at the market for the sake of the local landscape.
"All the pieces of the puzzle are really important," Zink said. "Land protection is one thing, but farmers and ranchers also need to have a market for their food. There's got to be a lot of synergy for local agriculture to be successful."