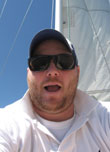 Diver: Andrew from Dalton Ranch
Interesting facts: This week's Diver shares a birthday with Carrie Underwood, Chuck Norris and Prince Edward (Yes, THE Prince Edward, Lord of all Wessex.) Also, did you know that Shakespeare died of syphilis?
Got a dirty little secret?
Looking for guidance to remedy a sticky situation?
Seek help from the master of the kitchen! The Dish Diver has solutions to life's little messes. Send your problems to "Ask the Diver." - By mail to Durango Telegraph - Attn Diver -534 Main Ave., Durango, CO 81301; by email at telegraph@durangotelegraph.com, or by fax at 259-0448.
Dear Diver,
I'm currently trying to piece together the ultimate Halloween costume and desperately need your help. Here are my pre-reqs: the costume must be Durango-related; it has to be form fitting enough to accommodate a backspin; and it should be warm enough to get me from bar to bar without any frost-related injuries. Any input would be greatly appreciated.
– Thanks in advance, Dan
Dan,
There are Divers out there who would tell you, "If you really want to have your Halloween be Durango related, don't dress up as anything. Stick it to the system and don't participate in their corporate-invention of a holiday." But then, they would probably end this sentence by calling you "man," or "dude." These are not the kind of people you want to associate with, Dan. To that end, here is my suggestion: Mayor McCheese. While the giant hamburger-for-a-head will surely keep you warm, the fine, tailored, suit will allow you to do your backspins – whatever they are. As for your costume relating to Durango, there's a McDonalds in Durango. Is there a McDonalds in Durango? There's a McDonalds in Durango. (I Googled it.) Good luck. Have fun. And watch out for the Hamburglar. That guy will steal your hamburgers – and, in your case, possibly your head.
– The Diver
Dear Diver,
I just found out that the local Lance Armstrong super-extravaganza sold out in 13 minutes. I'm a pretty big fan but finished this little time trial in well over 13 minutes. What suggestions do you have for scoring tix, or better yet crashing the party?
– Alberto, via e-mail
Alberto,
It cannot safely be said that I have my finger on the pulse of the cycling community. In fact, I wouldn't even know where to find such a pulse. All we can reasonably assume is that wherever that pulse can be located, it is probably clad in colorful spandex. While it is sad that you were unable to get tickets, you have to be adult aobut this. Try going to www.getoverit.com. Since I'm not sure it's an actual website, you can start your own internet business there where you can help other disappointed people by sharing your experience. Once you've made your fortune, you can invite Mr. Armstrong over for cocktails and slow-dancing, or whatever, if you want. (All celebrities know each other and hang out. It's a fact.) Until then, try showing up at the door. Tell them you are Sheryl Crow … see what happens.
– A Diver
Dear Diver,
I'm starting to feel like Carl from "Caddyshack." For months, I've been trying to drive a gopher(s) off my property. It started with hoses and sonic "mole chasers" but has recently moved into bombs and poison. Nothing works! Please help before I go out and get a greenskeeper job.
– Gone Gophing in Durango
G.G.,
It is ironic – or maybe just coincidental – that you are asking this, as just the other day I was contemplating getting some good slogging-around boots like those worn by Carl. If any readers out there know where a young man could get size 15 Wellies, I'd be glad to have the information. Having said that, I am assuming, because you have come to this publication for advice, you are not willing to go for the Full-Carl and use high explosives. (Or eat what is presumably a turd, for that matter…) I can only come up with two solutions for you, as I seldom venture into the outdoors myself. First, you could pave the whole darned lot. Corner to corner. End to end. While it may not be the most aesthetically pleasing yard, you do get points for ease of cleaning and plenty of parking for visitors. Your second option would be to hire a professional. Because DIY and refusing to stimulate our fragile economy are for suckers. And, you're not a sucker, are you, G.G?
-Your Once and (hopefully) Future Diver