Gun malfunction, Split Lips & the Golden Dragon gang

by Chris Aaland
My wife's volleyball team takes 12 hours to drive from Durango to Kearney, Neb., for league games. Norton, Kan., is about 90 minutes closer. My brother, Billy, and I tried to shave a few hours off this by traveling the hypotenuse of the triangle on Sunday. Thanks to back roads, minimal traffic and the lack of county mounties, we succeeded. We took in such metropolises as Cheraw, Arlington, Galatea, Firstview, Weskan, Winona, Hallford, Dresden and Clayton along the way. Billy was even hit on by a gas station attendant in Oakley as he bought bad BBQ chips and beef jerky while I filled the tank.
I've written about our annual pilgrimage to Norton before in these pages. It's a yearly highlight on our calendar, in part to fill the freezer with pheasant and quail, but more so to spend time with family and friends.
So Monday morning, despite a thick fog that covered north central Kansas and limited vision to about 30 yards, we headed into the fields and draws in search of our prey. The haze turned to rain by mid-day, turning a challenging day in the field into a nearly impossible one. Try hiking all day through soggy, armpit-deep weeds while carrying a 12-gauge and you'll get the picture. Led by an 8-year-old German Shorthair and 3-year-old English Setter, we pressed on regardless.
At one point, in a draw chock full of plum thickets, Billy had a gun malfunction and retreated to the Tundra for repairs. I spent nearly 15 minutes sitting in the drizzle waiting ... 15 minutes of silence, blessed silence. The only sounds I heard were my dog's whining (she lives to hunt) and raindrops splattering off the standing corn. It was music to my ears.
This column is usually filled with words about loud music, nightlife and wild times. Indeed, all three topics are dear to my heart. But sometimes the soul yearns for simpler things. For Billy and me, places like Greg Sumner's draws provide that. Most people see Kansas as hundreds of miles of wheat fields while they speed along I-70 en route to Kansas City, Saint Louis or destinations further east. Others see a checkerboard of sections and townships as they fly overhead. In doing so, they miss the solace of simplicity and the spectacular palate Mother Nature paints on rolling hills.
Speaking of Kansas, my favorite Sunflower State band comes to the Summit on Sunday. Split Lip Rayfield, purveyor of an unholy blend of bluegrass chops and punk-rock attitude, returns to town at 7 p.m. in a gig that also features the Lawn Chair Kings as openers. SLR has warriored on, despite the death of guitarist and songwriter Kirk Rundstrom, recording the great "I'll Be Around" album and touring relentlessly in his wake. I've seen these guys just twice – once with Kirk and once without – and am so impressed I'm planning a 7 a.m. departure from Norton in order to be back in Durango in time for the show.
Longtime Durango favorites the Golden Dragon Acrobats are back at the Community Concert Hall at 7 p.m. Wednesday. Adored in America and cherished in China for more than 30 years, the Golden Dragon gang mixes award-winning acrobatics, traditional dance, spectacular costumes, ancient and contemporary music and theatrical techniques for family-friendly fun.
In what's rapidly becoming a Durango tradition, the latest
For Kirk James fans, he'll also play solo at Desperados Bar (next to Office Depot) from 7 'til 11 p.m. Friday and with his blues band at the Schank House at Vallecito from 8 'til midnight on Saturday.
The Starlight's lineup this week features Grammy-winning jazz engineer Tom MacCluskey at 6 p.m. Friday, DJ Wreck late on Friday, DJ Ralphstra on Saturday, Musica del Mundo on Sunday, Playing in Traffic on Tuesday and Club Meds on Wednesday. Aside from MacCluskey, the Starlight's tunes start around 9 p.m.
The Summit hosts a pair of gigs by J. Wail vs. Andu with Peter Robot at 10 p.m. Friday and Saturday. The latter is a fund-raiser for the Manna Soup Kitchen. Happy hour sets (6-9 p.m.) feature Eric Keifer of Aftergrass on Friday and Rupnow and friends on Saturday.
The Purple Haze features Back Alley Blues (led by the bar's owner, Bob Watson) on Friday and Saturday. Back Alley plays from 8 'til midnight each night, plus a 5-7 FAC set.
After sitting in the rain for 15 minutes in northeastern Decatur County, Kan., on Monday, this week's Top Shelf list features my favorite rain songs.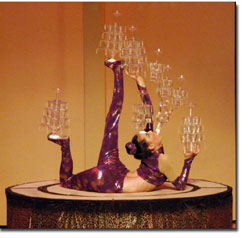 The Golden Dragon Acrobats perform at the Concert Hall next Wednesday, Dec. 2

After sitting in the rain for 15 minutes in northeastern Decatur County, Kan., on Monday, this week's Top Shelf list features my favorite rain songs.
• "The Rain Song," Led Zeppelin. A Wheat Ridge High School basketball teammate, Doug Rand, once serenaded an entire party with this at my college going-away bash on my Epiphone acoustic.
• "Fire and Rain," James Taylor. I make "Country Classics" CDs for my buddies each Christmas. I put this one on Vol. 4, and it came on my ipod shuffle on Monday driving from field to field.
• "Love, Reign O'er Me," The Who. I saw Roger Daltry scream this one at Arrowhead in Kansas City in '89.
• "November Rain," Guns 'n' Roses. This one went through my brain Monday afternoon.
• "Rain," The Cult. An underrated rock band.
• "Rainmaker," Peter Rowan. Panama Red is at his best when he tones down the high and lonesome and simply tells a story.
• "The Rains Came Down," Steve Earle. Written in response to Farm Aid, it resonates in the Heartland.
• "Rain on the Scarecrow," John Cougar Mellencamp. Ditto, but angrier.
• "Rain and Snow." It's a bluegrass standard, but versions by Del McCoury, Peter Rowan & Tony Rice, and Muleskinner are tops on my list.
• "Rain," the Beatles. The graffiti artists were wrong. George is God.
Fill the holes and sand 'er down, paint 'er up like black? E-mail me at chrisa@gobrainstorm.net.
•