A 'soft' opening
Purgatory to open limited terrain Friday

SideStory: Local Time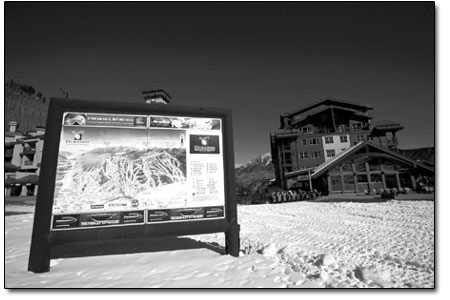 The trail map, a single lift and one trail await opening day at Durango Mountain Resort. The local ski area will open Chair 4 and Demon this Friday for its "soft" opening. Warm temperatures mid-month hindered snowmaking at the ski area, and DMRis currently working overtime to get locals onto the hill this Friday. Benefit Day, which will support the Boys & Girls Club and the Durango Winter Sports Foundation, has been rescheduled for Dec. 5. /Photo by Stephen Eginoire
by Will Sands
The rope drops this Friday at Purgatory at Durango Mountain Resort. After yet another early season plagued by dry and warm, the local ski area is preparing for a "soft" opening day, and we're not talking about fat boards. Purgatory will be open with limited terrain, manmade snow and on weekends only until Mother Nature can lend a helping hand.
The month of November offered up a mixed bag of weather for DMR. Temperatures were cold enough to facilitate snowmaking for three days early in the month. But then a nine-day warm snap hit and melted any progress that the resort had made. A foot of snow fell at the resort in the middle of the month, but that storm was again chased by warm temperatures. Jack Frost finally cooperated over the last two weeks, and snowmaking crews have been working overtime to get one run covered with manmade in time for this Friday.
"We started blowing snow the first of Novevember but only got three nights in," explained Mike McCormack, senior VP of mountain operations. "The next nine nights we couldn't blow any at all. Then we got hit by that little storm and have had the guns going ever since. Our emphasis has been to get adequeate coverage from the top of lift 4 to the bottom. Because of the lost time, we haven't been able to get anything up higher on the mountain."
This Friday, locals will have access to Chair 4 and Demon, with manmade, packed-powder conditions. Because of the soft opening, DMR will be offering discounted lift tickets – $35 for adults; $28 for students and seniors; and $20 for kids 6-12. Once again Mother Nature has forced the resort to postpone Benefit Day just more than a week to Dec. 5. Lift tickets will be $15, and this year proceeds benefit the Boys & Girls Club and the Durango Winter Sports Foundation.
"This first weekend is what it is," explained Beth Holland, DMR communications manager. "This is really just about getting locals out and on the hill. We're shooting to have a top-to-bottom run by Benefit Day."
Following this weekend, Purgatory will temporarily suspend operations Nov. 30. Last year, snowmaking crews struggled to keep a ribbon of white on the hill and were constantly playing catch-up. In response, DMR recently announced an early-season, weekend-only schedule (Friday-Sunday) to allow snowmaking crews to shore up the limited supply of manmade snow and offer a better product on the weekend.
"This year, we hope to have a run open for a few days, resurface during the week, and open again with a better product," explained Sven Brunso, marketing and sales director "The whole goal is to offer more skiing than we've ever offered, even if we're dealt a bad hand by the snow gods."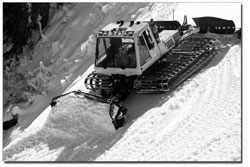 A snowcat spreads manmade along the Demon gully early this week. Durango Mountain Resort will follow its new weekend schedule (Friday-Sunday) until the weather begins to cooperate. However, more terrain will be on tap for next weekend and Benefit Day./Photo by Stephen Eginoire
And DMR has definitely been dealt its share of early season blows by the snow gods. Openings at the ski area were delayed in the last two winters of 2007-08 and 2008-09, and the new schedule offers a way to offer at least some skiing during the lean times, according to McCormack.
"There have been years, like this one, where we get little to no help from Mother Nature," he said. "This new schedule allows us to try to get something open for our guests, even if it is limited."
Silverton Mountain is hoping to fill in a few of the blanks for Southwest Colorado's skiers. With Purgatory going to a weekend only schedule, the experts-only ski area has changed its operating schedule and will offer additional mid-week ski days for early season.
Silverton Mountain had previously only operated Saturdays and Sundays for the first two weekends of December before ramping up to the normal Thursday through Sunday schedule. However, this year Silverton Mountain will open additional dates and go to a Wednesday-Sunday schedule for the first few weeks of December, or until DMR goes to a seven-day schedule.
Across the San Juans at the Telluride Ski Area, a relatively "firm" opening is set for Thurs., Nov. 26. Dave Riley, Telluride Ski & Golf CEO, wrote in his blog that recent storms and continued cold temperatures have been a boon for the resort.
"Things are actually looking pretty good for this time of year," he wrote. "The natural snow ... plus some good snowmaking temperatures have allowed us to get a head start on building a base in the key 'connector' runs between the lift pods of Chairs 4, 5 and 6," he wrote.
Chair 4 and the Chondola will be open on Thanksgiving Day, and the nearby ski area is pushing to get chairs 5 and 6 open in order to access See Forever. "We can't promise it, but it's looking like it might come together if we have productive, cold temperatures at night between now and the 26th," Riley wrote.
Meanwhile, all eyes in the region are turning to the long-term forecast. And while there is a glimmer of hope off in the distance, the guns will continue to blow at DMR "They're calling for weather a week or so from now, and we're definitely hopeful up here," explained McCormack. "But we've also been doing this long enough to know that it's still too far out to tell." •