Special delivery
Durango company delivers flu vaccine throughout state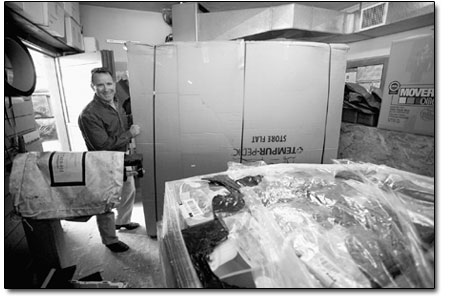 Joe Civiletto, owner of the Durango-based Kangaroo Express, unloads cargo after a recent delivery to the company's downtown headquarters on Monday. The shipping company has the task of safely delivering flu vaccine for much of Colorado./Photo by Stephen Eginoire
by Stew Mosberg
A Durango company is working behind the scenes to see that flu shots find their way into arms across the state of Colorado. If you get your seasonal flu vaccine at a Wal-Mart or Rite-Aid in Colorado, chances are it arrived there thanks to the locally owned Kangaroo Express. The Durango transport service has the exclusive contract to deliver and service nearly every Wal-Mart and Rite-Aid pharmacy in Colorado. Each year, new vaccines are developed, and they must reach providers and consumers quickly and efficiently. A number of organizations, both private and governmental, work together with the Centers for Disease Control and The American Medical Association in the development and distribution of flu vaccine. One such group, the members of the Healthcare Distribution Management Association (HDMA) ensure that more than 9 million prescription medicines and health-care products are safely delivered to more than 165,000 pharmacies, hospitals, nursing homes, physicians offices and clinics nationwide. And Durango's Kangaroo Express does the unsung work of linking pharmaceutical companies with many of Colorado's patients.
Joe and Maureen Civiletto took over the ownership of the now-20-year-old Kangaroo Express when the couple moved from Texas to Durango in 2002. Joe explains that the company's medically related contracts require much more than drop-shipping boxes of medicine. The actual flu vaccine is obtained from an out-of-state provider, and then Kangaroo Express must set up the facility, place the signage and return to pick up the waste and used materials, as well as reroute unused material.
Considering the geography and complexity of a state-wide delivery program, Kangaroo Express needs much more than the trademark red vans that are seen scurrying around Durango and elsewhere in the Four Corners. The company has a fleet that includes four 24-foot trailers, refrigerated vehicles, and a twin-engine cargo plane. With 47 employees – 13 of them in Durango – Kangaroo Express also has grown to include offices in Grand Junction (its largest facility) and Farmington, N.M. It also arranges weekday air cargo service between Durango, Alamosa and Grand Junction. In addition to typical commercial and residential deliveries, Kangaroo provides service to hospitals, doctors and even forensic crime labs. The Civilettos also have a standing contract with the Colorado Department of Health to transport medical specimens such as blood samples for testing of rabies, hepatitis and STD's, to facilities throughout the state.
The seasonal flu vaccine begins its journey at Mollen Immunization Clinics in Arizona and is carried by Kangaroo Express from there to the designated locations. Since the supply of H1N1 vaccine is not yet available for wide-scale distribution, it is currently not part of Kangaroo Express' delivery contract.
"We are a can-do company," said Civiletto, "In fact, our original motto was 'Yes we can,' but then the Obama campaign used it, and we didn't want people to think we were plagiarizing. Now we use 'We hop right to it.'"
Civiletto knows, however, that local perception of Kangaroo Express is that of a tiny regional delivery service. Although Kangaroo is not attempting to compete with industry behemoths FedEX and UPS, he joked Kangaroo is "a little more Goliath than people think." Nevertheless, the compact office on the corner of E. 8th Avenue and College Drive still accepts packages for delivery from local residents and 90 percent of its traffic comes from area businesses. Maintaining its fleet of more than 35 vehicles requires constant maintenance with an eye to fuel efficiency and above all else, safety. Getting over Molas and Red Mountain passes during the height of winter is a regular challenge for the company, and Civiletto says they often take routes through Moab to circumvent closed roadways. "We never endanger drivers," he said.
Asked about some of the more gratifying as well as daunting deliveries the company has made, Civiletto described a few that were both heartwarming and life saving.
"Two years ago," he recalled, "we received a call from a guy in New England who had ordered a full Thanksgiving dinner from a restaurant in Grand Junction and wanted it delivered to his grandmother in a nursing home," he smiled. "Our driver had a 'moment' that day."
His pride and joy in reiterating some of the stories suggest there is an entirely different side to the delivery business than most people would think. "One Christmas Eve," he remembers, "a family's luggage was lost on their return flight to Cortez. When it was finally located in Farmington, the snow had begun to fall."
Being Christmas Eve, Joe took the order himself, drove to Farmington, picked up the luggage, and the all-important Christmas presents they contained, and drove through the blizzard to Cortez. "By then," he continued, "it was a white out, and I couldn't get back to Durango, so the family invited me to join them."
Before the blood bank opened in Durango, Kangaroo Express was called upon for a real "life or death" situation and raced to Farmington to pick up enough blood for an emergency transfusion patient in Durango. Recounting that story, Civiletto peered over the top of his half-glasses and said, "We had a police escort for that one." Then modestly added, "It's always nice to know you are helping someone out."
Like most businesses that are dependent on fuel, Kangaroo's operating expenses have gone up. "The (transportation) industry has a lot of obstacles to overcome because of fuel costs and environmental issues," he said. "We have ordered some brand new vehicles that are really fuel efficient, and they will be in Durango very soon."
Although the Civelettos and Kangaroo Express are at the forefront of delivering vaccine to Colorado, there is a touch of irony to the tale. Civiletto recently took a pass on the very vaccine he delivers. "I didn't get a flu shot," he recounted a bit sheepishly, "and I caught the flu."
In any case, Kangaroo Express has successfully delivered the vaccine for others and helped in the fight against infection. With inoculation supplies safely delivered throughout the state, the company's next focus will be to deliver holiday packages on time, even though they won't be doing so in reindeer-powered sleighs, but rather some shiny new vans. •
In this week's issue...
March 17, 2022

Lake Powell drops below threshold for the first time despite attempts to avoid it
March 17, 2022

Purgatory Resort set for expansion but still faces hurdles
March 10, 2022

New health care studio takes integrated approach to healing